This Amazon Appliance Is the Best $100 I've Ever Spent on My Rental Kitchen
We
independently
select these products—if you buy from one of our links, we may earn a commission. All prices were accurate at the time of publishing.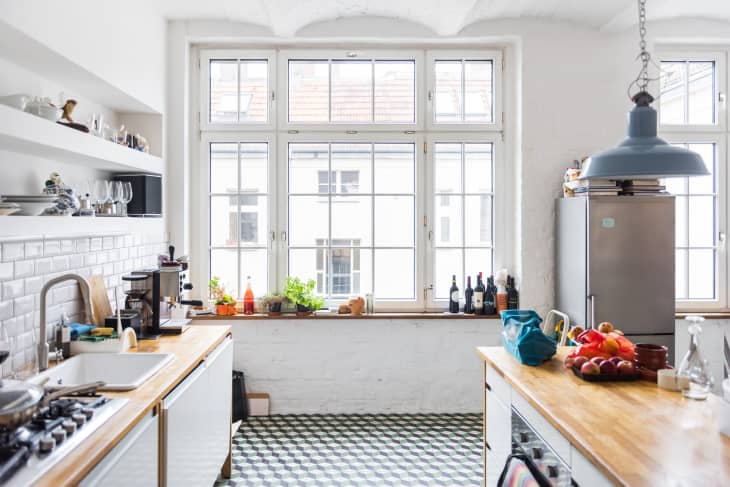 As every person with an outdated, scuffed-up rental kitchen will tell you, you can slowly change the grim state of your cook space by adding design-conscious accents. The linoleum countertops look a little less dingy when they're half-covered with stackable crates; yellow pine cabinets look a little less dated when a collection of cool pottery crowns on top; gnarled wooden floors look less grisly when cheery rugs stretch out across them. The struggle is real, and it's one I'm intimately familiar with, living in a hundred-year-old building in Old Irving Park in Chicago. My kitchen has seen better days, but I found that being picky about what kind of small appliances I buy has helped spruce it up. 
Choosing sleek microwaves, toasters, and coffee machines helps attract the eye away from the peeling paint and to the gadgets themselves, making the old kitchen feel a little more modern. One of the best accessories I got for my kitchen this month and maybe ever? A SodaStream! I know, I know, am I really going to be excited about carbonated water? I had always had the same reaction to sparkling water as Ted Lasso: I'd wrinkle my nose and think, That's not real water. Thanks to the rise of La Croix and Whole Food's mad-scientist-like experimentation with bubbly water flavors, and now this gadget, I have since been converted. 
I wanted to get a SodaStream to cut back on waste, but I never thought in a million years that I'd become so obsessed with it. I have the SodaStream Terra in white, which is a new design that has a fun, wavy on-trend textural shell housing. The brand hasn't released a machine in years, so this updated version is sleek, easier to use, and just plain looks stylish sitting out on your countertop. The gadget also comes in black, red, or misty blue, which helps to add a fun touch to any dreary kitchen if you're more into color. You can see my white model in my kitchen below, and I've chosen to place it on a freestanding cabinet I added to my space for extra storage, setting it up on a decorative tray to make it feel even fancier.
The Terra's also incredibly handy and fairly eco-friendly. One standard-sized cylinder of carbonation can make up to 60 liters (or 126 bottles) of carbonated water, and the brand claims one reusable SodaStream bottle can keep roughly 3,070 single-use bottles out of landfills over a period of four years, on average. Even though you have to invest about $100 upfront for one of these appliances and pay for carbonation and flavor kits as you need them, the appliance probably pays for itself in a few months' time, since you aren't having to constantly shell out for bottles and cans.
Not only does my SodaStream help me keep my recycling bin empty, but it also encourages me to hydrate more, too, since the drinks it makes are so tasty. Rather than sipping on tepid water from the tap, I can make fizzy lemon water, sparkling juices, and delicious mocktails. In fact, I'm enjoying a raspberry lemonade concoction as I'm writing this. I'm already looking forward to my next dinner party, where I can use it to make a batch of fancy non-alcoholic drinks. It's a small kitchen update but one that has definitely brought me an unexpected amount of happiness and might make a great holiday gift if you have a seltzer lover on your list!