This 5-Step Process Will Get Your Fridge So Clean (and a Little More Organized, Too)
We independently select these products—if you buy from one of our links, we may earn a commission. All prices were accurate at the time of publishing.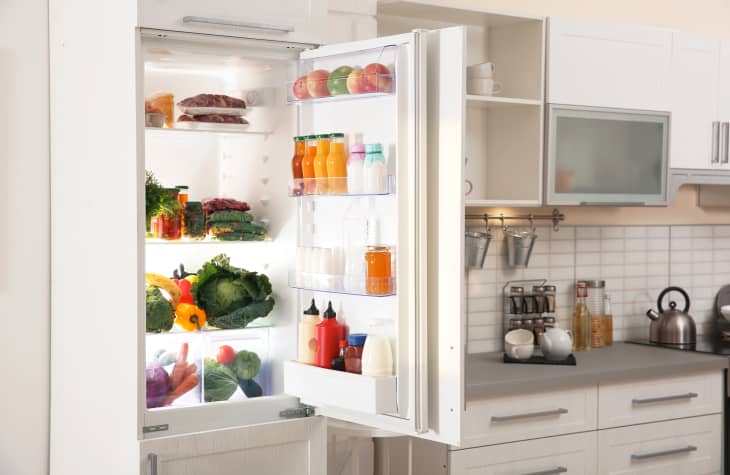 Apartment Therapy's Spring Cleaning Cure is a free 10-day program that'll help you get one step closer to an impeccably clean home. Sign up here and get all 10 assignments in your inbox. 
I have a confession: My fridge has been in a state of disorganization for quite some time. I've got a collection of condiments, sauces, and dressings that continues to grow; the fridge has become tight on space; and I've been playing a seemingly endless game of Jenga to get anything out of there.
Follow Topics for more like this
Follow for more stories like this
It's overdue for some tidying up, which is why I'm very excited about today's assignment, where we'll be reclaiming the fridge.
Day 6: Reclaim your fridge.
To get your fridge clean and organized, you'll first need a few things: a cleared surface, like the counter or floor, to hold everything that comes out; an empty trash can; an empty sink; some dish towels and microfiber towels; and an all-purpose cleaner or some dish soap and warm water. 
Take everything out of the fridge, and sort as you go. Toss anything that's gone bad in the trash, put dirty containers that need washing in the sink, and place what's being kept on your free surface.
Clean the inside of the fridge. Take out all the removable drawers and shelves, wash them with soap and water, and dry them with a clean dish towel. Wipe down the inside of the fridge with a damp microfiber cloth and use the all-purpose cleaner or dish soap and some water to clean it and buff out anything that's stuck. Wipe it dry with a clean towel, and don't forget to clean the seams, corners, and crevices of your fridge, which can be accessed and cleaned with a Q-tip! 
Clean all the items you took out. Condiments, sauces, etc. — whatever is in a container should be wiped clean.
Put everything back. Now, put back the shelves and drawers, followed by the fridge's contents. 
Clean the outside of the fridge. Take down magnets and all the other things that adorn your fridge and clean them. Wipe down the outside of your fridge and put back those items you took off.
PRO TIP: Before putting things back into the fridge, consider the organization first. For instance, creating a strategy — like eggs and dairy products should be stored in the back of the top shelf, where it's coldest, instead of on the door — or getting some tools, like these OXO fridge organizers can be so helpful.
How's the state of your fridge looking? Share it with us in the comments below.
More Ways to Participate in the Spring Cleaning Cure
The Cure Program is a tradition here at Apartment Therapy — it happens every January, April, and September. Click here to learn more about the year-round program and when to sign up.