4 Reasons That Stain Isn't Budging (and How to Fix It)
We
independently
select these products—if you buy from one of our links, we may earn a commission. All prices were accurate at the time of publishing.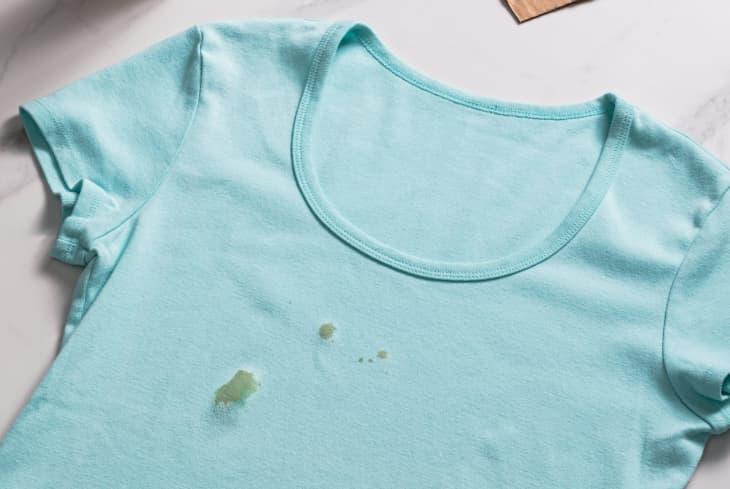 Laundry is hard. There's so much of it, and there's no real way around it. You can't make it faster, and you can't make it easier (at least not by any significant margin). And if you don't keep up with it, it feels like it just might eat you alive.
Perhaps one of the reasons laundry can spiral out of control so quickly is that there are so many steps to the process, rote as they may be. You have to sort, wash, dry, fold, and put everything away. And then there's the issue of getting rid of stains — a laborious process that doesn't always work. No wonder you probably often put off the whole task.
Here's a bit of good news, though: Removing stains doesn't have to be such a guessing game. When it comes to treating spots — like red wine or a grease stain — there are a handful of mistakes people commonly make. But if you learn to avoid the following pitfalls, you'll greatly increase your chances of rescuing your favorite shirt.
You're Not Paying Attention to the Type of Stain You're Dealing With
The main point here is to not treat every stain the same way, but according to the specific problem you're dealing with. Arming yourself with knowledge has a direct impact on the effectiveness of your stain treatment.
You Only Have One Type of Stain Cleaner
Now that you know all stains aren't equal, the good news is: You don't have to memorize what works to treat what. You can always Google it in the moment — but you want to have a buffet of at least these three stain-removing options on hand:
You're Letting the Stain Sit Too Long
Treating a stain as soon as possible is the most important part of making sure you can ultimately get that stain out. Even if you don't have a stain-removing product with you when a stain occurs, dab some room temperature water on it as soon as possible. And avoid scrubbing, as this can further spread the spot. Instead, use a paper towel to blot, helping to draw the stain out of the fabric once you've wet it. Soaking the entire garment in cool water can also prevent a stain from setting.
You're Drying Your Garment Before the Stain Is Completely Out
Check your stained items as soon as the wash cycle is done. If the stain is still present, repeat the appropriate stain treatment protocol before you put the garment in the dryer. Heat sets stains, and trying to re-treat a problem area after it's gone through the dryer is almost always an exercise in futility.