You Know You're From Rhode Island If You Recognize This House Style
We independently select these products—if you buy from one of our links, we may earn a commission. All prices were accurate at the time of publishing.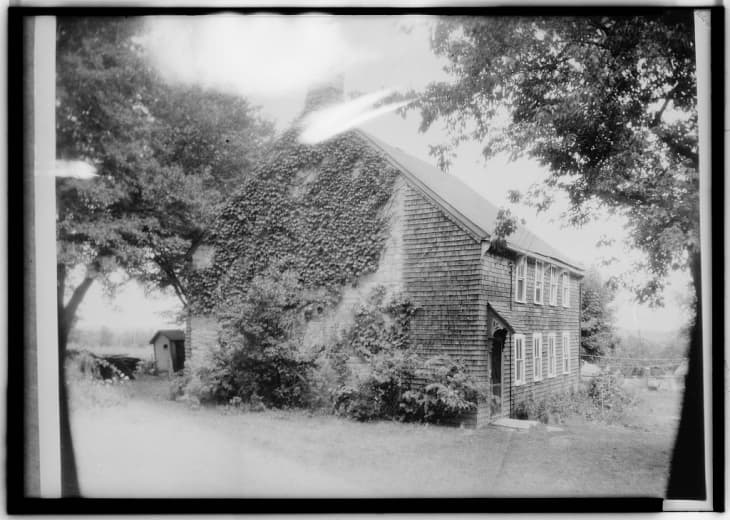 Fried calamari with hot peppers. Coffee milk. The world's largest artificial bug. Del's lemonade. All Rhode Island icons.
But what about the stone-ender, the charming and fascinating house style that is beloved in the Ocean State, and found almost nowhere else?
True Rhode Islanders will recognize these architectural treasures, which have a lot in common with other Colonial-era post-and-beam homes, but are distinguished by having one large, durable exterior wall made of heavy fieldstone. 
Stone-enders were embraced by 17th-century settlers in the colony, who historians believe opted for this unusual homebuilding method because of the climate and geography they found when they arrived in the region. For one, a hearty stone wall, which was typically built facing north, served as an effective barrier against chilly New England winds. Massive fireplaces — built so large you could actually walk inside them — were used for cooking and helped radiate heat in harsh winters. Plus, brick was hard to come by in the New World, but Rhode Island's ample high-quality stone and plentiful lime deposits to use for mortar meant the colonists had exactly the tools they needed under their feet.
While some stone-enders have been identified in neighboring Connecticut and Massachusetts, it was Rhode Island where they really flourished. 
"It's a real only-in-Rhode Island story," says Valerie Talmage, executive director of Preserve Rhode Island, a nonprofit that has been restoring an historic stone-ender called the Valentine Whitman House. "At that period, people weren't building their homes with architects. It was all kind of folk building, so people were taking the construction methods and styles and dimensions from England and importing them here using the resources they had. So it created this unique form. It's fun to think about how Rhode Island was quirky then like it's quirky now."
Despite their historical significance in the state, researchers have identified just 13 from that era that are still standing today. There may be more: Some believe that as the surviving stone-enders changed hands, new owners simply built around the stones, rather than letting them peek out of one side. (If you live in Rhode Island and have a very old home with a conspicuously tall and wide fireplace somewhere in its middle, consider giving PRI a call).
Some Rhode Islanders have made it their mission to keep them alive and accessible to the public. In fact, if you're so inclined, you can even spend the night in one. The Major Thomas Fenner House in Cranston, which dates back to 1677, and is widely considered a shining example of the form, is listed on Airbnb and VRBO. 
Visitors can expect to find many of the sought-after stone-ender characteristics, including the ornamental stonework on the chimney protruding out of the roof, which a prior owner reconstructed using historic photographs as a visual aid. Inside, you can lounge beneath antique wooden beams and warm up beside its ultra-wide hearth, where guests are invited to build fires and be transported back to another time.
For that we can thank Richard Arthur Fenner, a descendent of its original owner, who purchased the home in 1995, he says, to keep a developer from using the three-acre property to build apartments. "It's a really unique, one-of-a-kind place, so I felt the need to step in and try to save the home," Fenner says. "It's a very important part of my life and legacy to protect it."