The Things You Need to Do Right This Second If You Are Moving This Summer
We independently select these products—if you buy from one of our links, we may earn a commission. All prices were accurate at the time of publishing.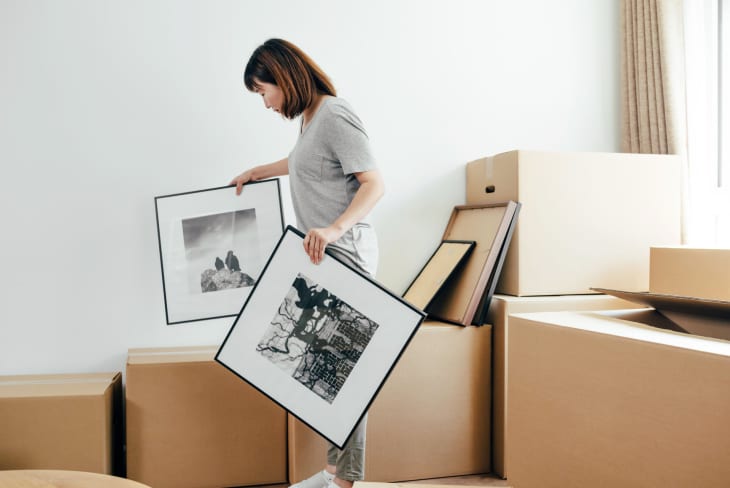 Moving is already a pain under the best circumstances, but there are even more reasons to dread it during the summer. It's when the vast majority of moves take place, says Adam Doron, CEO of Unpakt, a booking and pricing site for movers. Because demand is high, prices are often at a premium and logistics are trickier than in other times of the year. But you don't have to abandon your possessions curbside, Oregon Trail-style. Prevent frustration and fees down the line with these easy (we promise!) steps from Doron, and Ali Wenzke, author of "The Art Of Happy Moving." The best part? You can do all of them right this minute.
Yes, even if you aren't moving till August. Doron explains that movers often price like airlines. Prices will be higher for last-minute moves and all moves during peak season (usually mid-May though the beginning of September). That means that prices rise for moves around the last and first day of the month. Despite that, he says most people wait to book their movers only 10-14 days out.
Wenzke recommends getting at least three price quotes. If the moving company asks you to pay upfront, that's a warning sign. Move on and book someone else, she says.
Not all moving dates can be flexible, but if you can put off moving by a few days you can save considerable money. June 30, for example, is the busiest moving day of the year. Many moving companies have to rent additional trucks to meet the extra demand on the last and first of the month during the summer. If you can wait until July 2 (or move on June 28) you might see major savings—as much as 30-40 percent, according to Doron.
Declutter (and think big)
It's likely you'll sort through those concert tee and expired makeup-filled drawers before moving. But before the small things, Wenzke actually recommends starting big. Is your new place going to have room for all your furniture? Decide what large furniture you'll want to move and what you'll want to (or have to) leave behind. You'll save yourself a logistical headache and money since moving companies charge by volume, Doron points out.
Then start setting in motion the donation, selling, or disposal process NOW. Many charities have two to three week lead times for pick ups, Wenzke says, and selling something takes time, as well. If you wait to list it for sale or schedule pick-up, you might wind up having to curb a perfectly good piece of furniture. On the bright side, the good weather (and frequent moves) makes summer a great time for yard sales.
If you're moving far, Wenzke recommends scheduling time with all the people you want to see (and places you want to eat) ASAP. That way, you're not squishing in your bucket list in the midst of moving madness. You'll have nice breaks to look forward to when packing overwhelms you, too.
Also take a second to list the services you'll need once you move-in, like cable, internet, painters, etc. Again, during busy season, there will likely be a wait to get essentials set-up. For plan-ahead appointments you should consider, print out this checklist from Wenzke's website.
More great Real Estate reads: