3 Things Ridiculously Organized People Do Before They Move
We independently select these products—if you buy from one of our links, we may earn a commission. All prices were accurate at the time of publishing.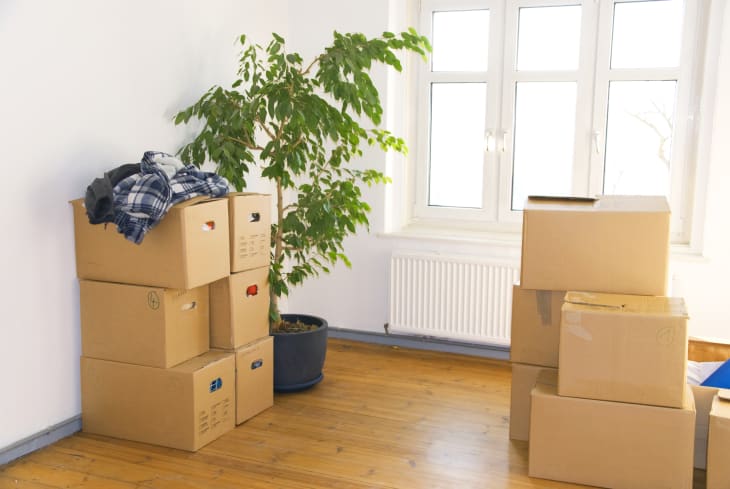 Moving is one of life's most stressful events, and it's no wonder why. It's expensive. You have to go through all your belongings and decide what no longer sparks joy. Then there's all the packing. This is all before actual moving day rolls around, which adds physical labor to the equation. It's not hard to see why the whole thing generally makes people want to pull their hair out.

But it doesn't have to be that way! Being super-organized makes the moving process a whole lot easier. If you don't count consider yourself particularly tidy, you can still learn from the pros. Here, three things professional organizers do that make moving a breeze.

1. They preserve memories without creating clutter
Letting go of sentimental clutter can be easier said than done, but schlepping boxes full of ticket stubs, college t-shirts, and books you haven't read in years can slow down your move.
"Oftentimes these things are just taking up space rather than being used in our day-to-day life," says Jenna Haefelin of Spiff Home Organizing in Westchester, New York.
If you're having trouble disposing of these things, take a picture of it to keep the memory in your mind.

If you'd rather keep some of these memories tangible, Haeflin says to set up a "memory bin." It allows you to purposefully save only a finite number of things.
2. They make a floor plan of their new home
One of the most frustrating (and expensive!) moving mistakes? Lugging heavy furniture to your new home only to realize it doesn't fit. To eliminate this problem, Ann Zanon, certified professional organizer with A 2 Z Organizing Solutions in Houston, Texas, suggests making a floor plan of your new space. Then, measuring the furniture that you plan to bring with (and your entryways!) to ensure a proper fit. Once you know something won't fit, you can put it up for sale, donation, or schedule for recycling. Then, once you're moved in, all that's left to do is nest and enjoy your home.
3. They don't throw everything in one box
If you leave packing until the last minute, the clock may tempt you to stuff socks in with your drinking glasses. But that chaos will come back to bite you come unpacking time.
"Unpacking is so much more efficient when each box contains only items of a specific category," says Joni Weiss, co-founder of Los Angeles-based organizing and lifestyle company Practically Perfect. "At the very least, be sure to label all of the contents of each box to speed up the unpacking process."
More great Real Estate reads: