Here's How the Swedish Concept of "Fika" Can Make This the Coziest Fall Ever
We
independently
select these products—if you buy from one of our links, we may earn a commission. All prices were accurate at the time of publishing.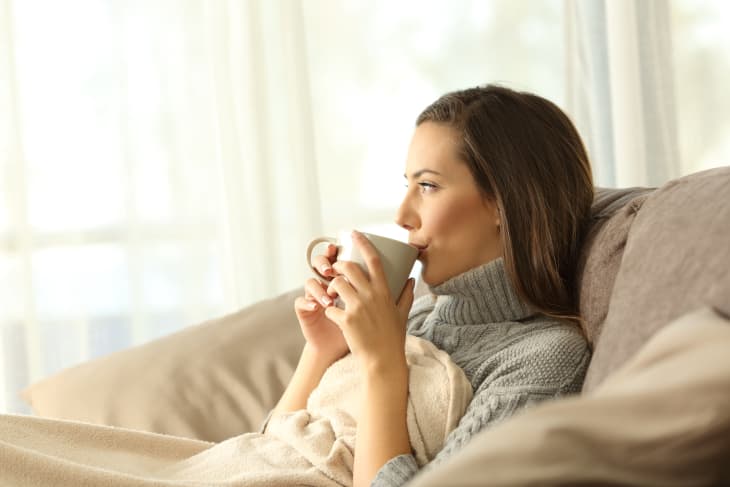 I very specifically remember the moment I paired a scone with a hot cup of coffee for the first time. I was fresh out of college, had never tried a scone before and was essentially a coffee novice. I always thought scones were dry and bland, but the moment I took a bite of one and followed it up with a quick sip of coffee — my mind was blown. The way the scone softened in my mouth as the sweetness of the pastry mixed with the bitterness of the coffee was like a choir of angels singing. So this was what all the fuss was about! I learned that day that pairing a sweet treat with a cup of coffee is one of life's simplest pleasures.
With cooler temps just around the corner, I know my iced coffees are going to transition to hot ones, and the thought of fall treats makes me giddy. And even though I'm in no way Swedish, the crisp weather makes me think of the Swedish concept of fika, or simply, a coffee break with friends or family, usually accompanied by a sweet treat.
In Lynda Balslev's book, "The Little Book of Fika," she writes, "This ritual is at the core of Swedish culture, and while fika literally means 'coffee' or 'to have coffee' it also represents a happy moment, a time to slow down and focus on simple pleasures — in the form of a coffee, cake, and a chat." 
Fika goes beyond just a simple coffee break. As an American, I can see how a typical coffee break here is intended to help me recharge with the intention of getting more work done. But fika is about taking time to pause, connect with loved ones, and enjoy the present moment. And even though fika is a year-round practice in Sweden, hot coffee and baked goods lends itself to colder weather — and fall seems like the perfect time to include it in your daily or weekly routine. 
As someone who works from home, I won't necessarily be having afternoon coffee with friends or coworkers everyday, but I do plan to take more intentional breaks with coffee and a little something sweet in moderation. After all, fall is the season of pumpkin bread and cider doughnuts, and I am very happy to indulge in those. 
Meeting with friends at a coffee shop is also one of my favorite things to do over the weekend, and a relaxed, social environment with a warm mug in your hands is what fika is all about. As the weather cools down and schedules amp up with back-to-school activities and the impending holiday season, creating a cozy ritual to look forward to seems like a necessity. Autumn comes and goes so quickly, and I want to squeeze all the delight out of it that I can.