One Unexpected (and Super Smart) Place to Add a Tension Rod In Your Kitchen
We
independently
select these products—if you buy from one of our links, we may earn a commission. All prices were accurate at the time of publishing.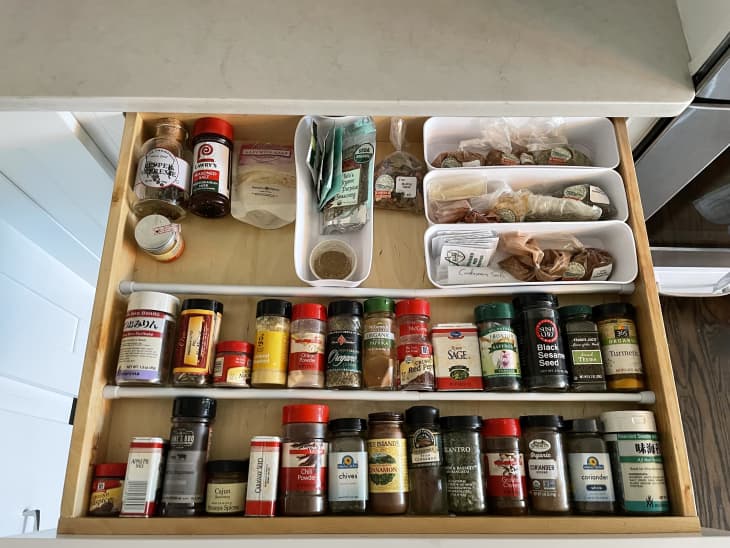 Most organized drawers owe their tidiness to one thing: drawer organizers, those humble and easy-to-overlook (but completely revolutionary) inserts that transform tangled messes into neat sections of accessible necessities.
Jes Marican of Denver Home Organizing is well-acquainted with the importance of having organized drawers in the kitchen. When her friends moved into a new home, she surprised them with a spice drawer whipped into shape with an unusual "drawer insert."
Jes was inspired to create a spice drawer for her friends because she knew how cumbersome their previous spice storage situation had been. "My friends recently moved to a home with more space," she says. "Their previous kitchen did not have much storage space and spices were stored on the wall space above the stove. This meant that they had to reach over the heat to get to what they wanted and the spice bottles got very oily and grimy!"
Jes took advantage of the additional space in their new home to give the couple an orderly, functional spice drawer. She was intent that their drawers not become "junk drawers," explaining, "I wanted to give the drawers in my friends' new kitchen specific purpose so that extra space wouldn't turn into a 'catch-all' situation. I also wanted them to be able to quickly find and use their spices."
Jes made it happen. In about half an hour, and with only $10, she turned an empty drawer into a beautifully-organized spice storage solution. And she did it with the most unexpected items: a few tension rods from Target!
The tension rods served as dividers that Jes could space out according to the size of the spice jars, creating a custom solution perfectly suited to the couple's needs. Jes describes how she "laid out the spices in the drawer in alphabetical order and used tension rods behind each row so that the spices would stay in place whenever the drawer was opened and closed."
Next, Jes added trays, also from Target, to corral the remaining spices that weren't in jars. The trays nestle perfectly between the tension rods and the side of the drawer and keep little baggies of spices upright and available. Jes details that she "used storage trays behind the rows of spices to store miscellaneous and non-jar spices. I put one of the trays vertically to serve as a divider, so that I could use the space to the left of it as storage for a variety of salts and peppers. I then used that divider to store spice mixes. Lastly, I put three storage trays in a column to hold any spices that came in little bags."
Jes loved organizing the spice drawer for her friends. "My favorite part was seeing their faces when I opened the drawer to show them their new spice storage solution," she says.
While the project was a complete success, if Jes were to change anything, she says she "would be sure to double check the alphabetization! (Sage should go after Saffron!)" Nevertheless, this drawer project gives Jes a great deal of joy: "I love how everything is easy to find and how it all stays in place when you open and close the drawer!" It's amazing what a few tension rods in a drawer can do.