The Practical Reason Chinese Homes Have a Dining Table in the Living Room, According to 'The Farewell's' Production Designer
We independently select these products—if you buy from one of our links, we may earn a commission. All prices were accurate at the time of publishing.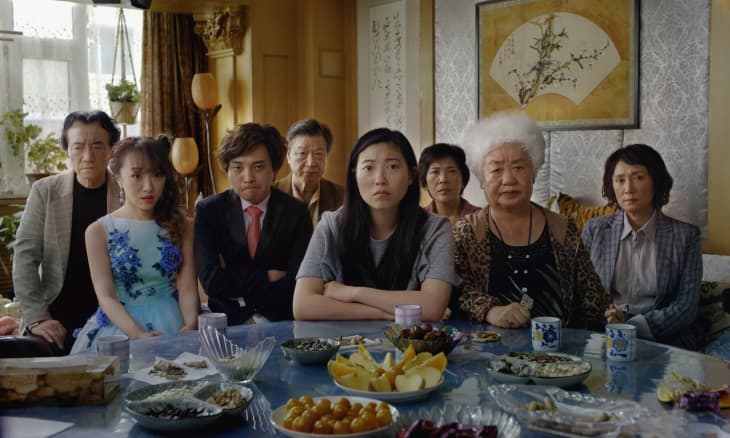 If your grandmother was suffering from an illness and she didn't know, but you did — would you tell her? That's the conflict Awkwafina grapples with in her starring role in Lulu Wang's feature directorial debut, "The Farewell," out Friday, July 12.
Inspired by her own family, Wang's dramedy follows Billi (played by Awkwafina), a Chinese-American woman who finds out that her Nai Nai (grandma) has been diagnosed with terminal lung cancer—except Nai Nai isn't aware of her own medical condition and Billi's family intends to keep it that way. They all travel to Changchun, China to spend their final moments with their beloved matriarch under the pretense that they're in town for Billi's cousin's wedding.
When a grieving Billi arrives at her Nai Nai's apartment, she finds her family gathered for a meal around a dining table placed in the middle of the living room. Perhaps a jarring layout in comparison to most American households, the set up is "quite practical," production designer Yong Ok Lee tells Apartment Therapy. "An average middle class home in China will have a small kitchen and dining area, while the living room and bedrooms are more adequately sized. Since Billi's grandma is used to having extended family around, she naturally set up her dining table in the living room."
In a study conducted by Lei Sima for the Journal of Asian Architecture and Building Engineering, Sima found past research that discussed small apartment floor plan designs in China. The information provided specific, and sometimes conflicting, solutions to the floor plans, one of which was combining the dining and living room to save space. According to Sima's study, many apartments in China are a similar size because, in 2006, the Chinese government issued a policy that 70 percent of newly-built housing should be no more than 90 square meters in order to provide more affordable options. 
Lee agrees that the apartments in Changchun are typically uniform in structure and size, so finding an area that would be spacious enough for the team to film was "no easy task." Lee, along with Wang and cinematographer Anna Franquesa Solano, eventually found "a relatively large space that fit our blocking, but due to the owner's eccentric taste we put a lot of time in an almost complete overhaul."
The original white walls were painted with a hint of blue gray: "Using camera tests we had to paint it several times over to make it perfect," Lee says. Extravagant decor items were replaced with furniture featuring wood tones.
Lee wanted the interior to reflect Nai Nai's character as a former Communist Party member. "I thought her taste would be a bit more old-fashioned and rigid. Being the head of her family, she keeps to her old ways and is fiercely independent. At the same time, she puts family above all else so I also wanted to show warmth," Lee says. "I thought a toned-down wood texture would be perfect." Lee referenced the furnishing styles of '70s and '80s China, along with regular people's homes in Russia, for inspiration.
Most of the furniture was sourced from a Chinese flea market — save for the sofa in the living room, which belonged to the original owner of the apartment ("We did switch out the linen to make it more modest though," Lee notes). The round table top was rented from a hotel, where Lee and the crew stayed, and the house plants were purchased from traditional markets or borrowed from local residents, including Wang's own grandma.
In addition to the greenery, which provides a "warm atmosphere," Lee decorated the location with Chinese calligraphy, ceramic piggy banks, artificial flowers, laundry hung from a clothes line on the indoor balcony, and furniture and electronics covered in cloth to protect from dust—all of which are common elements found in Chinese homes. Lee also placed snacks on the tea table "to show how Nai Nai regularly has guests around."
The kitchen served as "another symbolic space where we make food and show how tight the family is." Lee filled the area with appropriate props and kitchenware, as well as frequently used ingredients, preserves and dried food.
Instead of using red, a popular hue that symbolizes good luck in China, Lee looked toward "the harmonic mismatch of colors like pink, purple and yellow" to represent Billi's family's daily life.
"Our main concept was to show Changchun, China through Billi's eyes — how it looked unfamiliar and ugly at first, but slowly morphed into a warm familiar norm," explains Lee.
Like most Chinese households, Nai Nai's apartment is well lit with fluorescent lighting. "Most of the lamps, apart from the desk lamp, are for decorative purposes," Lee says. In contrast, Billi's living quarters and her parents' house in New York are filled with lamps for practical use.
Lee constructed Billi's parents' house, which is modeled after a two-story home in Long Island, on a soundstage in China because the team wasn't able to shoot in New York. The space is built and designed to look like a middle to upper-middle class house since Billi's father is a lawyer, says Lee. But finding the furnishings to complement the classic American household posed a challenge.
"Since Changchun is a relatively small city compared to Shanghai or Beijing, it was hard to find hardware and furniture that would be appropriate to a New York house," Lee says. As a result, she and her team had to manually make everything, including doors, cabinets, and the kitchen island: "Some hardware pieces, like outlets, were shipped from the states. Basic props that we could find locally, like curtain rods, were actually slightly off in design and size, so even if the style was similar we couldn't use them."
Meanwhile Billi's apartment was shot on location in New York, which Lee "designed to be more edgy" with "dark, but warm colors." Since Billi is a writer, Lee focused on decorating her desk with memos, illustrations and quotes for inspiration.
"Contrasting the two [different cultures] was very important," Lee says, "but we also wanted to show common humanity through Billi's eyes."