The Unexpected Benefits of Living on a Lower Level, According to Experts
We independently select these products—if you buy from one of our links, we may earn a commission. All prices were accurate at the time of publishing.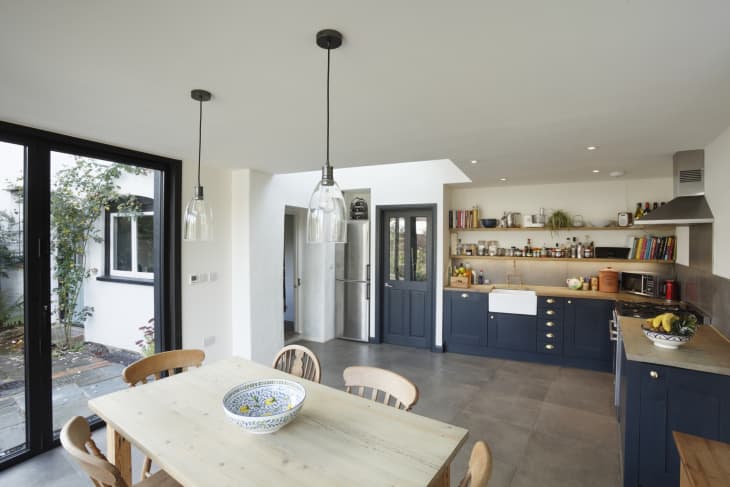 In my humble point of view, living on a higher floor in an apartment or condo building has always been synonymous with luxury. Maybe it's because I'm a child of the 1980s and "The Jeffersons" theme song is ingrained in my memory, with lyrics that glorify "a deluxe apartment in the sky" as the epitome of success. 
Follow Topics for more like this
Follow for more stories like this
But it's not just catchy sitcom songs that value living high above the city sidewalks. Traditionally, there has been higher demand for units on higher floors, be it for better views of the skyline or enjoying a quieter, more private space,. 
Still, there are distinct benefits to living on lower floors. If you're hunting for a new apartment or perhaps are in the market to purchase a co-op or condo, here are a few reasons to take another look at apartments closer to the ground floor.
You could snag a lower price on a property.
"Lower floor new developments could be a deal," says John Walkup, cofounder of real estate analytics company UrbanDigs. When comparing the price per square foot of both new and resale condos since July 2020, Walkup notes there was little difference in the median price for units on floors one through five.
Keep going up the stairs (or elevator), however, and it's often a different story in many buildings. I can confirm this: Several years ago, before we decided to buy a house, my husband and I explored the option of purchasing a unit in the new development right across from our condo on the North Shore of Staten Island. We learned as you went up each floor, a condo unit increased in price by $10,000 because the views of the Manhattan skyline were simply that good.
Of course, it does vary by building and location, says agent Jenn Tanner of Coldwell Banker Warburg in New York. "If you're not getting a 'wow' [response to the view] with prices as high as they've been, people don't necessarily care to pay the premiums set per ascending floor," she says. "They'd much rather save tens of thousands of dollars for a slightly less exciting view, let's say, usually over 10-to 15 stories off the ground."
You might have better views than your upstairs neighbors.
It's easy to think that the higher up you go in a city, the more you can see. That's a safe assumption for upper-floor dwellers in sky-high buildings, but it really depends on what it is you want to see.
In Manhattan, Parisa M. Afkhami, another agent at Coldwell Banker Warburg, says the prime apartments in one building on East 70th Street are actually on the lower floors so the neighbors can do some serious peeping — into the Frick Collection, that is. (The illustrious art museum is currently being renovated, so residents will have to find something else to look at for now.)
Broker Svetlana Choi, also of Coldwell Banker Warburg, agrees. Her clients "love the view of the blossoming trees" during the spring and summer in New York City, which can be better enjoyed from lower and even ground floor units.
You'll feel more connected to the neighborhood.
Living in a high-floor apartment might make you feel far removed from the hustle and bustle of the town and its denizens. That's a good thing for some people, but for others, they'd much prefer to feel like they're part of the neighborhood they're living in, not just look down on it from their terrace. If you can relate, then perhaps a lower-level apartment is right for you.
You'll enjoy easier outdoor access…
Unless you live in a building with a private elevator that whooshes you to your floor so quickly that your ears pop, chances are you might have to spend some time waiting for the elevator to arrive at your floor. That's a minor inconvenience on a regular day — but what about when the power goes out? 
Broker Michael J. Franco of Compass in New York recalls one summer when the Northeast experienced a widespread blackout, which meant that many disgruntled apartment dwellers had to hoof it up and down the stairs — without the benefit of air conditioning. Lower floor dwellers had it much better.
…and so will your canine companions.
In keeping with the idea of easier access to the front door, broker Rachel Ostow Lustbader of Coldwell Banker Warburg notes that most dog owners would likely prefer being closer to the ground floor for when nature calls for their furbabies. 
"I had one customer who wanted to live on the first floor because he had three dogs and did not want to have to wait for an elevator whenever he took the dogs out for a walk," she says.
There are some downsides to living downstairs.
Though life on lower floors does have its advantages, there are a couple of major drawbacks to consider.
If you're on a lower-floor that faces out onto the street, there's a good chance you might make eye contact with a passerby. Upper floors have the upper hand here — though note that people living at the same height in a neighboring building might still spot you. 
Additionally, lower levels can offer easier access to burglars and vandals, so you will need to take the proper precautions to keep your windows and terrace door locked for safety.
When Hurricane Ida hit New York City in the summer of 2021, flash floods proved to be deadly for some residents of illegal basement apartments. 
In order for a basement apartment to be considered legal, it must comply with the local laws and building codes. In New York, this means there are, among other requirements, minimums for ceiling height and the number and size of windows. A legal basement apartment must also have half its height above curb level, and the walls must be damp-/waterproofed to withstand flooding and excessive moisture. 
If you are considering renting or purchasing a basement apartment, make sure it is a legal one. Do not say "yes" to any landlord without a lease and do not purchase a basement condo without a home inspection.
There are benefits and drawbacks to being on either side of the staircase or elevator in an apartment or condo building. When you are looking for a new place to rent or purchase, be sure to consider a multitude of factors that focus on both safety and convenience.