10 Things That Make Your Closet Look Cluttered, According to a Pro Organizer
We
independently
select these products—if you buy from one of our links, we may earn a commission. All prices were accurate at the time of publishing.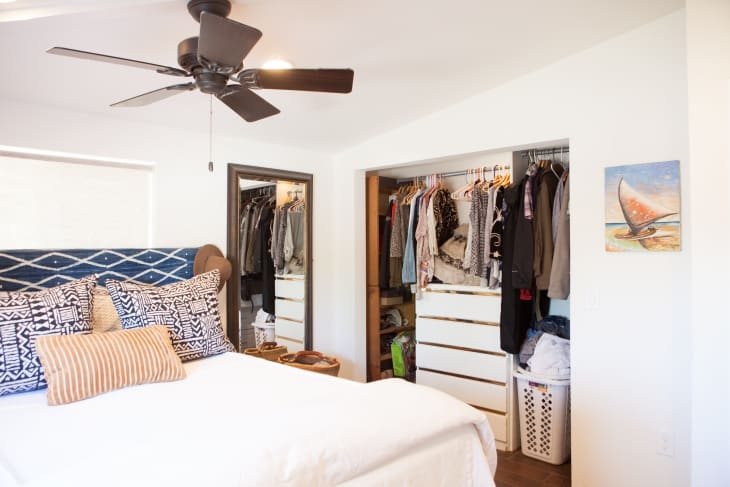 As a professional organizer, it's safe to say I've stumbled upon my fair share of unexpected items when working in closets. Whether intentionally stored or magically wiggled their way inside, miscellaneous things are the first I recommend removing to create a more organized space. But they're not the only offenders of closet clutter.

Below, I'm sharing 10 things that are making your closet look more cluttered than it needs to be — and what you should do with them instead.
1. Anything that has nothing to do with your wardrobe
Unless it relates to your clothing, it shouldn't be in your closet. Even if you don't think you're storing random stuff here, go through it to be sure nothing is hiding. Look for paperwork, beauty products, or anything you stored here temporarily and forgot about. 

What to do with it instead: If you haven't used or needed it, chances are it can be discarded or donated. If you do need to hold onto it, decide on a permanent place for it elsewhere in the house. 
2. Anything that no longer fits
Make sure you're regularly decluttering your closet of whatever doesn't fit your current situation, style, or size. 

What to do with it instead: Commit to donate these things and stick to it. If you no longer work in an office setting, keep a few classic pieces (that still fit) and drop off the rest to a place like Dress for Success. 
This could be a wedding dress or t-shirt from high school that brings you nostalgic joy (but will never be worn again). I'm not saying you have to get rid of any of it, but if you're short on closet space, realize that a lot of these things are bulky and take up room.

What to do with it instead: If you want to keep items intact, research how to properly preserve and store them. Otherwise, you can cut down on clutter by turning t-shirts into quilts, repurposing fabric into art, or simply taking a photo to memorialize an item.
It seems obvious, but I've witnessed trash go unnoticed in closets and, over time, it adds up. Think ripped-off clothing tags, stuffing from new shoes, and dry-cleaning bags.

What to do with it instead: The answer is simple: throw it out! Make the habit a no-brainer by adding a small trash can to your closet, or just outside of it, and use it. 
While we're on the subject of hangers, the hodge-podge collection you're holding onto is most definitely making your closet look cluttered. 

What to do with it instead: Packs of slimline or space-saving hangers are fairly inexpensive these days so I would recommend switching if you haven't yet and kissing your old ones goodbye. 
6. Anything missing its match
Depending on what you keep in your closet, this could be a single sock, flip-flop, or earring. If it's been years since you've seen the other half of something, it's time to consider that it might be lost for good.

What to do with it instead: I would first suggest giving your closet a once-over to make sure the mate is truly gone. Then, discard the lone wolf or find a new use for it such as taking a sole sock and tackling dusty blinds.
Speaking of dust, I often come across shoes or their boxes that have quite a build-up of it. Shoes are clunky and take up a lot of room so there's no reason to keep them in the closet.

What to do with it instead: If they're in good condition, donate them to a local charity or thrift store. For designer shoes, put them on a resale site and store them with any clothes you also have listed.
8. An overabundance of purses, bags, clutches, and tote bags
Something that makes me sad to see in a beautiful walk-in closet is a mish-mosh of bags strewn across the top shelf. They look cluttered and can lose their shape when shoved together. 

What to do with it instead: Go through and decide which ones you want to keep and which can be donated or sold. For the keepers, consider containing smaller bags or clutches in bins with lids.
Even if you live in a predominantly chillier climate, there's no reason to store heavy-duty outerwear in your closet. Things like ski jackets and snow gloves occupy entirely too much space and are only used for a season.

What to do with it instead: Depending on how often they get used, come up with a system for storing winter gear. Use vacuum-seal bags or a lidded tote to contain the things that only come out during the coldest months. 
Lastly, suitcases, duffels, or weekender bags will make a space look cluttered simply due to how cumbersome they are.

What to do with it instead: I suggest storing them in a spare room or any other storage area such as a loft, space under the stairs, or even under your bed is a possibility.