6 Things Making Your Bathroom Feel So Much Smaller, According to a Very Wise Home Stager
We independently select these products—if you buy from one of our links, we may earn a commission. All prices were accurate at the time of publishing.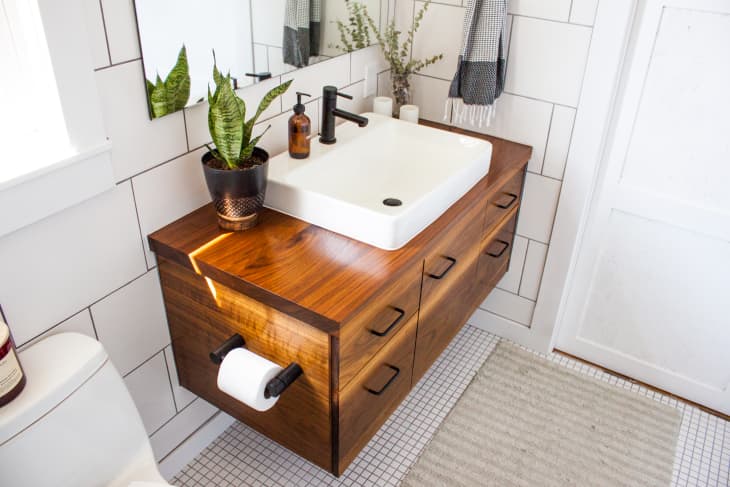 Bathrooms are tricky. Instagram would have you believe they should be minimalistic and only display the necessities, but that's oftentimes not the case. 
Follow Topics for more like this
Follow for more stories like this
Especially with all of the self-care products folks accumulate, bathrooms can get cramped and messy really fast. But aside from clutter, other decor trends could also be making your bathroom feel much smaller. Not exactly sure what's crowding your space? These six culprits might surprise you.
Patterns go a long way. According to Janelle Hughes, co-owner of KJ Design & Mortar Styling, lighter colors are the way to go when purchasing a shower curtain.
"Consider the percentage of colors that you want to have in a space," she says. "If your color palette in your home is white, gray, and blue, then you're probably only going to want to have 10 percent blue in the bathroom just so that you're not giving the room that cave-like experience."
Glass shower doors are preferable, but if you're on a tight budget, choose a soothing shower curtain pattern to avoid making the space feel smaller. 
Yep, even hand towels make a difference when it comes to scaling down your bathroom. Hughes says bulky cotton ones can cause crowding. "Going with a lighter fabric or textile [like linen] can help give you more of a light and airy feel," she says.
Scale is everything, according to Hughes. Small mirrors can make any bathroom feel closed in. Hughes says even if you have a small bathroom, there's always room to go bold with mirrors. "You can do a really large round mirror above your vanity, or even integrate a floor length mirror," she says.
Over-the-door mirrors work, too, if you don't have the space to hang one. "Any opportunity that you can take advantage of bringing more natural light into the space is going to help it feel less small," she says. 
Chunky, closed-cabinet storage can take up precious square footage, especially in powder rooms. Hughes recommends modern pedestal sink vanities or wall-mounted floating units. Integrating a unit that has open shelving so you can display baskets and boxes can help create a more open look, while still enclosing toiletries and self-care items. "It gives your eyes more places to breathe, which gives you the illusion that you do have more real estate within that little space," she says.
"In smaller spaces, you really have to use color as your friend," Hughes says. If you have a smaller bathroom without a window, do everything you can to focus on lighter colors. "In graphic design, they always say, you don't want to have 10 things on a page when two things can communicate the message, and it's the same with color in a space," she says. If you want to use dark colors, you can have fun by adding an accent wall of wallpaper to spice up the space, while still expanding it with lighter colors.
Hughes recommends taking hampers out of the bathroom to clear up floor space. "Depending on the bulk of them, they can feel crowded," she says. Instead, keep those in the laundry room or bedroom.