6 Things You Should Never Put Under Your Sink, According to Real Estate Experts
We independently select these products—if you buy from one of our links, we may earn a commission. All prices were accurate at the time of publishing.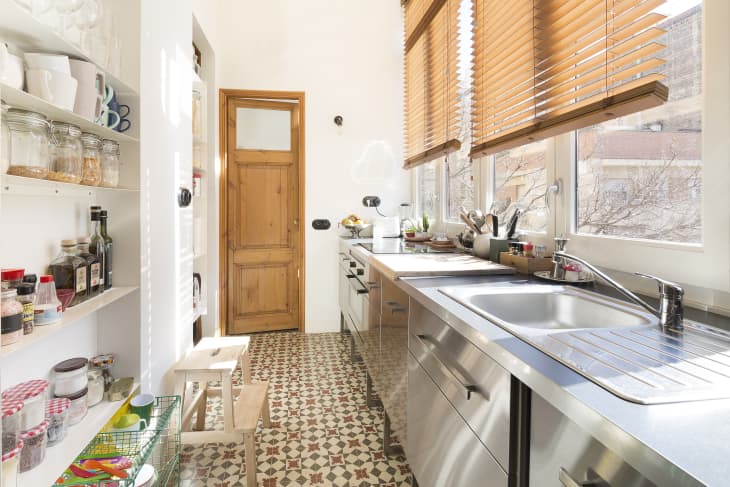 I have to admit: I'm pretty useless around the house. My mother and cousin love to point out all the ways I fall short as a childless millennial: I use too much water on my cast-iron skillet my makeup ruins my my white towels and pillowcases, and I let my bathroom get way too grimy sometimes. This is all to say that I haven't internalized a lot of old-school household wisdom.
Follow Topics for more like this
Follow for more stories like this
So, after talking to a few real estate experts, I discovered that I do plenty of other things wrong, too. For instance: I've never taken inventory of the items under my kitchen and bathroom sinks. When was the last time you did this?
Chances are, you'll find a bunch of things that don't belong. I found a blow dryer, curling irons, spray paint, bleach, a powder-based chemical to kill rodents, and a box filled with instructions to appliances around my house. I relocated all those items to safer places, based on tips from Houston-based real estate experts. 
Here are six things that you shouldn't keep from under your kitchen and bathroom sinks, according to the pros. 
Harsh chemicals can easily mix with other products, which can create a hazardous incident, says realtor Tina Wilcher of Century 21 Exclusive Properties. In fact, some chemicals are in powder form and cannot be easily cleaned when they spill or transfer to other products. 
If someone touches these products, they can end up with a rash or reaction. There is also the chance that these products can be inhaled or ingested, which could be deadly.  
Wilcher says it's best to keep harsh chemicals in a dry space like a garage or another controlled area. You should keep bleach and other cleaning products in the laundry room, for example. The items should be situated high enough to stay out of reach of children, but within arm's reach so that the products don't accidentally fall on you, Wilcher says.
While under the sink may be a convenient place to store paper supplies like paper towels, paper bags, and tissues, it may be one of the worst storage spots for them, says realtor Porshae' Brown of Equinox Realty Group. 
These items can be easily damaged by water or the moisture a sink gives off from hot water or holding water. You'll want to avoid storing any items that can be damaged due a leaky faucet. This can also cause mold and bacteria to build up, she says. These paper items are better stored in a nearby closet or another cabinet.
Storing pet food around chemicals is a safety hazard, says Brown. If you store these items together or around each other, spills can happen or the harsh chemicals can seep into your pet's food. This can be very dangerous for your furry friends.
Pet food is safe to store just about anywhere if it's concealed in a plastic container. If sealed and unable to be penetrated by liquids and harsh fumes, then the storage locations are endless. 
You may be tempted to place your toaster, blender, electric can opener, or George Foreman grill under the sink, but don't, says Sachel Lewis, an assistant manager at Houston-based Greystar. 
Electronics shouldn't be stored under the sink, as there's a risk of liquid damage. 
It's easy to want to store go-to products like a hair dryer, handheld vacuum, or flat irons under the sink storage area, but water damage can happen, Brown says. Even moisture from water itself can cause electronics to malfunction or rust over time. 
While you may do this because you are tight on space, Lewis says pretty much anywhere else is a much better option. She says to keep small appliances in the pantry or cabinet, or use a cart or another type of storage bin.  
Paint cans and spray paint 
Paint cans and spray cans should stay out of the house, Lewis says. The mixture of chemicals make the products hazardous. Those items should also stay away from appliances that use gas, such as a stove or water heater. Lewis says paint should be stored in the garage, basement, or an outside storage area. 
Flammable products, such as solvents, thinners, polishes, and some cleaners don't go under the kitchen sink, Wilcher says. Those products near the motor of garage disposal or dishwasher could cause a fire. 
She says it's best to follow the instruction on the bottle, which will determine the proper room temperature for the product. Wilcher recommends that you leave the products in a garage or outdoor storage. She says make sure that the products are not near a water heater and cannot be knocked over.