5 Things You Should Never Say When Viewing a House for Sale
We independently select these products—if you buy from one of our links, we may earn a commission. All prices were accurate at the time of publishing.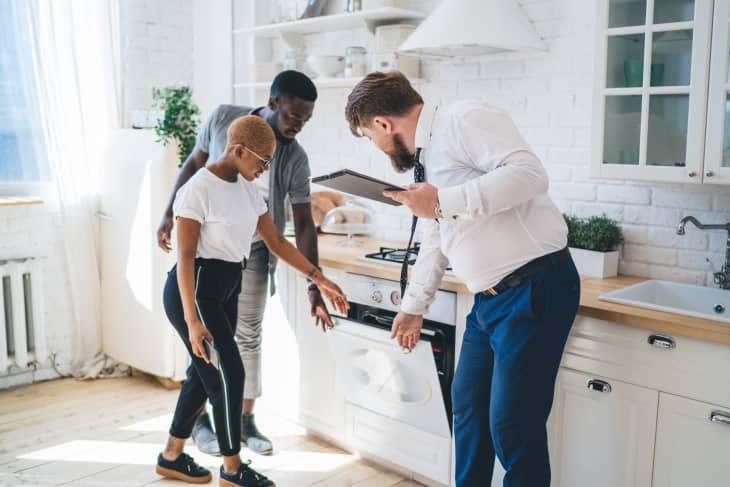 Some sellers put a little more effort and money into getting their homes ready to sell, whether it's painting over vibrant orange walls with warm neutral colors or replacing carpet with laminate flooring. But if you walk into an outdated home whose style might not suit yours, you should probably hold off making that known right away. Focus on renovations to match your lifestyle after you seal the deal. 
Follow Topics for more like this
Follow for more stories like this
Before you stick your foot into your mouth, consider these five things you should never say about a property for sale. Whether the sellers hear you from the other room or their Amazon Alexa repeats what you've said later on, it's worth keeping some things to yourself during a tour. This way, you can be sitting pretty when a bidding war emerges.
Hold the criticism until after you leave.
The last thing you want to do is offend sellers by making negative comments about their home from the outside. 
"Before walking up to tour a property, I always put my finger over my lips to signal sealed lips for our showing," says Christian Ross, managing broker for Engel & Völkers Atlanta. "A lot of homes have video doorbells and begin recording 30 seconds before you reach the door as well as after you walk away."
Once inside, avoid discussing the home in front of the sellers, especially if it involves disparaging remarks. Instead, take notes on things you would want to change.
Avoid making an emotional decision.
Even if you're thinking, "This place will be perfect for my family," Ross says that before buyers enter a home, they can compliment curb appeal or the home's presence, but they should speak quietly when exclaiming things like "This is so close to the kid's school!" or "This is the neighborhood we have to be in."  
"You never want to give away negotiating power because a seller heard an absolute about your life related to their home," explains Ross, referring to when buyers reference one of the non-negotiables in their search, like a particular school district or close proximity to a family member or child care.
Don't ask intrusive questions.
You might be curious to learn why the sellers put their home on the market. But avoid asking probing questions, especially if the sellers' agent isn't present. Personal reasons like divorce,  job loss, or relocation are none of your business.
A little chit-chat is fine, however, as a potential buyer, sharing too much information could put you at a disadvantage by compromising your bargaining position. Similarly, make sure anyone who's joining you on your tour is on the same page.
Ross explains, "If you have a friend or family member with you, give them a gentle nudge if you hear them heading down a negative home feature tirade. You always want to put your best foot forward for an offer in every way possible, and it all starts with the showing."
Don't say the price is unrealistic.
Though you might be thinking,"'You'll never get that price!" as a buyer, it's best for you to keep your thoughts and opinions to yourself. The home could very well be within range of comparables in the neighborhood. On the other hand, some sellers aren't open to lowering until they've tried their listing price for a couple of months or feel pressured to sell their home quickly.