4 Things Real Estate Agents Always Say About Colonial Homes
We
independently
select these products—if you buy from one of our links, we may earn a commission. All prices were accurate at the time of publishing.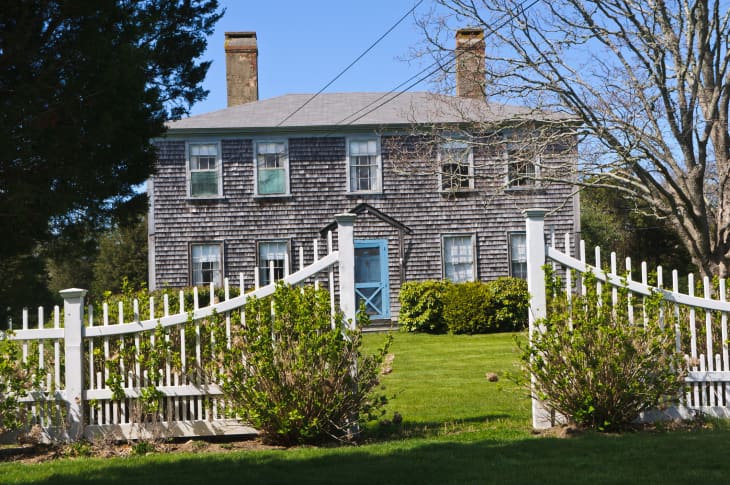 Colonial homes are total show-stoppers. They have a stark sense of symmetry that sets them apart from other housing styles, such as Tudors and ranches. They also have a long and rich history, with early Colonial homes dating back to the 1600s. 
If you can appreciate the formidable presence of Colonial-style homes, you're in good company: Colonial homes are one of the most popular and common housing styles in the U.S., and the fact that they are as prevalent as they are today speaks to the enduring likability of the style. 
To find out more about Colonials, I asked three real estate experts about the highlights and drawbacks of the housing style. Here's what they had to say.
They're packed with curb appeal.
Allison Ciarcia, a Realtor with The One Team at William Raveis Real Estate, describes the Colonial-style home as beautiful and traditional, with strong European characteristics such as steep, side-gabled roofs and multi-paned windows. 
"Colonial-style homes are usually two or three stories high with an elaborate front entrance. They are generally symmetrical with the front door in the center of the home and an even number of windows on either side," says Ciarcia. "If you are looking for curb appeal, this is the home for you."  
The interior might need some updating.
Geoffrey Hanan, a sales partner with PRIME Real Estate Group, was surrounded by Colonial homes growing up in Maine. "A huge desire for many buyers is the original finishings and features," he says. "It can be a bit of a double-edged sword because you're investing in something that's going to require a little more fostering, but the quality and craftsmanship makes the juice worth the squeeze."
Even if you're purchasing a Colonial home with the intent of keeping the original features intact, Hanan suggests budgeting for some practical upgrades, such as converting an oil-fueled heating system to natural gas.
They lack accessibility and tend to have closed floor plans.
The multi-story nature of the Colonial can pose challenges to the elderly or those with mobility impairments. "They will find this to be a disadvantage as the bedrooms are usually all on the second and third floors," says Ciarcia. 
Traditional Colonials also tend to have closed floor plans, with the kitchen, living area, and dining areas in separate rooms, which can feel too formal for some. "Many families are looking for an open floor plan these days," says Ciarcia. "However, in some of the new, modern Colonial-style homes, the floor plans are more open."
They are renovation-friendly — but watch out for historical designations.
"The main feature of the Colonial home that makes it stand out from other styles is its geometric design," says Ciarcia. "Colonial-style homes are square or rectangle in shape, and this allows for easy modifications with additions and renovations."
That said, there are some circumstances where renovating a Colonial home is simply not an option. "If you are purchasing a Colonial from years gone by, double check if the home is in a historical zone," says Stephanie Saunders, a Realtor with the Key Team at Leading Edge Real Estate. "This may impact interior and exterior changes you wish to make during your time as a homeowner."