What Is a Colonial-Style House?
We independently select these products—if you buy from one of our links, we may earn a commission. All prices were accurate at the time of publishing.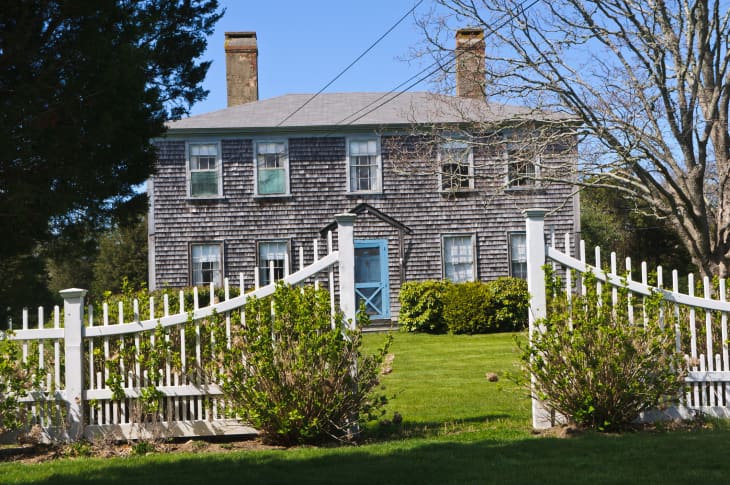 Remember that home from "The Notebook"? With its wraparound porch, louvered shutters, exterior columns? Or the McAllister house in "Home Alone"? Those dormer windows, centered entrance, and its brick construction? These charming homes both have elements of the American Colonial style, but they don't look exactly alike, either. The regional variations of this style have different materials and details, so that makes them a bit harder to pick out than Tudor- or Ranch-style homes. However, there's one giveaway that you're looking at a Colonial: symmetry. 
Follow Topics for more like this
Follow for more stories like this
This type of architecture is one of the oldest in the United States, originating between 1600 and 1800, and for that reason, cities like Boston and Philadelphia probably come to mind. Colonials do have a very traditional, formal aesthetic, after all. But the Colonial style also encompasses English Colonial, French Colonial, Spanish Colonial, Dutch Colonial, and Georgian styles, which span across the country. Thus Colonials are heavily influenced by where they're located and the immigrants who settled there.
What makes a house Colonial?
Generally, American Colonial homes are simple and rectangular. The exterior is incredibly symmetrical, so much so that one side of the house is a mirror image of the other. Most Colonial homes are two stories, but there are some one-and-a-half story homes—these might have dormer windows. They are mostly built with side-gable and hipped roofs with chimneys on either side or right in the middle. You'll also notice porticos embellished with columns or decorative molding. In warmer coastal cities, there might be bigger porches or a stucco exterior, while in New England you'll likely find more clapboard and brick. 
In most layouts, you'll see that the front door opens to a formal foyer and a distinguished staircase, usually constructed from wood. On the inside, there are common spaces like the kitchen, living room, and dining room on the first floor with bedrooms upstairs. The rooms, like the home's exterior, are also symmetrical. So, you could find a fireplace as a central feature or two fireplaces on either side of the home.
What are the different types of colonial houses?
There are quite a few different styles of Colonial architecture, like the ones mentioned above. Although there are similarities between regions, it's heavily influenced by both the climate and what immigrants settled in the area. 
Let's take a look at Spanish Colonial—very different from the quaint little cottages on the East Coast. You'll find a lot of this style in Florida and California, particularly in coastal cities like Los Angeles and St. Augustine. Architectural details here include stucco walls, wrought-iron accents, and arched windows and doorways.
Looking at original German Colonial style homes, you might notice that these structures are built into an embankment or hillside. This design stems from Swiss immigrants that settled in areas like Pennsylvania, New Jersey, and Delaware. It helped to create efficient cold storage, plus protect the house from harsh winters and humid summers.
Another picturesque variation: check out the French Colonial homes in New Orleans. The homes in this area look like mini-estates with beautifully landscaped courtyards. Rather than paned windows, they have skinny double doors giving each room access to the outdoors—I mean, why not, when you've got warmer temperatures?
The Colonial style can be tough to identify with so many subtypes, but just remember to look for characteristics that track across the board. Symmetry? Check. Rectangular shape? Definitely. Simple floor plan? Yep. As one of the oldest and easiest-to-modify styles, these homes are also subject to additions and restorations that might alter the original well past recognition. Don't worry, a little detective work like examining mismatched floorboards or new drywall, could give you enough context to decide if what you're looking at is a Colonial-style home.