6 Important Things to Look for When Shopping for Secondhand Clothes
We independently select these products—if you buy from one of our links, we may earn a commission. All prices were accurate at the time of publishing.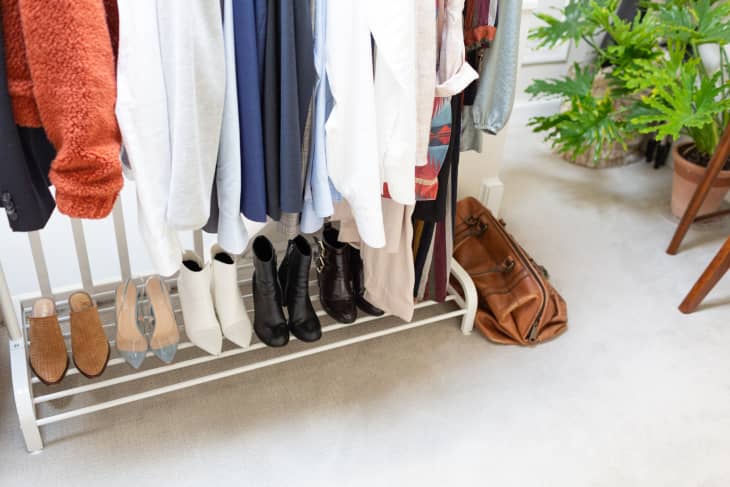 Whether it's the thrill of the hunt or to save a bit of money, you may enjoy shopping at thrift stores, consignment shops, and resale websites for secondhand clothes. Not only can you score bargains, but buying pre-loved pieces is kind to the environment and reduces clothing waste.
Follow Topics for more like this
Follow for more stories like this
However, you may be leery of purchasing someone else's castoffs, and rightfully so, as some pieces may have excessive wear and tear. There are telltale signs you should pass on an article of clothing, but with a bit of searching, you can find exactly what you need. Here are six things to look for when shopping for secondhand clothes. 
Labels inside of clothing bear weight, especially when purchasing things secondhand. Some fast-fashion brands design trendy pieces to only last a season or two, whereas others produce clothing to stand the test of time. "Brand names help ensure quality," says Melissa Mazzeo, the co-owner of Merry Go Rounds, a children's resale clothing company. So look for labels that you already know and have good experiences with.
Plus, you may not be able to splurge on a brand new designer piece, but finding one at a resale shop is much more cost-effective. "Buying brand names secondhand also helps you save a ton of money, and purchasing from a brand you trust makes your decision easier," Mazzeo adds. Go with labels you trust and would like to include in your wardrobe. No one will ever know that your brand name pieces are thrifted finds. 
Search for wishlist items.
Buying secondhand can be an adventure, so it's necessary to be patient, especially if you are looking for a particular item. "Having a clear goal in mind helps you not get overwhelmed with the options offered and makes the experience more enjoyable," Mazzeo tells Apartment Therapy. Just be aware that it may take a few trips to find exactly what you want in your size. 
Even if you don't have a specific item on your wishlist, go into a store or look online with an open mind. Mazzeo advises that you should prepare to spend time shopping, including hitting the sales racks and even the men's section for oversized pieces. "Shopping secondhand means there are gems hidden around the store. You just need the patience to look through the items," she says. You might not be in the market for a particular piece, but if you find a luxe brand at an attractive price that fits perfectly, you should snag it while you can.
Check several different locations for pieces.
If you've never thrifted before, knowing where to begin seems overwhelming. After all, you can shop sites like The RealReal and ThredUp, head to local consignment shops, scour racks at Goodwill, or take your chances at a yard sale or flea market. Of course, you'll get better deals at garage sales and your Sunday flea. "Major scores from a cost perspective will come at thrift stores (often in higher-end neighborhoods) and flea markets," advises Stephanie Gisondi-Little, the personal stylist behind Composed Co. With patience and regular visits, you can find unique pieces and the occasional designer gem. 
Although you may pay a bit more, consignment shops and resale websites keep inventory and allow you to shop by size, brand, and article of clothing. So, you may have to search various locations before filling your wardrobe with thrifted pieces. "How to score a major deal? Look across multiple platforms for specific items, and be patient," says Gisondi-Little. "The internet is a powerful thing in terms of the many outlets available."
Scrutinize the condition carefully.
Your clothing should be in tip-top condition, especially when purchasing secondhand items. "Rips, tears, holes, and stains are all the obvious things to look for," says Christine Wang, an avid thrifter who has been buying and selling clothing for over a decade. "You want to look every part of the clothing over well, even the inside of them where there can often be hidden damage." Other places to check are the base of buttons and the armpit area, both of which can tear easily. 
Gisondi-Little also suggests checking specific locations for staining and pills, which are those tiny balls of lint that collect on knit items. "Definitely check any white shirts for armpit and neck stains and sweaters for pilling under the arms or elsewhere," she says. Battery-powered fabric shavers and inexpensive and can revive lint-laden pieces in a hurry. Also, check stretchy articles, such as activewear and denim, to ensure no rippling, which occurs when clothing is machine dried frequently.
Smell clothing for funky odors.
The thought of giving someone else's clothes the sniff test is unappealing, of course. And hopefully whoever donated, consigned, or resold the items gave them a fresh wash before doing so. However, some smells will linger no matter how clean a piece is, so be aware. Smoke, mothballs, and pet odors are complex to get rid of or mask. "One of my pet peeves with used clothing is smelling like smoke," says Wang. "It can sometimes be hard to get the smell out."
Of course, a fresh cleaning is necessary for thrifted items, so be prepared to launder or dry clean your pieces to get rid of other scents. "Assume you will clean the garment to release any lingering smells in case the garment was not listed clean or has been in storage for a while," Gisondi-Little says. If a piece needs to be professionally cleaned, you should factor the cost of cleaning into your overall purchase price.
Be wary of tailored items.
Most articles of clothing aren't a perfect fit off the rack, and for a good reason. Many clothing companies mass-produce articles for an average body type, meaning that you will need to tailor a garment to fit flawlessly. Therefore, if a piece is tailored for someone else, it may not be a good fit for you. "One thing to always avoid when thrifting is fitted suits," suggests Jackson Cunningham, the founder of JJ Suspenders. "Although they can be a good deal, they are often made to fit someone's specific body type — they will never quite fit another person's body correctly."
However, if you find an almost-perfect piece, consider having it tailored for your body. Elise Chase-Sinclair, a seamstress and clothing blogger, suggests that some fixes, such as sewing on a button, can be done yourself, whereas other clothing issues require a professional touch. "If you shop secondhand, it's good to be handy with a needle and thread or take it to someone who is," she says. Although resale shopping is eco-conscious and frugal, investing in quality pieces made of durable fabric is key, especially if you want them mended or altered.