This Ridiculously Tiny San Francisco Studio Has a Bathroom in the Kitchen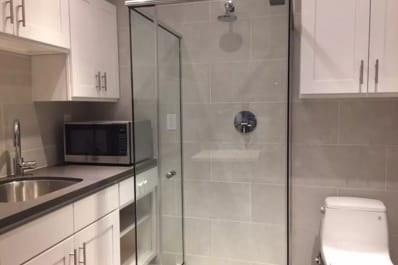 (Image credit: via NextDoor)
Alright, San Francisco, you officially win at ridiculous real estate. This studio is so tiny that it has a combo kitchen and bathroom. The icing on the cake? The landlord is asking $2000 per month.
SFist shared a listing from neighborhood site Nextdoor advertising this newly renovated space in Presidio Heights. While the square footage isn't advertised, the listing does say it's "tiny" and that "one person [is] best." Unless there's an entire space that's not represented in the photos, it looks like it's barely 200 square feet. Though, if there were more square footage, the bathroom would presumably be in its own space with walls, so I don't think that estimate is wildly off.
(Image credit: via NextDoor)
Here's a sofa and what we think (hope) is a Murphy bed, though it is questionable if there'd be enough room to walk around it if it was down.
(Image credit: via NextDoor)
The other wall has some built in cabinetry, a breakfast bar meets desk combo, a wall mounted TV, and is that a large, fancy thermostat? Perhaps a very skinny wine fridge? Medicine cabinet? We may never know.
San Francisco rents have been out of control for some time, but $2000 ("or best offer," according to the listing) for this place is pretty crazy. It even makes paying $400 to rent a pod in someone's living room seem reasonable. At least the kitchen and bathroom are separate.
In a recent study, the City by the Bay just snagged the top spot for most expensive rent in the entire world. Rent costs more per square foot in San Francisco, New York, and Boston than in Hong Kong, Singapore, Dubai, or London. That same study also claimed that a single person needs 420 square feet to live comfortably, which is at least twice the size of this tiny studio.
h/t SFist