TikTok's "Queen of Cleaning" Vanesa Amaro on Cleaning, Culture, and Her Favorite Mexican Cleaning Supplies
We
independently
select these products—if you buy from one of our links, we may earn a commission. All prices were accurate at the time of publishing.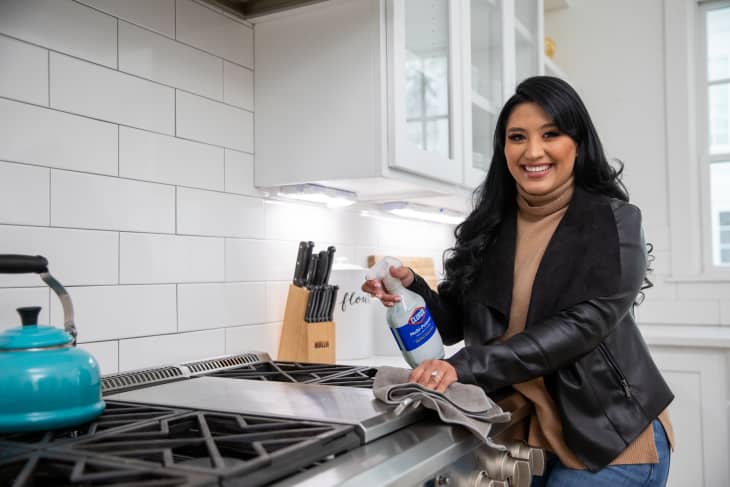 Like many others during March 2020, Vanesa Amaro's housekeeping job came to a screeching halt. She and her husband Alex, whom she taught how to clean while they were living at her parents' house, had just begun their business of cleaning houses. What had started as a hobby and side hustle for Vanesa quickly became a main source of income during a financially difficult period in her and Alex's life. While the start of the pandemic forced them to cease their housekeeping venture, little did they know that this downtime would catapult Vanesa into building her brand and come into her calling — TikTok's "Queen of Cleaning."
"In May 2020, I finally caved and downloaded TikTok per my sister's insistence," says Vanesa. "Aside from dancing teenagers, I noticed a lot of videos about DIY, repairs, and other tips. I told myself, 'I can do this! I know how to clean houses.'"
Vanesa's first handful of videos went viral, amassing millions of views and 45,000 followers overnight. After just six months, her following reached one million and today, she has more than 5.5 million followers. Her videos were, and still are, some of the most popular on #CleanTok, TikTok's hashtag specifically catered to those looking for cleaning tips, hacks, and everything in between. Vanesa's following and brand as a professional housekeeper-turned-cleaning TikToker has allowed her to work as an ambassador with renowned brands like Clorox, design cleaning products like her Scrub Babies (resized Scrub Daddy sponges to fit smaller hands), and release her own cleaning ebook that includes tips, a cleaning checklist, and more.
"To have such amazing opportunities to partner with brands like Clorox is still surreal to me," says Vanesa. "These are brands and products I've grown up with and have used as a housekeeper, so I just feel very grateful to everyone who has believed in me along the way."
Vanesa was born and raised in Monterrey, Mexico, later moving to Texas, which she now calls home. Spending time in between both countries growing up shaped her cultural identity. Despite not being able to finish school, Vanesa has more than overcome an array of obstacles and struggles to become a proud and successful Latina with a relatability she feels is what mainly attracts people to her content.
"I have a lot of things stacked against me: I'm brown, I'm a woman, I'm Latina, I'm a housekeeper, and I live in Texas!" she says. "I love that I have been able to use my platform to advocate for housekeepers and share tips on how to be comfortable and confident when you're doing this type of work in someone's home."
Throughout her years as a housekeeper, Vanesa has had to dodge the racial stereotype of the Latina maid, while grappling with her feelings of shame, as is common with Latina women and the act of cleaning. She recalls a moment from several years ago, mentioning that she had lowered her head and looked down to the floor as the homeowner passed by her in the hallway. 
"I cried later that day because I felt so ashamed that I did that," she says. "We are not different because someone is paying me to clean their toilet, and we shouldn't give them more power over us because that only perpetuates the stereotype."
Vanesa is on a mission to destigmatize what it means to clean, especially for those who work in the service industry. For far too long, the housekeeping profession has been looked down upon, and Vanesa is dedicated to breaking stereotypes, being a helpful resource, and sharing advice with those who feel shame in any way when it comes to cleaning. 
"Cleaning can be overwhelming, so it's OK to ask for help," she says. "In our culture, it's common for women to clean and take care of a home like it's our job, but even if you don't have the money to hire someone, ask a friend or family member for help. It's the only way we can balance our lives, our families, and ourselves."
In addition to creating content and collaborating with brands, Vanesa and her husband spend much of their free time cleaning houses at no charge for families whose loved ones are struggling with terminal illnesses. 
"I am so privileged and grateful that I don't have to rely on a job as a housekeeper anymore, so I only want to continue to pay it forward," she says. "We've been able to help so many families, and the journey has been amazing."
When she is creating new content, or even just cleaning her own home, Vanesa looks to the reliable products she grew up with that are not only functional but also fill her with the nostalgia that connects her to her culture. Here are Vanesa's favorite Mexican cleaning supplies.