TikTok's New Favorite Aesthetic Is "Coastal Grandmother"
We independently select these products—if you buy from one of our links, we may earn a commission. All prices were accurate at the time of publishing.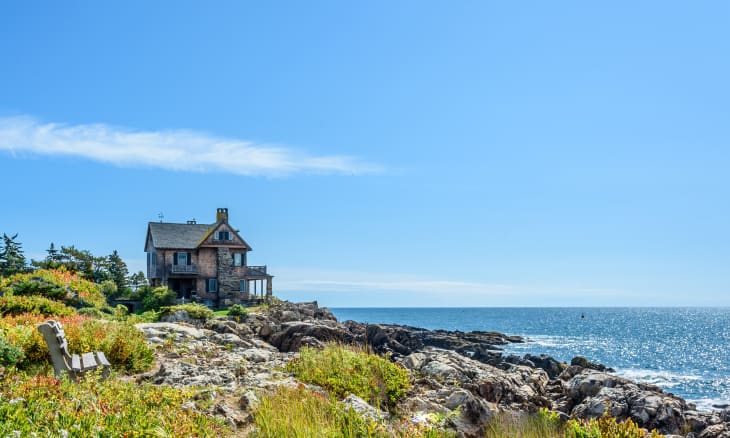 Do you find yourself longing to take walks on the beach wrapped in a shawl, mulling over your latest fling? Or maybe you find yourself wishing to sit in the bay window of an elarged beach cottage, sipping a cup of coffee while reading a good book. Or perhaps you're daydreaming about hosting a candlelit dinner party in your dreamy New England Cape with plenty of white wine to go around.
If any of the above is true, you may just be into "coastal grandmother," or "living like a middle-aged divorcé," as Buzzfeed News puts it.
Follow Topics for more like this
Follow for more stories like this
"What is Coastal Grandmother, you ask? It's a term that I coined for this aesthetic," TikTok user Lex Nicoleta (@lexnicoleta) explains over pics of Diane Keaton in "Something's Gotta Give" in a March video. Lex's TikTok has garnered over 380,000 likes in less than a month.
"If you love Nancy Meyers movies, coastal vibes, recipes and cooking, Ina Garten, cozy interiors, and more, there's a good chance you might be a coastal grandmother," she continues.
"​​Grace and Frankie's beach house," one TikTok user commented. Another wrote, "Meryl Streep's house in 'It's Complicated'."
One TikTok user hilariously asked, "How can I be a coastal grandmother if I don't have coastal grandmother money???" to which Lex wrote back, "Fresh flowers, a good playlist and a button up shirt." And she's right.
Investing in a few antique ginger jars will also really sell the vibe. This one from Williams Sonoma is a great starter jar.
Lex has turned the coastal grandmother aesthetic into an entire series on her TikTok page where she talks about arranging flowers, cooking for friends, which Chardonnays are best, and Lex even has tips on buying the perfect cappuccino cup and saucer.
She likes the Apilco Tradition cups and saucers, also from Williams Sonoma.
"And no," Lex says in her original video. "You don't have to be a grandmother to be a coastal grandmother. It's for anyone and everyone."
Grab your favorite white turtleneck and pretend your house has weathered shingles and sits just beyond the dunes. It's officially coastal grandmother season.