I Finally Snagged This Always Sold-Out TikTok Storage Bench
We independently select these products—if you buy from one of our links, we may earn a commission. All prices were accurate at the time of publishing.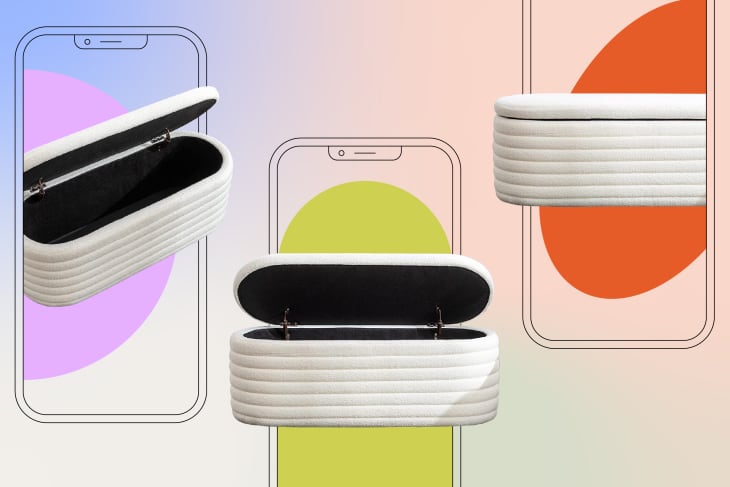 I'm all about using TikTok for decorating inspiration; it's one of my favorite places to find house tours (other than Apartment Therapy, of course), search for style inspiration, and discover cool products for my home. I have been influenced countless times to buy small things like levitating lamps, candles, and bath towels, and I'm not ashamed of it. My latest obsession has been this faux fur storage bench from Amazon that always seems to be sold out. But I finally got my hands on one, and I have very strong feelings about it. 
I first saw this piece on the TikTok account of Sydney Nicole, who has dedicated most of her videos to Amazon fashion and home finds. Last November, she posted a TikTok unboxing what she called a "teddy bench," and the post got over half a million views. The bench is about 45 inches wide with a horizontal stacked design that almost looks like ribbing. Shapely, curvy corners round out the silhouette, and the whole piece is covered in a cozy white sherpa material.
After I liked and shared Sydney's video, the algorithm got to work and started showing me other creators who had also bought and loved this super-chic bench. So naturally, I clicked over to Amazon to buy it for myself, but it was sold out. I went back and checked every few weeks and never had any luck — until one day, when it was randomly back in stock. I didn't think twice about adding it to my cart. The bench costs $270, which I considered a reasonable price for how stylish it looks, its overall size, and the fact that it offers hidden storage and thus is hinged. When I was finally able to unbox my own bench, I immediately fell in love. 
This bench is even more beautiful in person. The material is soft, bright, and surprisingly easy to spot-clean. What I love most is that it's 17 inches deep, so it offers tons of covert storage space for blankets, diapers, and baby toys that I don't want to leave out in the open in my living room. I haven't done much sitting on it, but it's a great spot to put on or take off shoes, and you can definitely offer it as a perch to guests if you've run out of sofa or chair seating. 
One TikToker who posted about the bench mentioned in her video that it looks really similar to a brand-name designer piece that retails for $700, and she's absolutely right. For nearly a third of the price, this isn't a bad alternative at all, if you're trying to achieve a neutral, high-end look at a lower price point. The final verdict is that this bench is absolutely worth the hype. It's currently still in stock on Amazon, but that could change in an instant. So if you've been eyeing this bench, consider this your sign to move it from your wishlist into your shopping cart.