This Unassuming TikTok Trend Completely Transformed My Relationship to Exercise
We independently select these products—if you buy from one of our links, we may earn a commission. All prices were accurate at the time of publishing.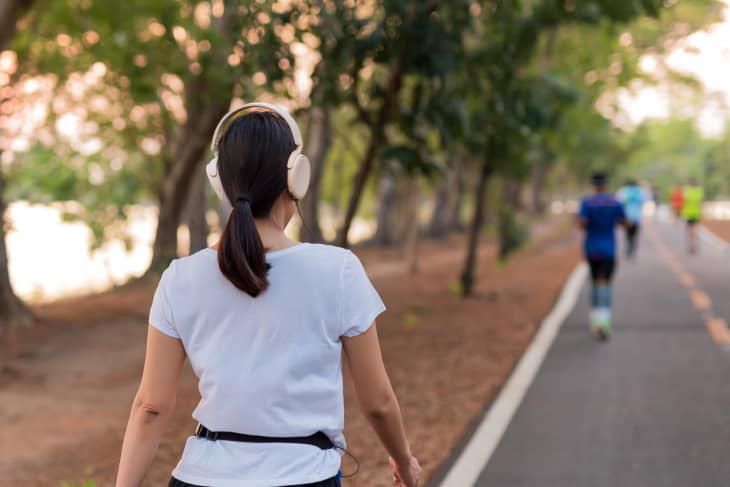 The "hot girl walk." If you've spent any amount of time on TikTok, then you've likely encountered a video or two about this exercise trend. As the name suggests, a hot girl walk is a slow-paced, intentional outdoor stroll with a focus on confidence-boosting vibes. Self-love anthems by Lizzo or Beyoncé are mandatory, and a specialty coffee is encouraged but not required.
Follow Topics for more like this
Follow for more stories like this
The term was coined in 2021 by TikToker Mia Lind, who realized during the COVID-19 pandemic that long walks often take on a "meditative element" conducive to promoting self-love. Lind recommends taking two- to four-mile walks (so, roughly 4,000 to 8,000 steps) while listening to a mood-lifting playlist or podcast for the full experience. She has even noted some changes to her physique as a result of regular hot girl walks. 
But for me, the transformative power of the hot girl walk has nothing to do with my appearance and everything to do with my relationship to movement.
Prior to introducing hot girl walks into my life, I viewed exercise as a form of punishment. It didn't matter how many accolades I'd wracked up in my professional life, or how loved I was by my friends, family, and partner: I constantly questioned whether I was worthy of success, love, or even physical affection. As a queer person in a larger body whose gender presentation defies societal norms, it was all too easy to redirect this internal lack of confidence toward my outward appearance. 
For most of my adult life, I channeled these gnawing feelings of insecurity into my workout routine. I prioritized grueling, high-intensity cardio workouts over everything else. The stair master, the treadmill, the elliptical — these machines were my second home. I blared mood-boosting music every time I hit the gym (yes, including the occasional Lizzo or Bey bop), but there was nothing meditative or even remotely celebratory about these workouts. 
Thanks to diet culture and systemic fatphobia, I'd internalized the notion that exercise was only valid for people like me if used in pursuit of a smaller, more conventionally "attractive" body. I didn't realize how deeply I'd absorbed these problematic values until I first stumbled upon a video of a TikToker evangelizing a little something called the "hot girl walk."
Upon first (and second, and third) watch, the concept seemed silly. I'm a freelance writer who lives in New York City. I walk everywhere, especially after the onset of the COVID-19 pandemic. How could this unavoidable part of my daily life constitute exercise, let alone a self-care practice? Better yet, I'm genderfluid. It's semantics, sure, but could a TikTok trend targeted toward "hot girls" actually benefit me?
But something about the hot girl walk struck a chord. Per Lind's definition, it pairs movement with mindfulness. These walks aren't about achieving a personal fitness goal, reaching some arbitrary number on the scale, or even going anywhere in particular. The whole point is to enjoy the present moment and honor each and every part of yourself, from the personality quirks that make you, you, to the core muscles that enable you to stand upright in the first place.
Over the past year and a half, I've begun incorporating hot girl walks into my daily life. I don't have a hard-and-fast routine, but my hot girl walks usually involve a comfy T-shirt and bike shorts, an iced coffee from my favorite local cafe, and the latest episode of The Astrology Podcast. I meander as slowly as one can on a New York City sidewalk and try to stay in touch with what my body needs. If I'm feeling tired, I'll cut my walk short; if I'm bored or understimulated, I'll take a different route for a change of scenery.
I haven't completely abandoned vigorous gym sessions. I'm still a sucker for a quick sprint after a particularly stressful work day. Believe me, some things never change. But what I have kicked to the curb is my perception of exercise as inherently punitive. 
When I hit the pavement for a hot girl walk, I feel joy and excitement — two emotions I never used to associate with movement. It's not just about the slower pace or lessened rigor, either. When I carve time out of my busy day for a hot girl walk, I commit to moving my body with the intention of cultivating self-love, not harping on insecurities. 
I'm reminded of the late feminist scholar bell hook's groundbreaking text "All About Love: New Visions", in which she invites us to "[think] of love as an action rather than a feeling." I like to think of my hot girl walks as love in motion and encourage anyone reading this to give them a try. What's the harm in indulging an opportunity for joyful embodiment?
Lately, I've found myself feeling tenderness toward my younger self, who internalized so many harmful messages about movement and her self-worth. I wish she could see me now, but I'll settle for blasting the pop-punk music she loved on my hot girl walks.
This piece is part of Transformation Month, where we're showing off amazing home makeovers, brilliant tiny tweaks, inspiring before & afters, and so much more. Head on over here to see it all!