The 4 Elements Every Timeless Living Room Has, According to Designers
We independently select these products—if you buy from one of our links, we may earn a commission. All prices were accurate at the time of publishing.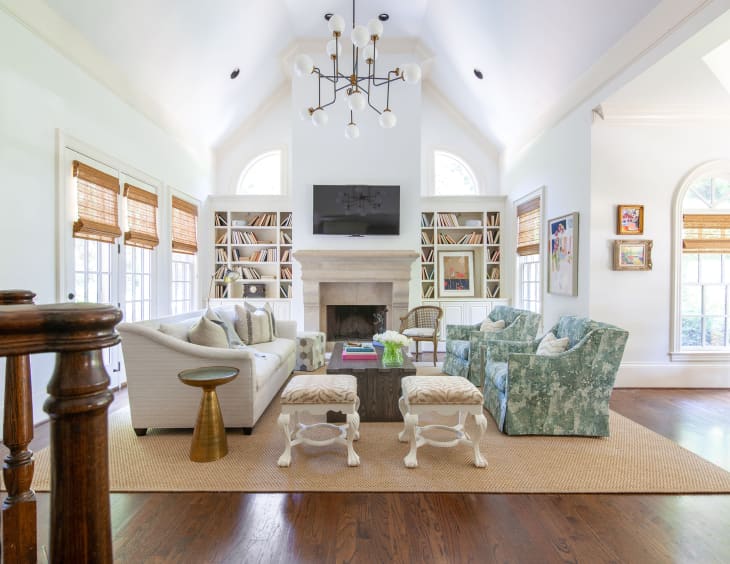 Designing your living room can be a daunting task. With so many options to choose from — from paint colors to sofas, rugs to wallcoverings, and everything in between — there's an overwhelming number of choices to make, and on top of that, platforms like Instagram, TikTok, and Pinterest are bursting with inspo. It can be tough to figure out whether you actually love a certain decorating style or trend or if you've just seen it so many times your brain has tricked itself into liking it.
The best solution for dealing with the plethora of design dogmas out there? Stick to timeless staples, and build upon that classic base from there. But that, too, is easier said than done. I spoke to a few of my favorite designers to get their best tips on what makes a living room feel timeless. TL;DR? "To create a timeless living room, each element must be carefully selected to work harmoniously with one another and collectively within the space — from the architecture of the home to the color palette and furnishings," says designer Angela Hamwey of Mackenzie & Co.. If you're looking for an even more nitty-gritty breakdown of what actually constitutes timelessness, read up on the specifics below.
Follow Topics for more like this
Follow for more stories like this
Grounding your living room with neutral colors is many a designer's choice for creating a timeless look. "Neutral colors, such as white, beige, and gray, are versatile and adaptable, making them a classic choice," designer Sara Malek Barney of BANDD/DESIGN explains.
Note: This doesn't mean your space has to be boring or completely devoid of color. It just means your investment pieces, like lighting, rugs, and sofas, shouldn't be so trendy (think: a chartreuse sofa, for example) that you'll tire of them in a year or two. Neutral larger pieces can still have some visual interest to them, thanks to natural textures and materials. Then, as Hamwey recommends, you can add thoughtful layers of color and pattern for extra decorative excitement.
Designer Yvonne McFadden of Y. McFadden Interiors says you can always use inexpensive items as accessories to really dress your room up, making it feel special and unique to you. "When our client wants to have fun with color and pattern, we encourage incorporating these through pillows and draperies, so that when the time comes for a refresh, these can be easily swapped out while the bones of the room can remain practically untouched," she says. 
When it comes to building a timeless living room, designers tend to turn to vintage pieces to get that classic look. "Antique or vintage furniture grounds the space and stands the test of time," says designer Hayley English of Hayley English Interiors.
If ornate antiques aren't your style, you can still mix in an old-school find or something secondhand with a more modern aesthetic. "We find that the juxtaposition of 'new with old' gives a nod to the traditional without feeling like you have taken a step into your local antique shop," McFadden says. 
Lighting can completely change the look of a room. Just ask a renter who has switched out all their boob lights for something they love: It's a total game-changer. Because lighting (especially classic or antique styles) can cost a pretty penny, remember to go with something you'll love forever. "Opting for a simple yet striking design in a metallic finish is a smart investment piece that will elevate any living room," Barney recommends.
Your overhead fixture isn't the only thing that should be taken into consideration. For a timeless feel, the moodier and the more options of lighting, the better. Consider things like an understanded brass light fixture overhead, an heirloom lamp on your side table, or an antique candelabra on a bookshelf. Remember that living rooms should be places to relax and unwind, and nothing kills a calm mood quite like harsh lighting. "Ambient lighting sets the mood of the space and complements the style of the home," English says. 
Even if you live in a space that has crown molding that isn't your style, think twice before you tear it down. Not only are original architectural features timeless if left untouched, but they can also be adjusted to suit your taste. "In our historic renovations, we often incorporate the home's more traditional paneling and molding, but we make the space fresh by using neutral and bright finishes and paints," McFadden says. If you're craving something more modern, a fresh coat of paint on the walls can really change the look of those features.
If you know you'll be in the home for a while, you could paint the wall and molding the same color, which is a slightly updated take on trim, too. For example, the living room above, designed by Andi Morse of Morse Design, has painted trim to maintain a light and airy feel but has a more old-school dark wood banister as well. And if you like the look of old details but don't have the actual original architecture to support them, you can always fake the traditional look with peel-and-stick picture frame molding, polyurethane crown, or other more temporary solutions.