Hallelujah, Even the Sims Can Have Tiny Houses Now
We
independently
select these products—if you buy from one of our links, we may earn a commission. All prices were accurate at the time of publishing.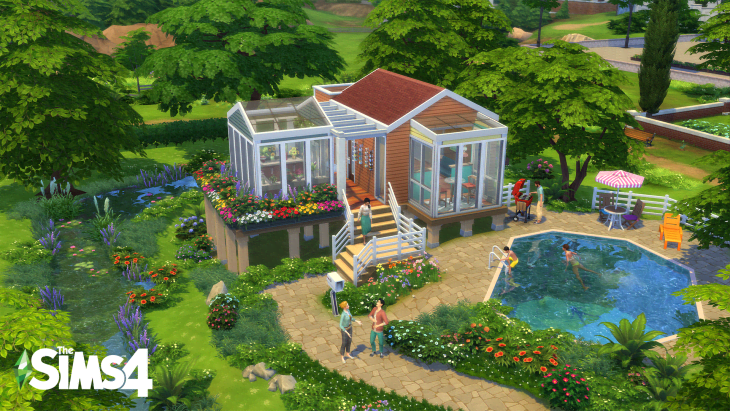 While we love the idea of tiny house living, it's a huge leap to actually move into one and pursue that lifestyle change. If only there were some way to live out your wildest micro-living dreams without actually having to move into one, whether it be a test run or quite frankly just for fun.
Well, the creators of The Sims must have read our minds, because there's now going to be a "stuff pack" for The Sims entirely dedicated to tiny living—and we can't wait to move our virtual characters in. 
Originally released in 2000, The Sims is a life stimulation video game where the player is able to build and design homes, then create and control characters who live there, with realistic wants similar to humans—from desiring love to seeking a fulfilling career and of course, indulging in delicious food and drink. And while there have been multiple expansions to The Sims game that have added more features over time, there has never been one specifically geared toward tiny living (which really shows how popular the lifestyle has become). 
In the game, users will have a cap as to how big they can build their homes. Yes, it's true that users could previously build small homes voluntarily, but now it's the challenge of not being able to go larger—even if you wanted to. The official trailer reveals that you'll be able to select "tiny home residential" for lot types, then build up to 100 tiles of floorspace which you can then erect walls around. 
In addition to building restrictions, some new small space furniture will be available, like the Murphy Bed combo. It comes with a two-seat loveseat connected to a storage compartment, so you optimize functionality while taking up little space. Other things like an all-in-one TV, bookshelf, and stereo will surely make tiny living more doable. 
Outside of furnishings, there are also simple wardrobe additions—from turtlenecks to dress-shirts—that add to your Sims minimalist lifestyle. Not to mention it screams trendy, just like your tiny house.
The Tiny Living stuff pack will be available on January 21, 2020, for PCs and Macs, and then will be up for grabs for Xbox One and Playstation 4 starting February 4, 2020. In the meantime, we'll be making blueprints of potential tiny house layouts. You can never start planning too early!