These Tiny Treehouses Will Add a Whimsical Touch to Your Plants
We independently select these products—if you buy from one of our links, we may earn a commission. All prices were accurate at the time of publishing.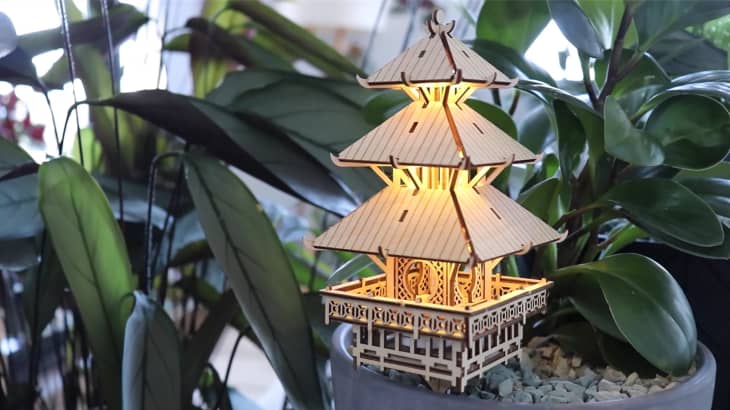 Whether you're a seasoned plant parent with many green babies adorning your home, or someone who prefers to bring in a touch of nature with a faux house plant, foliage fans will know that house plants are one of the best ways to bring in color and life to your home. And while plants can be a statement piece on their own—think Chrissy Teigen's giant black olive tree and Gigi Hadid's fiddle leaf fig plant—this company has created miniature treehouses that'll add a whimsical touch to your greenery. Think of them as little vacation homes for your plants.
Follow Topics for more like this
Follow for more stories like this
Tiny Treehouses offers just that… tiny treehouses that will instantly transform your plants or patio, bringing a little magic to your space through the eye-catching designs. The DIY wooden model kits are a great crafting activity for all abilities, with many of the models being suitable for ages 14+. Each kit comes with easy to follow instructions and all the tools you need to build the home.
The products have received impressive reviews from customers who praise the design and durability of the tiny homes.
"In a word: brilliant! It's obvious from the start that these designs were created with a lot of thought and care, not only for the details making them beautiful, but also for the builders' experience while putting them together." one person wrote.
Another said: "Love my tiny treehouse! Looks so cute hanging in my plants, especially with the little fairy lights on,"
Tiny Treehouses started as Australian 3D Designer Lars Christian's passion product during the 2020 COVID-19 lockdowns, before launching on Kickstarter and surpassing its $20,000 AUD target, reaching $300,000 AUD.