8 Tips for Making a Dual-Purpose Bedroom Work, According to Designers
We independently select these products—if you buy from one of our links, we may earn a commission. All prices were accurate at the time of publishing.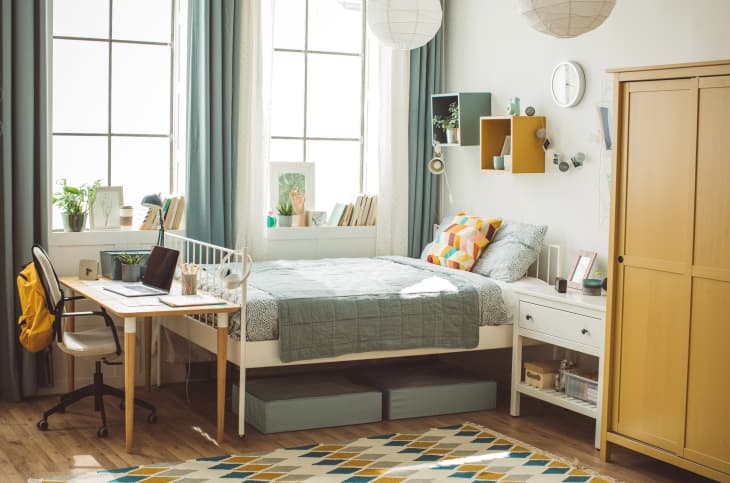 Creating a room that is conducive to both productivity and rest seems like trying to mix oil and vinegar. On the one hand, it is supposed to pump you up, inspire you to crank out excellent work, and hit new personal records. But on the other, it also has to be your relaxing escape from the ding of Slack notifications and deadlines.
Create Separation Between Work and Rest
No matter how small your work and sleep space is, creating some level of separation is critical. Ximena Rodriguez, principal and director of interior design at CetraRuddy, says it comes down to layout. "This can be as simple as orienting furniture so the bed isn't visible from the desk or work surface," she notes.
If you have more square footage to work with, consider a room divider to visually chop up the space. This may mean your desk is facing a wall rather than looking out a window, in which case, Rodriguez recommends hanging a piece of art or something visually pleasing to look at when you give your eyes a break from the computer.
For those who own their place, or renters who have flexibility in making renovations, Rodriguez recommends a step up from room dividers: built-in furniture.
"Use built-ins that offer a smoothly integrated look," she adds. It's a beautiful, sophisticated way to incorporate a home office into a bedroom. Sounds like this might be an opportunity for a BILLY bookcase hack!
Consider a Smaller Bed Size
It won't work for everyone, particularly if you share your space with a partner, but a smaller bed can free up precious inches. Tanya Hembree, owner and principal designer of Onyx + Alabaster, says, "Be flexible with your bed size. Adjusting to a twin-size, daybed, or a Murphy bed will give you the most usable space." 
Additionally, Shaolin Low of Studio Shaolin says, "I love a sofa bed or daybed option, as it serves two purposes: sleep and lounge." Less space taken up by a bed, more space for activities, right?
Replace a Nightstand with a Desk
Double-duty furniture is the best way to make a multifunctional room work. "One easy trick is to replace a nightstand with a beautiful desk or console table," says Havolynne Saxon, interior designer at Maggie Griffin Design. "Add a small acrylic accent chair tucked under the table, so it doesn't feel too heavy visually."
Look for a Writing or Ladder Desk
Obviously the desk with the smallest footprint is going to be the best option, but taking up less visual real estate makes a huge impact, too. Hembree says, "Look specifically for a writing desk, which reduces the depth and scale." Without heavy drawers or shelves to weigh it down, a writing desk will feel uncluttered and light in your bedroom. A ladder desk or fold-down desk are great alternatives if you're particularly short on space.
You gain multiple benefits with a mirror. First, most people need one for getting ready (or for taking that outfit selfie). Second, if a bedroom doubles as a workout room, a mirror can be helpful in checking form. But in the case of a dual-purpose bedroom, a mirror helps bounce light around. "The added light will make the space feel more expansive," Hembree says.
Keep Storage Spaces Separate and Organized
Low explains that a dual-purpose bedroom needs to stay even more organized than normal to help drive home a separation of work (or workout) and rest. "Keep your storage neat, tidy, and hidden," she says. "It's important in a multi-purpose space to be super organized so that the different purposes don't bleed into each other."
"Maximize the storage of your closet to hold either your weights and workout gear or your office supplies, which will keep surfaces clutter-free, yet still functional," adds Hembree.
Don't Make It a Full-Service Gym
It's tempting to buy every piece of workout gear, or think you need all the same accessories that your barre class has at the studio. Resist the urge. Rodriguez explains that a lone yoga mat with space to move is a better (and more relaxing!) bedroom option. Plus, you'll be more likely to utilize the equipment when your room feels uncluttered and centered.