Toni and Rick's Serenity in Stone
We
independently
select these products—if you buy from one of our links, we may earn a commission. All prices were accurate at the time of publishing.
Name: Toni and Rick Sturtz
Location: Neillsville, Wisconsin
Years lived in: 8 years, owned
Toni and Rick Sturtz live in a cozy stone farmhouse nestled between a restored prairie and miles of towering fir and birch trees. They see themselves as stewards of the farmstead—caretakers of their 120-year-old home and the natural resources that surround it. As they carefully adapt their home to modern living, they make changes with sustainability in mind. And their artistic sensibilities bring a grace that makes the interior as serene as the setting.
When Toni and Rick purchased the farm, it included a one-bedroom house, stone-walled granary, and barn. They have since added a dining area, second bedroom, and bath to the farmhouse, bringing it to 1,820 square feet. They converted the granary to a charming guest retreat and built a woodshop for Rick, a professional furniture maker who creates pieces on commission.
Guided by an architect son and daughter-in-law, the couple created a plan with minimal impact on the environment and maximum reuse of materials. The addition incorporates trees from their property and others felled by the utility company. Wood siding was salvaged from a house nearby, and then stripped and flipped to expose the back. Many lights are vintage industrial fixtures restored by Rick. They installed an in-ground geothermal heating system, low-E windows, and re-insulated for better energy efficiency.
Inside, the materials of the original home set the stage. Many of the furnishings and artwork were created by craftspeople they count as friends. Both avid thrifters, Rick and Toni are happy to share tales of finds that make you want to drop what you're doing and goshoppingrightNOW. In fact, the couple got so good at the hunt for reusable building materials that they now offer their services to people working on LEED certification. Rick has become immersed in refurbishing and selling old industrial lights.
Rick and Toni stress that their home is not a showcase. They are more interested in paying homage to the skills of the home's original builders and the environment. "Every effort we make is inspired by our hope that the property can pass to the hands of our kids and their kids, so they can enjoy the wonders of living on, and in, spaces that are still wild."
Our style: It was never our goal to "strike out on our own" with a unique style. Nor have we tried to create something that appeared fixed in time, circa 1890. We take cues from the original palette of materials (stone, metal, brick, and wood) and use those to honor the architecture with careful, "quiet" touches that we hope complement the stature of this farmhouse.
How we did it: Design and construction have been persistently guided by our son Ryan and his wife Zoe, who have a residential design company called EDIT design-build studio. They push us to measure each decision against our final intent. This focus has sharpened our design skills and offered us a steady framework for moving forward.
Favorite Element: The exposed stone, because we tend to favor a "rawness" in construction materials. We love the bones of the house.
Biggest Challenge: Coring through 30-plus inches of that unyielding stone to add a bathroom. Also, evicting unwanted mammals from the home's attic.
What Friends Say: First they're moved by the features created by the original builders, including the amazing lay-up of the stone. After that, they respond most to the ease with which one can live in this house, because it's uncluttered and functionally arranged.
Proudest DIY: That we've stuck to our intent of using locally sourced materials wherever possible. And that we preferred reuse over recycling and used over new. We also make every effort to use materials that will endure: metal roofing, materials that are naturally resistant to decay, exceptionally crafted industrial lighting, well-executed framing, etc.
Biggest Indulgence: Hands down, our 30-inch Wolf stove. But it was a small price to pay considering that our son Eric, a chef in Duluth, loves to cook for us when he finds time to visit.
Best Advice: Purchase good tools if you can. Good work endures; consequently, the tools that make it possible are worth the initial investment. We manufactured our kitchen cabinets using portable power tools by Festool.
Best Reason Not to Go It Alone: You don't have to. You can benefit from your community. Develop relationships with like-minded people willing to assist and educate. It is amazing how many talented people live within 20 miles of our decidedly rural location! We plan to have a retreat/studio on the prairie one day, where artists can come for a week to work; our friend Steven Mankouche has even taken on this project as part of his tenure proposal for professorship of architecture at the University of Michigan. His insights have been invaluable.
Green Elements/Initiatives:

Secured a federal grant to fund development of a 40-acre prairie

Processed about 80% of all building materials from locally sourced trees. We used trees on the premises, as well as some felled by our local electric company when they cleared along their utility right-of-way.

Sided more than 50% of our home with salvaged siding. The quality of this siding far surpasses anything new we could ever have afforded.

Salvaged large Douglas fir timbers from utility contractors, using them for structural timbers

Lit 100% of the woodworking studio and about 50% of the home's interior with salvaged, restored industrial lighting. We've salvaged so many lights that we've actually started a small business providing industrial lighting to a number of clients, especially those seeking LEED certification.

Installed an in-ground (closed-loop) geothermal heating system

Upgraded to low-E energy-efficient windows, low-flow toilets

Garden intensively and fuel our stoves with wood from our own property

Source materials for people seeking to re-use/re-purpose building materials


Future Green Goals: Capture water from the barn roof for garden irrigation; capture, filter and utilize sump water for some domestic use, like laundry; and install a composting toilet for guests staying in the granary. Someday we would like to purchase a solar array that could offset a portion of the electrical demand for our geo-thermal system.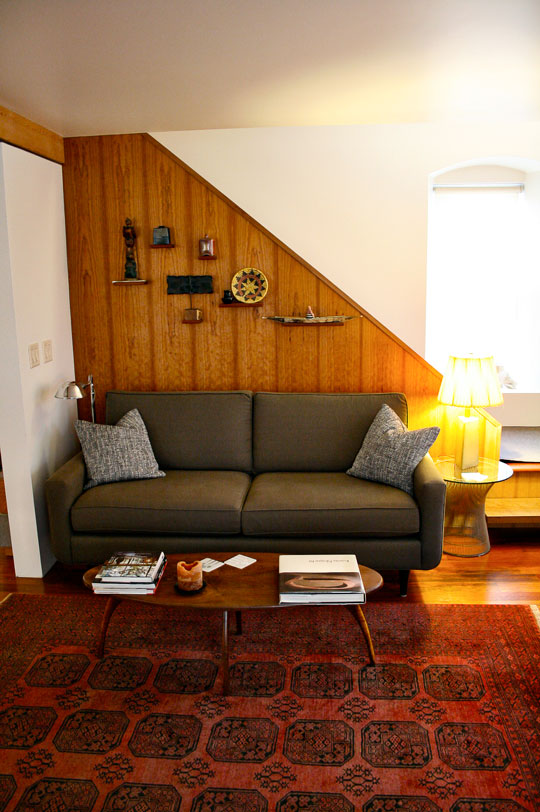 Resources:
Appliances: Wolf 30-inch range, Fisher-Paykel refrigerator, Bosch dishwasher, high-efficiency Maytag washer that limits water usage and lessens impact on well and septic, Trane high-efficiency gas furnace as a backup for geothermal water-furnace system
Hardware: Much of our metal work was made by local craftspeople. We are also fortunate to have a relationship with a local cabinet manufacturer who assisted us with services such as spraying and surfacing hardware.
Furniture: The steel rocker in the granary is by Gail Fredell, who also has pieces in San Francisco's MOMA. Aside from our small Nakashima table and Windsor chairs made by Bob Dillon in Minnesota, nearly all our furniture is owner-made or second-hand. One of our best finds was an original Knoll Brno chair we had reupholstered in Madison by The Straight Thread. The chair cost $5.25, although the leather upholstery was a bit more! We embrace the classics but happily mix them with any pieces that are functional, tasteful, and affordable. To that end, we love our new IKEA Hemnes dresser!
Accessories: Cirrus ceiling fan from Modern Fan Co.
Lighting: One Nelson lamp and one Martz lamp from our college days; Juno remodel cans; other fixtures are recycled industrial lights, primarily Crouse-Hinds and Holophane, circa 1945-50
Rugs and Carpets: Our Iranian and Pakistani rugs were given to us by our good friend Kye. Two bedrooms are carpeted with surplus industrial wool felt, bought for $1.50 per square yard. We also have numerous small felt rugs that were stitched by an Amish friend.
Tiles and Stone: We salvaged nearly 100 slate blackboards from a local technical college and sawed them into tiles.
Windows: Windows are Loewen or Marvin low-E windows, to qualify for federal energy credits
Artwork: One favorite piece is our C. Jere sculpture "Raindrops," purchased by my parents in 1972. We have numerous pieces made by artist friends, including wood turner Rus Hurt, painter/sculptor Lamar Briggs, Carol Anthony, John Scott, ceramists Takashi Nakazato and Abigail Murray, and Steven Mankouche, as well as work by our sons Ryan and Eric. We met many of these people when Rick was teaching at Anderson Ranch Arts Center in Colorado.
Paint: No-VOC and low-VOC interior latex paints from Sherwin-Williams Harmony and Duration Home lines
Flooring: Hardwood flooring was milled by Herman Borntreger Lumber, a local Amish mill. Cork flooring is from Eco-Friendly Flooring in Madison.
Design: Ryan Sturtz and Zoe Kardasis, EDIT Design Build
(Thanks, Toni and Rick!)
See archives of past Green Tours here!
Interested in sharing your home with Re-Nest? Contact our editors through our Green Tour Submission Form.
(Images: granary exterior-Rick Sturtz. Others-Therese Maring)