Is Trader Joe's $9 Moisturizer Really a Dupe for $300 La Mer?
We
independently
select these products—if you buy from one of our links, we may earn a commission. All prices were accurate at the time of publishing.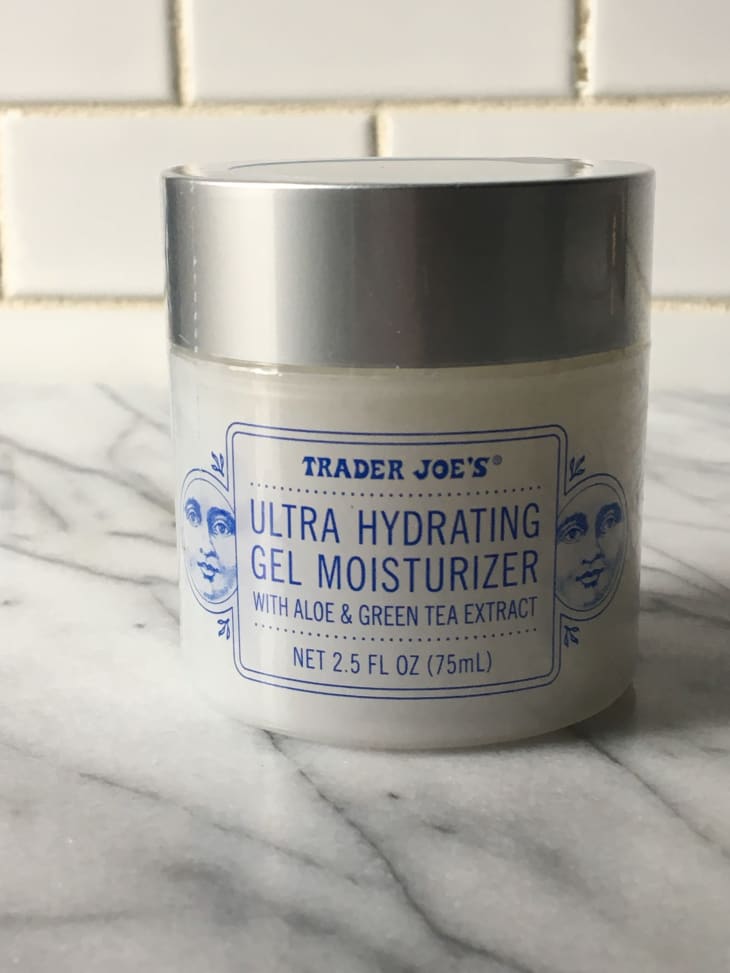 People love to try to compare Trader Joe's groceries with name-brand ones. It's kind of a game at this point. Everyone knows that their boxed mac and cheese tastes exactly like Annie's and their pita chips bear an uncanny resemblance to Stacy's … but can there really be a luxury-level moisturizer hiding in TJ's packaging?
In the pursuit of the truth, the first place I turned to was Trader Joes' Fearless Flyer— a bible of sorts. Here's what TJ's had to say for themselves: "Recently, a few of our office Crew Members admitted to our beauty buyer that, in spite of their TJ's allegiance, they still shell out the big bucks for a particular name-brand gel moisturizer. Eager to see what the fuss was about, our Buyer tried it for herself, and she was instantly sold on its light, aqueous formula. What she was not sold on, however, was its $50 (!) price tag. She knew TJ's could do better, so she contacted one of our favorite high-end skincare producers — a company overseen by a panel of board-certified dermatologists — and the rest is epidermal history."
In this public statement, TJ's clearly admits that they drew more than inspiration from a pre-existing moisturizer. But the statement is also definitive proof that the name brand isn't La Mer. How do we know that? Well, La Mer's Moisturizing Cool Gel Cream costs a cool $325 for 2 ounces and TJ's clearly states that their version is a dupe of a $50 favorite… which, while still super pricey, is only a fraction of the cost of La Mer.
Back to the drawing board for more suspects, I dove deep into the comments section of this @TraderJoesList Instagram (a popular fan account). It was there that I discovered other TJ's fanatics likening the gel moisturizer to Clinique Moisture Surge, which costs $52.50 for 2.5 ounces. Aha!
Since the price match wasn't enough evidence for me, I turned to the ingredient lists for each product, to identify how much they really match up. Incredibly, TJ's Ultra Hydrating Gel Moisturizer has 12 ingredients in common with Clinique's Moisture Surge 72-Hour Auto Replenishing Hydrator, four of which were identifying factors: green tea extract, birch bark extract, aloe leaf extract, and milk thistle extract. La Mer and TJ's Ultra Hydrating Gel Moisturizer only have 9 ingredients in common. With this overwhelming amount of evidence at our disposal, I feel positive that TJ's Ultra Hydrating Gel Moisturizer is a dupe for Clinique's Moisture Surge — NOT La Mer. Still, though, it's a legit bargain.
If anyone is in need of a private investigator to resolve grocery store-related beauty product quandaries, you know where to find me!