$9 at Trader Joe's Could Get You Good Luck All Year—Or at Least, a Pretty Plant
We independently select these products—if you buy from one of our links, we may earn a commission. All prices were accurate at the time of publishing.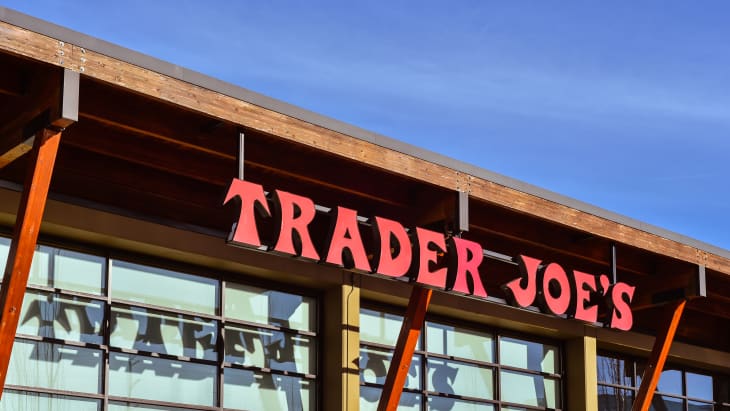 It may feel like we're halfway through winter already, but it's still January. We've still got a few months of cold, gloomy weather ahead (I know, I know, I'm SORRY, but it's true), and if you're anything like me, you're looking for ways to bring some color to your home while you hunker down and wait for spring blooms to appear.
Follow Topics for more like this
Follow for more stories like this
If you're anything like me, you've also got a rough resolution in place to save money. (It's one of the most popular resolutions every year, with a 2015 Nielsen survey putting it on the lists of a quarter of adults.) These two goals might seem at odds with each other, but friends, I have good news: A trip to Trader Joe's is the answer.
For a cool $8.99, you can bring home an adorable money tree in either a red or white textured ceramic pot. Legend has it that this little tree—often sold, as here, with braided trunks—will bring good fortune to the owner. Not a bad trade-off for a $9 investment!
Of course, we can't say whether a potted plant will bring you good luck, monetary or otherwise, but the lively look of these beauties—with their big green leaves and twisted trunks—makes them a striking addition to your decor.
A snap from a different Trader Joe's shows off the textured look of the pots, which are simple without being boring. Both colors are great picks: The white ones would look completely at home in an understated Scandi-style living space, and the red would provide a cheery pop in an otherwise neutral room. And at about just 6 inches in diameter at the bottom, they're perfectly sized for small spaces.
Best part? As we've noted before, the money tree is relatively low-maintenance, which means this cutie doesn't have to be relegated to green-thumb-homes only. Easy on the wallet, easy on the grower, easy on the eyes: the perfect trifecta! And, you know, maybe you'll get a little luck thrown in, too.