5 Ways to Spend Way Less Money on Travel This Summer
We independently select these products—if you buy from one of our links, we may earn a commission. All prices were accurate at the time of publishing.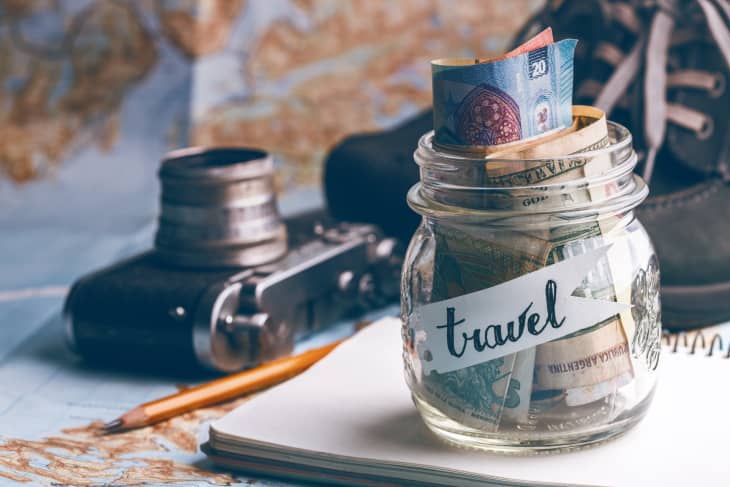 There's nothing like stepping off the plane into an exciting new destination, especially in the summertime. But traveling is also expensive — not only do you have to pay for transportation, you have to fund accommodations, food, and activities once you arrive.
Here's the good news: There are plenty of ways to travel for nearly nothing this summer, especially if you're willing to be a little unorthodox. Here are five ways to travel for less.
Follow Topics for more like this
Follow for more stories like this
Pick your destination based on flights — not the other way around.
It can be difficult to score a really cheap flight for your dream destination in a given timeframe, especially in the summer when demand is high. But if you cast a wide net for a range of destinations, you're more likely to nab an excellent deal — and then you can plan your trip accordingly. Scott's Cheap Flights is a bargain-hunting travel website that sends alerts for low fares via newsletter (with extra savings for premium subscribers).
Flights are also particularly expensive right now, so to the extent possible, approach travel with a flexible mindset. Keep an open mind when it comes to destinations and be prepared to jump on a deal when it arises. 
Leverage your credit card points.
If you have a credit card that offers great rewards, you can often not only get cash back on travel-related spending, but redeem your points directly for flights and hotel bookings. With enough points, you truly can travel for free. One of the most popular travel cards is the Chase Sapphire Preferred card, which comes with built-in travel insurance for trip cancelation, lost baggage, and rental cars, among other perks. You can redeem the points you earn and book travel through the Chase Ultimate Rewards portal, or use them to book with Chase's 14 airline and hotel partners. (Here are seven other options recommended by experts.) 
You can also sign up for airline or hotel-branded credit cards, which often offer bonus miles or points upon signing. But credit cards should not be opened impulsively: Carefully consider your credit score and ability to pay down the full balance of a credit card each month before opening a new line.
If you're not already enrolled in a free airline loyalty program, now is a good time to start. When you register for a frequent flier program, you'll earn miles on each trip you book — miles that you can eventually redeem for a "free" flight. If you earn enough miles to reach a higher tier of a loyalty program, you can also earn perks like free upgrades and checked bags. 
The same is true for hotels: Make sure you take advantage of free loyalty programs and input your loyalty rewards number when booking to earn points on every stay. If you stick with one brand, you might be surprised at how quickly you can accumulate enough points to pay for your next vacation. Regardless of your budget for a given trip, you can probably book within your chosen loyalty program. For example, Hilton encompasses more than 18 brands, from the more budget-friendly Hampton by Hilton to the luxurious Waldorf Astoria. Make sure to check hotel websites for deals and promotion codes, too. You never know when a hotel might be offering offer a fifth night free if you book four nights.
Your miles or points could also be worth more if you travel on an off-peak day, so play around with dates and see how much value you can eke out of your hard-earned rewards.
Take a "working vacation" for free room and board.
If you spend a lot of time on TikTok, chances are you've seen Workaway pop up once or twice. Think of Workaway as a bit like Airbnb but for cultural exchange — travelers can choose from thousands of opportunities in 170 countries, where they work for their hosts in return for free room and board. The work involved varies widely from listing to listing: You could work on a farm in Switzerland, or be an au pair in Spain. Of course, you should only take on work you're qualified to do, and vet listings and reviews carefully to determine if it's the right situation for you. (There's also an annual fee to access the platform, starting at $49 a year.)
Worldwide Opportunities on Organic Farms (WWOOF) is another option that's based wholly on farming, with placements in over 130 countries. WWOOF aims to foster cultural exchanges while also promoting organic farming methods around the world. Each destination country has its own site and associated membership (membership fees in Australia, for instance, are $70 for two years). Opportunities range from ranching to cheesemaking. Like Workaway, you'll want to read the listings and reviews carefully to make sure your chosen destination is a good fit.
While both offer long-term opportunities (including months-long stays), you can also find listings for a visit that's less than a week long. If you're seeking adventure and a change of scenery, a "working vacation" could be a great option, as you only need to pay for your transportation there and back.
Another option for free accommodations is house-sitting (and pet-sitting), or participating in a home exchange. Trusted Housesitters, Nomador, and MindMyHouse are three platforms that allow house-sitters and homeowners to connect with each other. Each has an associated fee: Trusted Housesitters starts at $129 per year for sitters, Nomador charges $99 per year, and MindMyHouse charges $20 per year. This is a great option for those who love animals and want to find accommodations that are more unique than your typical hotel or resort.
If you're willing to host visitors in your home, you could also participate in a home exchange. One popular platform is HomeExchange, which charges $175 per year (but the fee only kicks in once you've found an exchange you want to do). This is another great way to get free accommodations in far-flung locations, with home swaps available in 159 countries. While the fees for these platforms may seem hefty at first glance, if you find a beautiful home in your desired location, the benefit could easily outweigh the cost.