A Trip to Mexico Changed the Way I View My Hispanic Heritage — and My Approach to Home
We independently select these products—if you buy from one of our links, we may earn a commission. All prices were accurate at the time of publishing.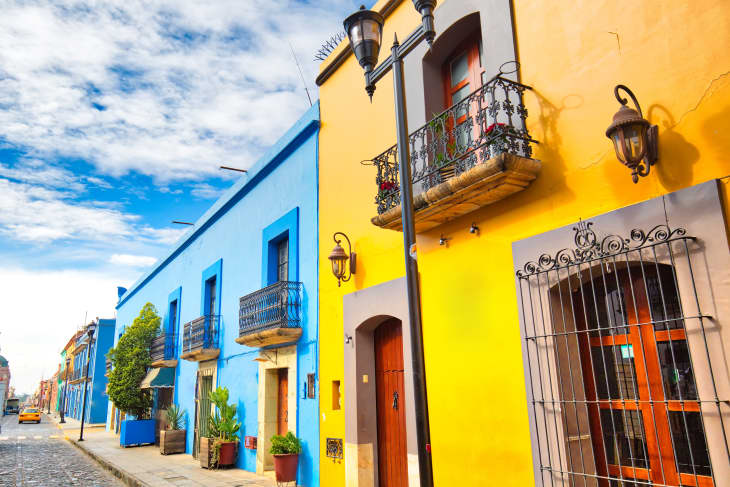 I can vividly recall the sunny yellow, vivid magenta, and rich purple threads embroidered on a traditional dress my grandpa brought back for me after one of his travels home to Mexico. He always said he'd take me with him on one of those trips when I got older, but we never got the chance. A big personality who always showed up 30 minutes late to mass and never missed a pizza night, he'd tell stories of his childhood in Veracruz, the mountains, and a place that seemed so different from the beach spring breaks my classmates would talk about.
I grew up doing every school project on Mexico and sending letters and gifts back and forth to my family in Mexico City. My grandpa made sure I was acutely aware of my Mexican heritage, though it was a country that felt more like a distant idea than something tangible.
Follow Topics for more like this
Follow for more stories like this
My family didn't travel, so, growing up, what I understood of other countries and regions only came from books and photos. The vibrant colors of the serape blanket that hung over the back of our sofa or the embroidered floral scarf adorning a table were just fabric. Without context, that's often all decorative and artisan objects are — objects. It's the stories that give them meaning, and if you don't know those stories, it's all too easy to disregard them as not fitting in with a particular aesthetic. 
And that's what I did. While I have a few nods to family history throughout my home, I'd passed over my grandpa's love of traditional art and Mexican heritage. I'd gravitated toward vintage, black, and eclectic decor. I incorporated antiques from my grandma on my mom's side, who favored a more traditional look. I have chinoiserie pieces from my husband's grandmother, who had a strong mid-century sense of style. But my grandpa's cultural and aesthetic memory was largely absent. There was no color beside the occasional red or navy blue making a guest appearance. 
Then last summer, I spent two weeks traveling throughout Mexico with my husband's family and family friends. We spent time in Mexico City, Oaxaca, and San Cristóbal de las Casas in Chiapas. For the first time, I saw the mountains, the vibrant markets, and the centuries-old craft traditions that I'd heard about throughout my childhood. When experienced in the context of the brightly colored buildings, the cool mountain air, and the incredible diversity of the landscape, textiles and pottery were no longer just things — they had a sense of provenance and a connection to the generations of artisans that have kept the traditions alive. I thought about the silver and turquoise jewelry my grandpa always wore and how it wasn't just a pretty object, but a connection to his home and heritage. 
I boarded the plane hoping the flight attendants wouldn't question my number of personal items. Art, clothing, and home items were bursting out of every bag I owned. Incorporating colorful art from Mexican artists became my version of my husband's old family mementos that hung throughout our home. And, while our condo is still decorated primarily in black, those vibrant memories of Mexico hang proudly as a reminder that objects can be more than objects when you understand the stories behind them.