This Game-Changing, Flushable Cat Litter Eliminated the Never-Ending Dust Mess In My Tiny Studio
We independently select these products—if you buy from one of our links, we may earn a commission. All prices were accurate at the time of publishing.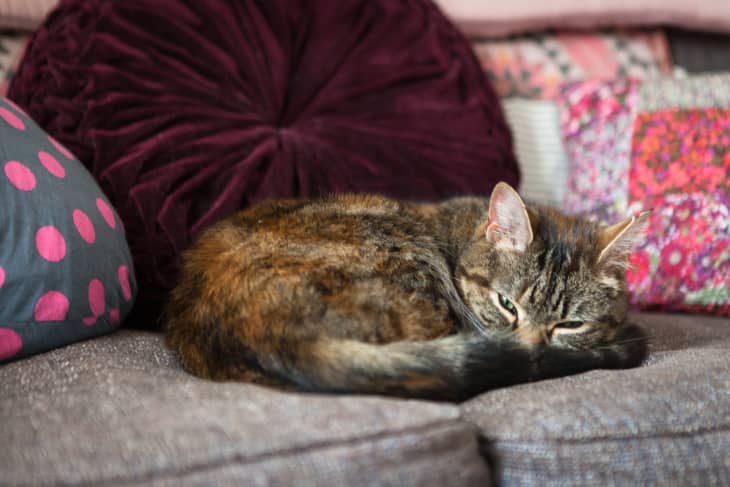 If you're a cat owner, there's one universal struggle we all share: never-ending litter tracking. I'm a semi-new mom to two kitties, and I've tried a bunch of litters that claim to be mostly dust-free and low-odor, but fell short. I felt like I'd have to deal with unimpressive litter for the rest of my life — that is, until I tried Tuft and Paw's game-changing Really Great Cat Litter. Not to be dramatic, but because I live in a super tiny studio apartment, it's completely changed my life (and eliminated the need to hand vac litter dust three times a day). Tuft and Paw was kind enough to send me a few of their bestselling products a few months ago — including their cozy window hammock and equally chic litter box that I love — and this product certainly doesn't disappoint either.
Follow Topics for more like this
Follow for more stories like this
When I first adopted my girls, Zara and Kaia, the shelter recommended using pine litter, which is safer for curious kittens. But, after a few months, I couldn't take the dusty mess that they tracked in every nook and cranny in my super small apartment. And when I mean every little corner, I mean, it ended up in my sheets, in my laundry — everywhere! So, once my cats were a little older, I decided to start testing non-pine-based litters that wouldn't be a total headache to clean up (or create more messes for me to clean up). So, when Tuft and Paw offered to send me some of their flushable (yes, really!), odor-eliminating clumping litter, I couldn't hop on it fast enough.
To cut to the chase, as soon as I made the switch to this actually somewhat chic?! litter, I instantly realized I was never going back to the old stuff. Not only does it look nice in their sleek Tuft and Paw litter box, but it really holds up to its promises. It's super low-tracking, dust-free, and eliminates unnecessary daily cleaning. One thing to note is that while it is flushable, I opt to throw it out in the trash per usual since New York City toilets are sensitive, to say the least.
The coolest part? This litter is made from soybean product that would have otherwise gone to a landfill. So, not only is it better for the planet, it's safer for your furry friends, too.
And while it might be a tad pricier than your standard litter, it's totally worth all the stress it saves me. While it's $29 for one bag, a three-month supply is $79, so you'll save some precious dollars if you stock up.
So, if you're beyond tired of the endless litter dust around your home and you're willing to pay a little for some peace of mind, you'll have no regrets swapping your old-school litter to this upgraded, modern version.
You can get an exclusive 10 percent off Tuft and Paw sitewide with the code APARTMENTTHERAPY through March 31.