Here's What You Call Those Rounded Rooms on Older Homes
We independently select these products—if you buy from one of our links, we may earn a commission. All prices were accurate at the time of publishing.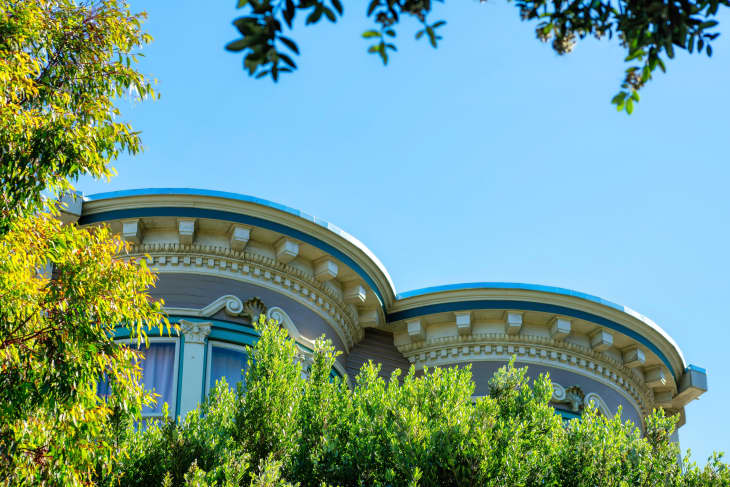 If you've ever driven around an older neighborhood filled with Victorian-style homes and wondered what those rounded rooms that extend from the corners of the buildings are called, you're not alone. 
Follow Topics for more like this
Follow for more stories like this
Many Victorians and castle-style homes include a turret room — a circular, rectangular or octagonal room that protrudes from a building, typically on a corner, but it can also protrude from a wall. Turret rooms most often span the height of the building, but they can also be placed atop the building or protrude from an upper corner.
"The origin of a turret dates back to the days of the European castle and war," says Rachael Grochowski, founder of RHG A+D, an architecture and interiors firm. "The turret was designed for protection." 
As a protective element, it gave soldiers a sweeping view of the land and allowed them to attack from above. The modern turret room is decidedly more relaxed — though it does come with some design challenges.
Grochowski notes that turret rooms are not terribly functional spaces, but those lucky enough to have one have the opportunity to create something unique and special.
"The curve of a turret invites a feeling of intimacy and vulnerability. It encourages connection and conversation," Grochowski says. A turret room also provides curved windows and a wider view of the surrounding area, so it's a perfect place to create a reading nook where you can "gaze up from a book out the curved windows and encourage a state of awe or wonder."
Grochowski also points out that you can turn a turret room it into a meditation space. She explains. "meditation or ritual spaces are deeply needed in our current lives. [They're] a place to be still, to turn inward, to pray or change, to set intentions, to return home. The curve of a turret is the perfect symbol for this purpose."
Because the room is an unconventional shape, it lends itself well to purposes with unconventional needs, like a children's play room or reading nook with curved window seats and creative shelving.
The turret room is a perfect example of how design evolves over time. What was once a purely functional space that provided protection during times of wars or raids has become a space that can offer the grounding peace of a meditation space, the cozy comfort of quiet conversations, the wild excitement of a children's play room, or the relaxed vibe of a reading nook.