Here's What It Would Cost to Rent Your Favorite Netflix Originals Apartments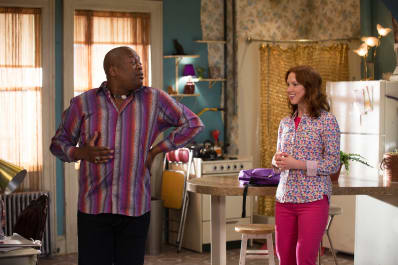 (Image credit: Eric Liebowitz/Netflix)
What does a basement closet in Brooklyn have to do with an exotic animal-laden ranch in Colombia? They both live in the Netflix universe, of course. ForRent.com compiled a list of some of the most memorable properties of Netflix Originals characters, and determined how much it would cost to rent them. Whether you're in the market for a sprawling Hollywood Hills mansion or a small apartment above a Chinese restaurant, here's a look at some of Netflix's most iconic properties.
(Image credit: Eric Liebowitz/Netflix)
Unbreakable Kimmy Schmidt
Our favorite former Indiana Mole Woman lives in a garden-level unit at 75 Freeman St., between West and Eagle streets in Brooklyn's Greenpoint neighborhood. It's not exactly luxurious, what with the shower in the kitchen and all (However, some people are into that kind of thing!). Kimmy's bedroom (read: closet) does have its own window though, which means the apartment classifies it as a two-bedroom unit. The best part? We all know Kimmy's roommate Titus is significantly behind on rent, and their landlady Lillian still doesn't boot them out. Now that's way better than living in the underground bunker.
Cost on the show: $475/month, so $237.50 per roommate
Current Market Value: The median rental price is $1,300/month, or $650/month each
(Image credit: Courtesy of Netflix)
Stranger Things
Who wouldn't mind if their rent cost the same as it did in 1983? The 3-bedroom, 1-bath single-story home is located in the fictional town of Hawkins, Indiana. It's a one story single-family in a wooded area on the outskirts of town, and yes, it may be supernaturally charged. But it does have a shed and a dog house!
Cost on the show: $247/month
Current Market Value: $767/month
(Image credit: Myles Aronowitz/Netflix)
Luke Cage
We wouldn't mind living next door to this superhero. Cage lives in a 1-bedroom apartment in Harlem above Genghis Connie's Chinese restaurant (or at least he did, before it came to an....explosive end). However, the real-life street corner used on the show is in Washington Heights at the corner of 171st Street and Broadway. It's a bit dark and dreary and could use some spicing up, but this is life in the Marvel Universe after all.
Current Market Value: $2,100/month
(Image credit: Nathaniel E. Bell/Netflix)
House of Cards
Would you risk living near Frank Underwood if it meant you got a Capitol Hill brownstone?With neighbors who are likely congressmen and lobbyists, Frank and Claire Underwood's original home is a highly-coveted piece of real estate. On the show, it's located at 1609 Far St. NW, Washington, D.C., but the exterior was filmed at 1609 Park Ave. in Baltimore, Maryland. The 3 bed, two-and-a-half bath home is the picture of Washington style, with crown moldings and high-end decor. And of course, there's a full-size basement with exposed brick you can stare at while using your rowing machine. With a home like this, we probably wouldn't peace out for the White House.
Current Market Value: $2,300-5,800/month
(Image credit: Courtesy of Netflix)
BoJack Horseman
The Hollywood Hills are stuffed with celebrities who flock to the Los Angeles neighborhood tucked into the Santa Monica Mountains. Naturally, its properties ooze luxury. In fact, a posh rental in the Hollywood Hills can cost around $27,500 per month, and you can bet that BoJack's location overlooking the Hollywood sign would go for a pretty penny. With a wraparound deck and in-ground pool, this would be a coveted piece of property no matter how poorly the interior is maintained by a hot mess like BoJack.
Current Market Value: $27,000/month
(Image credit: Daniel Daza/Netflix)
Narcos
The living is large at Pablo Escobar's luxury estate, Hacienda Napoles. In 1979, the drug kingpin spent $63 million on the 7.7 square miles of land, which converts to about 5,000 acres. The Spanish-style colonial villa has every amenity you could dream of, ranging from helipads and a marble statue of Venus to a go-kart track and bullfighting arena. And you know that private zoo filled with giraffes and hippos didn't come at a bargain price. Though the Escobar family attempted to keep the property after Pablo's death in 1993, the property later went to the Colombian government, and was value at a measly $2.3 million.
Current Market: Millions, not that you can get close to it!