6 Shows to Watch After You Made Your Way Through "And Just Like That…"
We
independently
select these products—if you buy from one of our links, we may earn a commission. All prices were accurate at the time of publishing.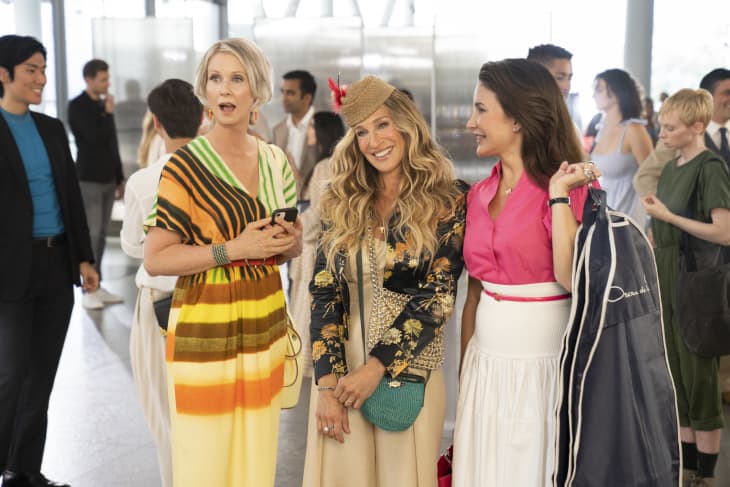 In Dec. 2020, the highly-anticipated "And Just Like That…" — a revival of late '90s, early 2000s HBO juggernaut "Sex and the City" — premiered to both returning fans of the OG series and new watchers. Carrie (Sarah Jessica Parker), Charlotte (Kristin Davis), and Miranda (Cynthia Nixon) are now in their fifties, still leaning on one another in NYC but without Kim Cattrall's Samantha, who is off in London (and that absence is truly felt).

Regardless of how you feel about "And Just Like That…," if you're looking for the old thrills you got from SATC, great examples of female friendship, or stories about women in their forties, fifties, or beyond, there's much more of all of those things to be found on television. Here are six shows that should fit the bill.
Thank you for being a friend…c'mon, you know the song. And if you don't, then you should definitely start watching the seminal comedy series "The Golden Girls." The show, which ran from 1985 until 1992, followed the high jinks and friendships between sarcastic Dorothy (Bea Arthur), gullible Rose (Betty White), flirty Southern Belle Blanche (Rue McClanahan), and Dorothy's sharp-tongued mother Sophia (Estelle Getty). It's known for its sharp humor and ability to tackle tough subject matter while still making you laugh. Arthur, White, McClanahan, and Getty all went on to win Emmys for their individual performances, so it's no surprise that the show still holds up in 2022.
Available to watch on Hulu
If you've been watching "And Just Like That…" and crave more stories about a group of girlfriends going through ups and downs in New York City, watch "Harlem." The series, created by Tracy Oliver (who co-wrote "Girls Trip," so you know it's funny), follows four single best friends — described as "an unbreakable tribe" in the pilot — in their thirties as they navigate careers and relationships together while living in Harlem. While the premise might sound familiar, it's the four main characters — Anthropology professor Camille (Meagan Good), designer Quinn (Grace Byers), aspiring singer Angie (Shoniqua Shandai, and Tye (Jerrie Johnson), the creator of a successful dating app — who give this series some real charm. 
If anyone can deliver a show about strong female friendships set in NYC, it's the creator of "Living Single," Yvette Lee Bowser, who co-EPs "Run the World" alongside show creator Leigh Davenport. Set in Harlem, "Run the World" focuses on the bonds between friends Whitney (Amber Stevens West), Ella (Andrea Bordeaux), Renee (Bresha Webb), and Sondi (Corbin Reid). Warm, fun, and full of romance, this series is about a group of women trying to figure out what they want from life — and wearing fabulous clothes while doing it. 
Much of Carrie's story in "And Just Like That…" is about having to start over later in life — and that's exactly what happens in Netflix's comedy series "Grace and Frankie." Grace's (Jane Fonda) and Frankie's (Lily Tomlin) worlds are turned upside down when their husbands Robert (Martin Sheen) and Sol (Sam Waterston) admit to a decades-long affair and ask for a divorce from their wives so that they can get married. The titular protagonists couldn't be more different, but their bond grows quickly as they take refuge in a shared vacation home and figure out what's next for them — which includes everything from finding love again to vibrators. Lots of vibrators!
Want another series about female friendship developing later in life that also deals with grief? "Dead to Me" — about Jen (Christina Applegate) and Judy (Linda Cardellini), who meet in a grief support group — has murder and coverups and honestly the most adept use of cursing. All of that makes this show an incredibly bingeable ride, but it also has one of the most refreshing portrayals of grief on television. It's a show that surprises in every way, plus it features Applegate and Cardellini giving some of their best performances to date. It's a no brainer.
If you're simply looking for more stories about love and relationships in New York City, do yourself a favor and watch season two of "Love Life" (you can skip season one). In season two, the rom-com anthology series focuses on Marcus Watkins (William Jackson Harper), a Manhattan book editor, as he attempts to find love after divorce. Harper is super charming, and his chemistry with Jessica Williams who plays Mia, the woman whose path keeps crossing with Marcus's, jumps off the screen.