TV Shows to Watch After You've Wrapped Up "Claws"
We independently select these products—if you buy from one of our links, we may earn a commission. All prices were accurate at the time of publishing.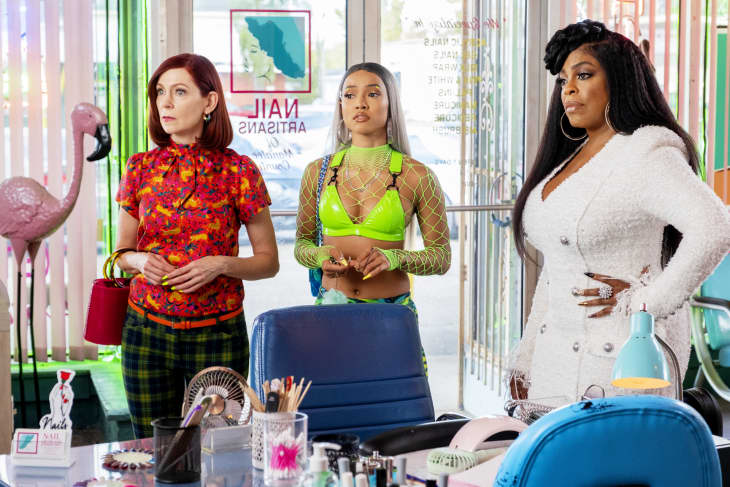 It's official: "Claws" has come to an end, and you're probably here because you're already missing it. After following the adventures of Niecy Nash as Desna Simms, Carrie Preston as Polly Marks, Judy Reyes as Annalise "Quiet Ann" Zayas, Karrueche Tran as Virginia Loc, and Jenn Lyon as Jennifer Husser for four wonderfully chaotic seasons, it's time to say goodbye (but of course, rewatching is always an option).
Follow Topics for more like this
Follow for more stories like this
"Good Girls" introduces viewers to three suburban Michigan moms who are struggling to make ends meet. The women are desperate to provide better lives for their families, and are frustrated because they are constantly overlooked. In an attempt to solve their problems, they decide to rob a supermarket. Unfortunately, their heist attracted the attention of a local drug dealer, who enlists them to launder his money or else. "Good Girls" stars Christina Hendricks as Elizabeth "Beth" Boland, Retta as Ruby Hill, and Mae Whitman as Annie Marks.
Another series that highlights the power of female friendships is HBO's "Big Little Lies." The series follows Reese Witherspoon, Nicole Kidman, Shailene Woodley, Laura Dern, and Zoë Kravitz — five women living in Monterey, California, who bond over a huge secret and get caught up in a murder investigation. The women must stick together to keep their secret and stay out of prison.
"P-Valley" is a drama series that documents the lives of a handful of people working at a strip club called The Pink, located in the fictional city of Chucalissa, Mississippi. Like Desna and the gang, the characters of "P-Valley" are doing what it takes to survive and thrive in a world that wasn't built for them. It stars Brandee Evans, Nicco Annan, and Elarica Johnson.
Available to watch on Hulu
If you love strong female leads, you'll like "Orange Is The New Black." The series mostly takes place in Litchfield Penitentiary, a minimum security women's prison located in upstate New York. While the show's focus is on Taylor Schilling's character Piper Chapman — who was convicted for transporting drug money for her girlfriend Alex Vause, played by Laura Prepon — viewers are also introduced to a host of amazing women and their equally amazing stories. The series features Michelle Hurst as Miss Claudette Pelage, Kate Mulgrew as Galina "Red" Reznikov, Uzo Aduba as Suzanne "Crazy Eyes" Warren, Danielle Brooks as Tasha "Taystee" Jefferson, Natasha Lyonne as Nicky Nichols, Yael Stone as Lorna Morello, and of course, Samira Wiley as everyone's favorite, Poussey Washington.
Most of the shows on this list involve women participating in criminal activities, but how about a duo that's focused on stopping crime? "L.A.'s Finest" follows Gabrielle Union as Special Agent/Detective Lieutenant Sydney "Syd" Burnett, who is the sister of Marcus Burnett (Martin Lawrence) from the "Bad Boys" movies. After transferring to the Robbery-Homicide Division of the LAPD, she's paired with Jessica Alba as Detective Nancy McKenna. The two women live totally different lives but are brought together by their commitment to making the world a better place.