7 Shows To Watch Once You're Caught Up with "Yellowstone"
We independently select these products—if you buy from one of our links, we may earn a commission. All prices were accurate at the time of publishing.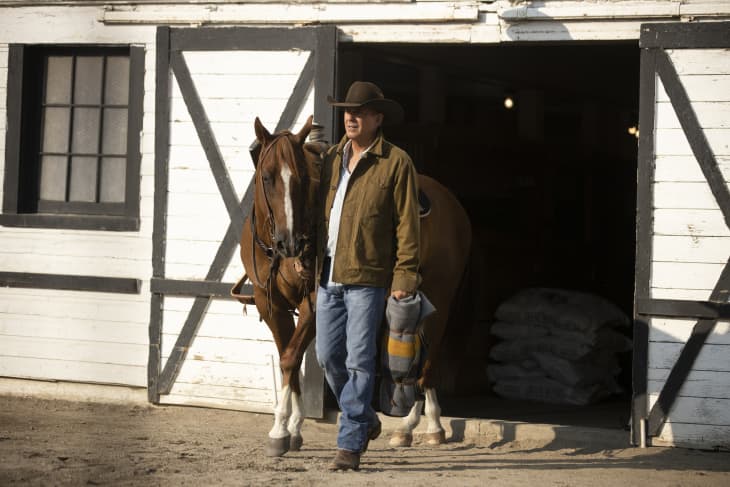 The past four seasons of "Yellowstone" have been a wild ride. Throughout the series, fans have watched the Duttons fight outside enemies — and each other — for control of the ranch's sprawling 2,500-acre land.

Although Season 4 just wrapped, Deadline has already confirmed that the Dutton family will be back on screen for Season 5 before you know it. Here are a few shows to keep you busy until it's time to head back to the Yellowstone Ranch.
Follow Topics for more like this
Follow for more stories like this
Not ready to leave the ranch just yet? Luckily for you, Paramount+ just dropped "1883," a prequel to Yellowstone. The series follows the Dutton family on their journey west through the Great Plains, fleeing poverty in search of a better future. The series drops new episodes every week so you'll have to wait to get your full Dutton fix.

Available to watch on Paramount+.
It may seem like these shows exist in entirely different universes on the surface, but if you pare it down, they have a lot more in common than you might think: money, power, politics, and a family tearing itself apart to take control. "Succession" follows the Roy family's fight for control over their father's multi-billion dollar media empire. But family patriarch Logan Roy isn't ready to hand over the business to his four kids just yet. If you're missing the Dutton family dynamic, you'll feel right at home with the Roys. 

Available to watch on HBO Max.
"Power" follows the story of a ruthless drug lord, Omari Hardwick, who wants to leave his criminal life behind and start a legal business. While the Yellowstone Ranch is legitimate, Jon and Omari could probably swap some advice on what to do when crimes conflict with business. The Starz series spans over six seasons and has teased four spin-off series.

Available to watch on Hulu.
"Sons of Anarchy" has seven seasons, making it the perfect binge. This series follows a motorcycle club in Charming, California, fighting to maintain their turf while keeping their illegal arms business under wraps. The show has the same grit and high drama as "Yellowstone" — in fact "Yellowstone" co-creator Taylor Sheridan once starred in the FX Drama.

Available to watch on Hulu.
If crime, complicated family dynamics, and an anti-hero main character are three things you love about "Yellowstone," you should binge "Breaking Bad." After receiving his cancer diagnosis, high school chemistry teacher Walter White decides he needs to do something to afford treatment and make a better life for his family — so, he decides to cook and sell meth.

Available to watch on Netflix.
"Lovecraft Country" is a horror drama based on the novel of the same name. The one-season limited series follows Atticus Freeman, his friend Letitia, and his Uncle George on their road trip across the U.S. in the 1950s in search of Freeman's missing father. On their journey, the characters cross paths with a group of murderous men, an occult secret society, and a spy. If action and adventure is what you're missing from "Yellowstone," this sci-fi period drama is the perfect show to fill that void.

Available to watch on HBO Max.
Tony Soprano may be the only person that could take on John Dutton and win. The camaraderie and meetings at the Bada Bing! even have similar vibes to Yellowstone's notorious bunkhouse. "The Sopranos" follows Tony Soprano as he tries to balance his home life and organized crime empire while exploring family dynamics that are entangled in mafia life. "The Sopranos" is widely considered one of the greatest shows to ever be on television, and after starting to watch, you'll quickly understand why.

Available to watch on HBO Max.