6 Shows to Watch While You're Waiting for "Atlanta" to Come Back
We independently select these products—if you buy from one of our links, we may earn a commission. All prices were accurate at the time of publishing.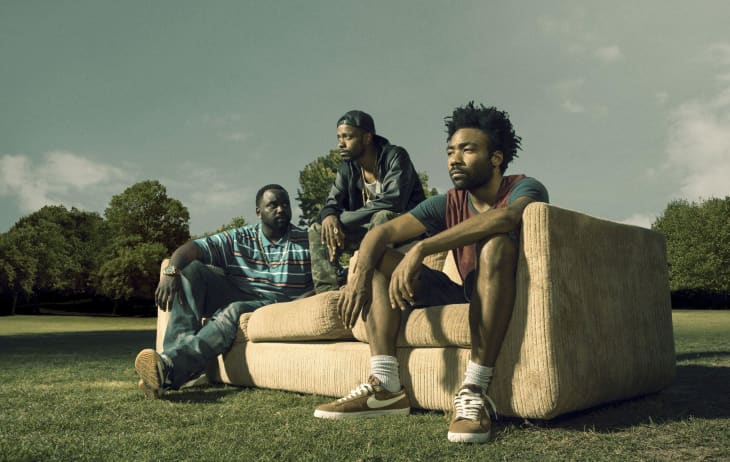 It's been almost three years since "Atlanta" season 2 aired and fans have been pining away for new episodes. Luckily, Season 3 will be here sooner rather than later, based on a new teaser promo that recently dropped.
The series follows Donald Glover as Earn and his cousin Alfred A.K.A. Paper Boi, played by Brian Tyree Henry. Paper Boi is a popular local rapper who's trying to break into the music industry and Earn is struggling to make it happen as his manager. Throughout the series, viewers tag along as the duo navigate the stark social realities of race, class, and being poor in America.
While there aren't too many details yet, fans hope that season 3 of Glover's Emmy-winning comedy-drama series will be nothing short of amazing. But it's still months away, so if you're looking for something to keep you distracted until then, consider one of these six shows.
"Insecure" was inspired by a web series called 'The Mis-Adventures of Awkward Black Girl' created by Issa Rae. Rae teamed up with Larry Wilmore to give life to a masterful series that follows best friends Issa (Rae) and Molly (Yvonne Orji) as they navigate their careers, relationships, and the countless problems faced by Black women across the board. This hysterically funny series follows "Atlanta"'s mold of not shying away from real issues.

Stream on HBO Max
"High Maintenance" started out as a web series that HBO picked up after it became an internet sensation. In the same way that "Atlanta" doesn't solely focus on Earn and Alfred's story, "High Maintenance" also delves into the lives of a plethora of Brooklyn residents who have one thing in common: Ben Sinclair's character, "The Guy." "The Guy" happens to be a bicycle delivery man supplying marijuana. The series is a feel-good comedy that aims to illustrate that people who use substances don't need to be defined thereby.

Stream on HBO Max
Like Donald Glover for "Atlanta", Phoebe Waller-Bridge created and stars in "Fleabag" as its main character. The critically acclaimed series is set in London and portrays her journey through life while dealing with personal tragedy and maintaining a brave face through it all.

Stream on Amazon Prime Video
Rapper and actor David Burd, better known by his stage name "Lil Dicky," mirrors "Atlanta"'s look into the life of an upcoming artist but in a semi-autobiographical way. The series is hilarious but also doesn't shy away from real issues, including the privileges afforded to Dave as a white man. "Dave"'s refreshing honesty is relatable for anyone who sometimes feels like a square peg trying to fit into a round hole but refused to give up.

Stream on Hulu
Bill Hader brings to life the character of Barry Berkman, who is just like you, but only if you're a mid-level hitman who becomes enamored with the arts and decides to become an actor. This is probably the most different show on this list from "Atlanta", but it does similarly toe the line between comedy and drama.

Stream on HBO Max 
Based on the 2014 film of the same name, the Netflix original series "Dear White People" follows a group of Black students as they navigate life at a predominantly white Ivy League university. The series is an emotional and hilarious ride that captivates viewers with its relatable stories, amazing characters, and most recently, its musical episodes.

Stream on Netflix