This Secret 2-Ingredient Stain Removal Tip I Learned from a Retail Pro Gets the Toughest Spots Out — Makeup Included!
We independently select these products—if you buy from one of our links, we may earn a commission. All prices were accurate at the time of publishing.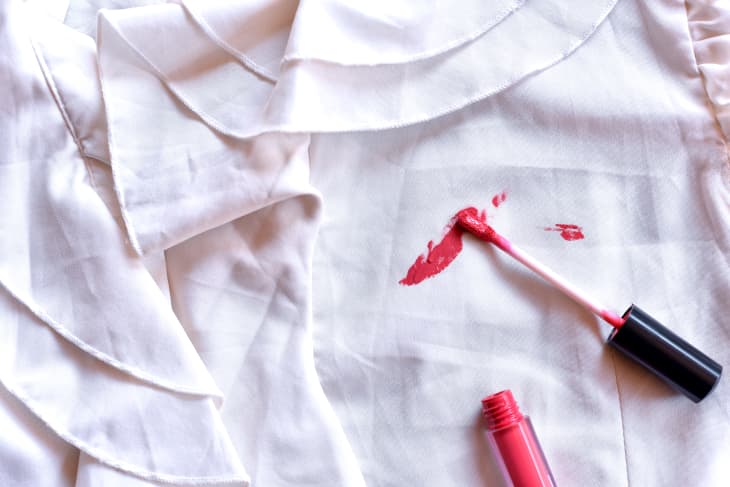 My sister lives across the country from me and when we get together, we do everything we can to make up for lost time. We love on each other's children, cramming in all the snuggles and tickles and laughs, we chat away late into the night while snacking on popcorn and chocolate chips, and, as so many sisters love to do together, we shop. 
On my last visit to her Southern California home, I was happy, as usual, to be able to go in person to some shops that we didn't have where I was living. One store I was excited to peruse was White House Black Market. I'd had my eye on a few tops and the prospect of trying them on in person, with my sister there to offer her opinions, was an opportunity tinged in nostalgia and we took it. 
I tried on one lovely powder blue kimono sleeve top scattered with artfully rendered flowers. I found the size that worked for me and I was excited to buy it and wear it to an upcoming get-together with some friends. As I was handing it to the cashier to pay for it, I noticed a stain on the front of it.
Of course I asked for another, but there wasn't one. They offered to ship me a new top, but the cashier could tell I was disappointed to not be able to take the shirt with me. She said, "There's a lady here who's a pro at getting makeup stains out. Let me have her try to get this out for you." 
The cashier whisked the shirt away and the stain miracle worker came out with it a few minutes later. The stain was completely gone. I begged her to tell me what she used and with a little cajoling she did: Tide and Dawn, a tiny amount of each, shaken together in a spray bottle with water, sprayed onto the stain, and then rinsed completely clean. 
Seeing was believing. There was no trace of makeup left on the shirt (even though such stains are notoriously difficult to remove). Of course, someone who works in clothing retail would probably be an expert at quickly removing this type of stain, but as a busy mom of five who does a lot of laundry and stain fighting, even I hadn't heard of using this combo this way. I'm thrilled to have been lucky enough to stumble upon this pro secret while shopping that day, so now I'm sharing it with all of you.