This Under-the-Radar Packing Bundle Was a Game-Changer for My Last Move
We independently select these products—if you buy from one of our links, we may earn a commission. All prices were accurate at the time of publishing.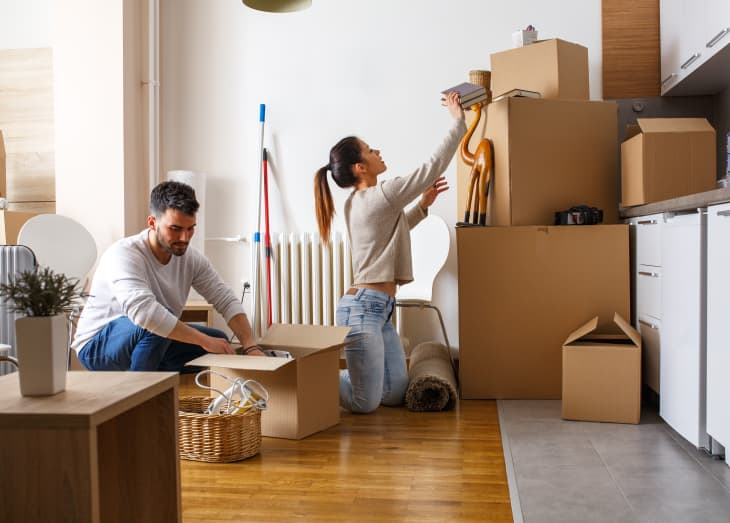 When I moved from New York City to San Francisco in 2019, I was blessed with a relatively easy packing process. Since I was moving in with my then-boyfriend (now fiancé) and wanted to create a space that reflected both of our styles, I sold most of my dishes, furniture, and accessories. Moving a few stuffed suitcases from one coast to the other was a lot easier than enlisting a pricey moving company.
Follow Topics for more like this
Follow for more stories like this
But, when we decided to move from our first shared apartment to a new space two years later, it was a totally different story. After two years of sheltering in place, we accumulated a lot of stuff that we simply weren't willing to get rid of — especially since we were moving 20 minutes away from our previous home. Starting from scratch would have felt like a huge waste of money, time, and resources. The problem was, packing all of our belongings felt a tad overwhelming. What would we do with our clothes? How would we make sure our dishes didn't break mid-move? How are you supposed to pack a television or mattress?
Fortunately, my moving worries were put to rest when I discovered U-Haul's Moving Supplies Kit. Yep, that's right: the moving truck company also has a bundle of customizable moving supplies to meet your and your belongings' needs.
Each bundle has a list of recommended supplies — ranging from packing tape, to mattress protectors, to boxes of various sizes — but you can also add or remove items depending on your load. For example, the one-bedroom bundle comes with one television screen protector and 15 small moving boxes, so I added one more protector to our order and cut down on the boxes.
Not only did this moving bundle give my fiancé and I some much-needed peace of mind during our move, but it made the entire process a lot easier. Instead of shoving all of our clothes into a suitcase, we could transfer our hung pieces from our old closet, to the wardrobe box, to our new closet. But, if you ask me, it was the kitchen-based moving supplies that were the most game-changing. Let's be honest, packing and moving delicate glasses and plates is downright stressful. However, U-Haul's kit put me at ease with its cushioned pouches and glass pack box, which featured a cell divider so my glasses wouldn't smash into each other mid-move. Not to brag, but we didn't break a single glass or plate during our move!
The only drawback I experienced with the bundle is that you'll have a lot of used boxes to get rid of once you're settled in your new home. If you want reduce your waste, give your lightly used supplies to a friend who is moving or someone in your community. (You'll get major good neighbor points.)
Prices for U-Haul's moving bundles will vary based on the exact set you purchase and how you choose to customize it. According to the site, the 4+ Bedroom Master Pak Moving Kit costs $487, which might elicit sticker shock. But, when you think about just how expensive it might be to replace broken or damaged items post-move, this set is a smart upfront investment.