4 Ways to Score Used Furniture from Home Stagers for Cheap, According to Experts
We independently select these products—if you buy from one of our links, we may earn a commission. All prices were accurate at the time of publishing.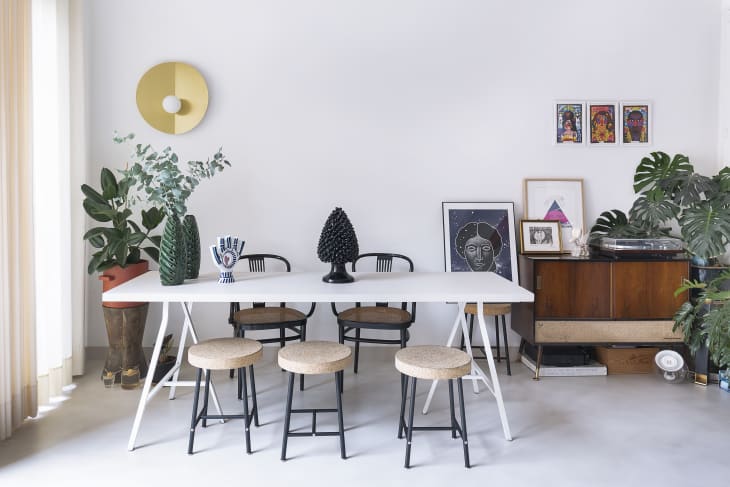 Home stagers are constantly changing inventory. No realtor or homebuyer wants to see a slate of homes all furnished with the same four pieces. So what happens to all the furniture items that get cut from a stager's arsenal? They're sold off — and oftentimes at a discount. If you want to get your hands on a gently used piece of furniture at a below-market price, here's how to find home stager sales.
Visit model homes or vacant homes for sale.
Follow Topics for more like this
Follow for more stories like this
The majority of furniture that home stagers sell is sold right out of the property it's being used in, say Karen Otto with Dallas-based Home Star Staging and Anthea Click with FP Staging and Design in Nashville. People come in to look at the property, decide they like the furniture, and ask about purchasing it.
"If you're going into vacant homes and you like the style of the furniture in there, you'd have to find out the staging company that staged the property," Otto says, "Contact the realtor or the community builder. They'll give you the name and contact of the staging company." Then, call 'em up and put your negotiating hat on.
With model homes, it's a little different — you can still buy the furniture, but you'll have to wait until the community's homes are all sold and the developer does a model home sale.
Whatever furniture doesn't get sold right out of the model home or vacant home for sale often heads to a warehouse sale held by stagers. Both Otto and Click do these sales and advertise them on social media. So keep an eye out for announcements on neighborhood Facebook groups, Instagram posts by home staging businesses, or even tweets from home stagers themselves. They're also sometimes advertised on Craigslist, Next Door, and Facebook Marketplace. Watch for the keywords "staging furniture."
If all else fails, pick up the phone and call a staging company of your choice.
"There's nothing wrong with calling up a staging company to ask when they're selling their inventory and to see what they have available," Click says.
Be prepared for large quality and price ranges.
When Click does warehouse sales, she's selling everything from accessories to sofas and beds — and it's generally cheaper than you'll find anywhere else. Accessories can get as low as $1, and for a queen bed that's brand new, you can expect to spend about $950.
"In the past I've had sectionals that might retail for about $3,000 that we're selling for $2,000, and we just might have used it once or twice," she says.
But remember, a piece of furniture at a great price that looks cool isn't always what you might expect.
"You have to go see it and sit on it," Otto says. "Some pieces look fabulous but they're not the most comfortable. We don't really care about the comfort factor because no one's using it. Staging a home is not about the furniture, it's about selling the house. Some pieces might be cheaper than you think as far as quality goes, but it's getting the job done."
For one-of-a-kind pieces that you can't find anywhere else, or furniture that's truly like new, expect to pay a bit more.