Yes, Venus Williams' Perfect Night In Includes Serena and Olympia
We
independently
select these products—if you buy from one of our links, we may earn a commission. All prices were accurate at the time of publishing.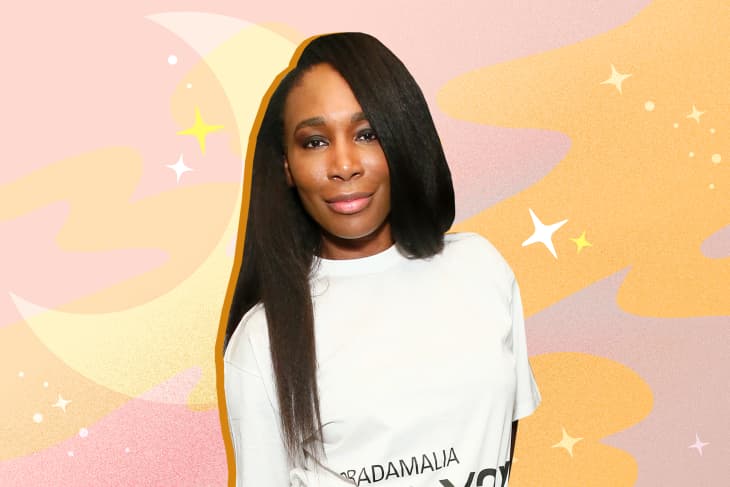 Perfect Night In is a series where we ask actors, artists, entrepreneurs, and beyond how they'd spend the ultimate luxury—a blissful evening at home.
Venus Williams: a world-class tennis player who really needs no introduction (if she does, go engage in any conversation about tennis whatsoever and report back). In her professional career, Venus has won four Olympic gold medals and 49 titles in total, plus she's been ranked number 1 in the world by the Women's Tennis Association.
But what does she do when she isn't killing it on the court? Recently, Venus has been spreading awareness on how to stay healthy during flu season by partnering with Clorox. Another way to practice wellness during the winter? Staying in and indulging in #selfcare. And we wanted to find out how Venus did just that—and of course, it includes sister Serena and her niece Olympia:
Describe your perfect homebody scene in five words: Comfy, warm, dog, junk food.
What's your night-in uniform? A lot of times I wear my jumpsuits, they're very comfy. I wear that and I look kind of cool walking around the house.
What two people, dead or alive, would you let crash your night? I'm definitely going to have to pick Serena and Olympia. [Olympia] hates going to bed but she's starting to accept it, it's getting better.
Favorite cozy product: Just my dog, but I can't really get him to snuggle.
What are you watching? Any comedy.
Silence or music? I guess music. Oh boy, what would I be listening to…classic music.
E-books or the real deal? eBooks because they go everywhere.
Board games: yay or nay? Nay.
Order in or cook for yourself? Order in. Don't make me cook!
What are you eating? Whatever my mom makes.
What drink are you pouring? Unfortunately, it's water. I want to [drink something else] but I can't. I'm like ah, I have to train. The sacrifices.
What's for dessert? I don't eat dessert.
Late-night snack? I don't really have snacks in my house, so I don't snack.
Do you have a self-care ritual? It depends on how tired I am. Sometimes I put cream all over my body, other times I don't, other times its oil, sometimes its butter, sometimes it's none of the above.
What do you try to avoid at all costs? There was a period where if I ate really late at night, I would have nightmares. It was really weird. But I don't think it happens anymore, so thankfully I'm in the clear now.
Candles: yay or nay? Nay.
Face masks: yay or nay? Nay.
Bubble bath: yay or nay? Okay, yay. I like salts in baths.
Thanks for chatting with us, Venus!