This WFH-Friendly Desk Chair Solved My Back Pain and Brightened Up My Dull Room
We
independently
select these products—if you buy from one of our links, we may earn a commission. All prices were accurate at the time of publishing.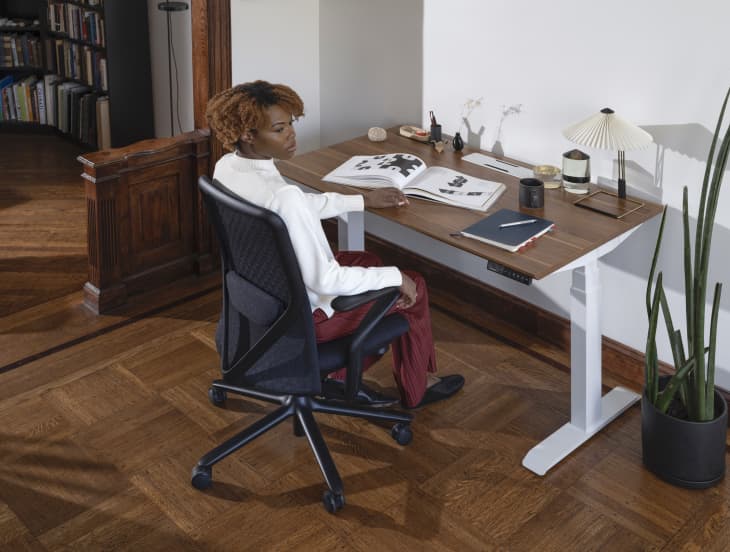 Since I recently graduated college and spent a majority of my summer working my first remote job, I immediately felt the need to invest in a desk setup that would be beneficial to my productivity and physical health. This included an office chair, standing desk, and quaint desk decor. Unfortunately, I've quickly realized investing in your living space can often require spending a hefty amount on furniture. During college, I was frequently in and out of local thrift stores and constantly searching Facebook Marketplace. Although I'm still active in online thrifting groups and a frequent visitor of a local Savers, I realized that there was a key attribute to keep in mind while shopping for my office: my back.
I'm in my mid-twenties, which means that I'm discovering (and experiencing) the importance of taking care of your back. I can't say that I have the best posture, so I was immediately influenced by a variety of TikToks that promoted the health benefits of having an ergonomic desk and chair.
After purchasing the rectangular Standard Standing Desk from Flexispot, I knew that it was time to start my search for the perfect office chair to match my desk's durability. Eventually, I went back and forth between purchasing a gaming chair or a regular office chair, but the chairs at Branch caught my eye.

Fortunately, I had the opportunity to test out one of Branch's chairs, and I was immediately drawn to the newly released Verve chair. Among their other office chairs, the Ergonomic, Daily, and Task chairs have raving reviews for their lumbar support and multiple points of adjustment, but the Verve chair gives customers the "experience instant relief the moment you sit," according to Branch's site. My room's current color scheme is somewhere between sage green and burgundy wine, so the Coral shade of the Verve chair felt like a safe, yet bold addition to my room. 
As I mentioned earlier, I'm used to purchasing second hand furniture, which usually saves me from the task of frantically building anything in my living room. Therefore, an easy assembly was somewhat of a high priority that was easily met in less than thirty minutes, and I felt relieved with its simple setup. After unboxing the chair, I mentally confirmed that the Coral was the best color choice for my room, and I'm actually purchasing some Emma Chamberlain-approved glass tile drink coasters on Etsy to match the chair. 
Is it a bit of an investment for this chair? Yes, you could easily opt for a Facebook find or a cheap office chair at a big-box store. Do I think that it is worth investing in your workspace, especially as a writer? Yes, I now find myself looking forward to working at my desk, and I'll admit that working in other spaces doesn't quite hit the same. And as I've repeatedly mentioned, the color of the Coral Verve chair is unlike most neutral-colored office chairs.
Since I've gotten extremely comfortable with the chair in the last month, I fully understand the benefits of investing in your workspace, especially making it a cozy transitional space for an evening (after work hours) at your desk. I'm currently writing my first book, so I'm trying to curate a writing space that encourages me to stay at my desk past my regular working hours. Between my standing desk and ergonomic chair, I can safely say that I would recommend the Verve chair for those that work from home, frequently write, or find themselves gaming online.