Before and After: A Worn-Down Bathroom's Makeover Decreases Its Size But Maximizes Its Style
We
independently
select these products—if you buy from one of our links, we may earn a commission. All prices were accurate at the time of publishing.
About this before & after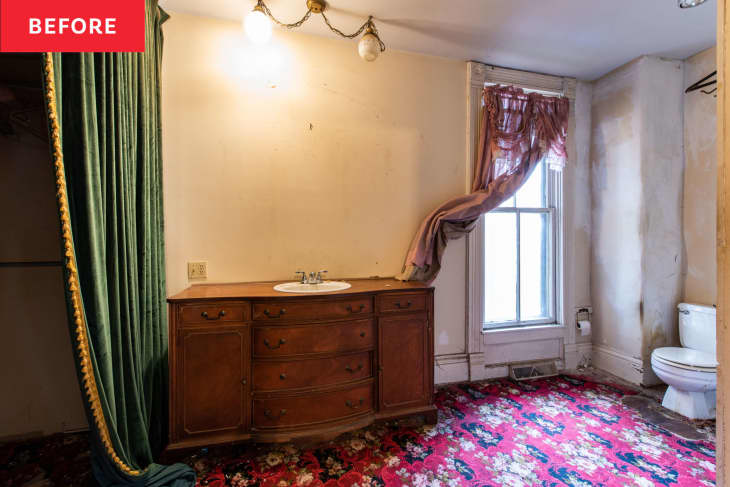 What do you do with an oversized, weirdly placed guest bathroom with wild (and threadbare) red floral carpet, green velvet curtains, and deteriorating plaster walls? Tear it out, slash the footprint, start over, and reimagine it as something you want people to see as soon as they walk in the front door! At least, that's what I did when my best friend Mike and I tackled the renovation of a grand old Victorian that had slid into disrepair. 
Let me back up: As a casualty of past renovations when the single-family Victorian-era home was cut into apartments, the entry staircase had been removed and the old foyer boxed in. So when the house was converted back to single-family living, an awkwardly large bathroom was appended to the dining room. 
In order to rebuild that lost staircase, Mike and I had to remove the added-on wall and use half of that bathroom square footage. That left us with an opportunity: an entry hallway that led past the dining room and opened into the bath. Since this was a house we intended to sell (we can't bring ourselves to call the gut-job renovation a "flip"), every detail mattered, and we needed people to fall in love at first sight. So while the room as we found it didn't have much going for it, the huge, south-facing window flooded the space with amazing light, and we could envision a gorgeous, dramatic bathroom. One, we thought, that deserved to be part of a sweeping view of the first floor from the newly opened foyer.
I was lucky enough to spend three days immersed in all things Italian tile at the CERSAIE tile show in Bologna early in the renovation process, and I returned home inspired by the jewel tones and colors drawn from nature featured throughout the event. And I couldn't stop thinking about the deep green velvet curtains — or portiers if we want to be precise, and fancy! — in the original bath that hid a cavernous storage area. We couldn't keep the massive closet (although we did hang onto the curtains for a future project!) but that lovely green color became a starting point for this bathroom's transformation.
We channeled that hue in glossy green tiles from Ragno, which we had installed on two walls in a classic herringbone pattern that stretched all the way to the ceiling for drama that felt like a nod to those classic drapes. The craftsmanship that went into the tile walls absolutely had to be showcased, so we had a pocket door installed using a refinished door from elsewhere in the house — all the better to allow those striking green-tiled walls to get the top billing they needed.
To make sure nothing blocked their view, and to help the now-smaller bathroom feel more spacious, Mike and I opted for a walk-in shower with clear glass panels. We made it as roomy as possible by going with a space-saving pedestal sink to maximize every inch of the available footprint. And since we also carved out storage space under the new stairs, we opted for a mirror rather than a bulkier medicine cabinet.
Although the room was brand new, from plumbing and electric to walls and window, we did want to keep original touches whenever possible. So we exposed the brick of the chimney that ran through the room, and intended until the last minute to keep the heart pine subfloor we'd found under that flowery carpet. No luck on that front, unfortunately: the plumber advised us code wouldn't permit a toilet to be set on a porous surface. We had to scramble on that forced design change, but taking the soft blue-grey of the hexagon tile in the shower pan across the rest of the floor ended up giving the room a more cohesive look.
In the end, we had a bathroom half the size of what it used to be, but with maximum impact. And best of all, it was a key part of the wow factor the moment you step into the house.