This Fridge on TikTok Is Filled with Flowers, a Framed Photo, and Eucalyptus
We
independently
select these products—if you buy from one of our links, we may earn a commission. All prices were accurate at the time of publishing.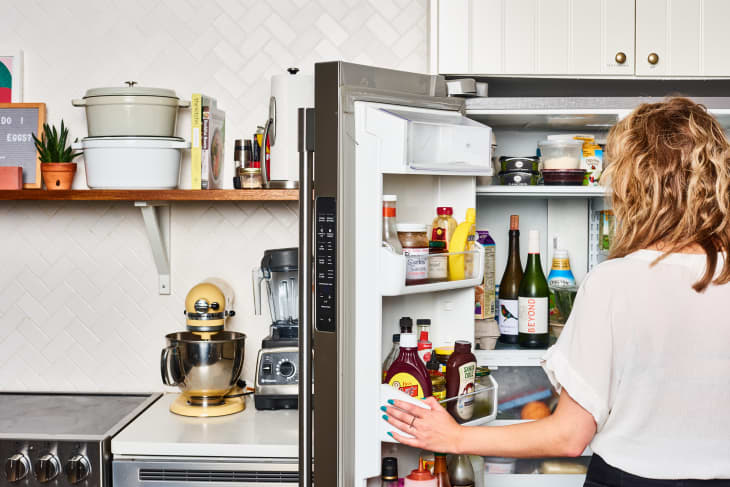 Decorating the door of your fridge with souvenir magnets from vacations or adorable family photos is normal, but decorating the inside of your fridge with framed photos and flowers is a bit… unheard of. 
On Jan. 29, Twitter user @chlsperry posted a screenshot of the decorated inside of a refrigerator that originated from a TikTok video.
"This person's fridge has me at my breaking point," she wrote in the caption. "THE FRAMED PHOTO. the pOTTED PLANTS"
With over 3,000 quote retweets, the fridge has seemed to cause quite a stir, with some questioning if the owner even uses the appliance.
Some of the items in the fridge are more expected, such as the container of hummus or the applesauce. But that doesn't completely take away from the misplaced items like the dry pasta and multiple bottles of Michelob Ultra, and… the potted orchid, bundle of eucalyptus and baby breath, and framed photo of a cat. One user commented that the eucalyptus is going to make their food "taste like a spa," due to the plant's toxicity.
As if this wasn't enough, others were planning to make the inside of their fridge even more controversial. "Just you wait, I'm gonna put fairy lights in mine," one Twitter user replied. Some are unconcerned about the fridge, citing that it's "camp to the highest degree" and a form of romanticizing your kitchen.
While investigating the original video, it was apparent that this wasn't the first time that TikTok user @gardenof_eve created a controversial fridge setup. 
Over the holidays, Eve placed a bundle of pine, the now-infamous potted orchid, and an Elf on the Shelf inside her fridge. There's also a snow globe filled with eggs. However, there appears to be more food visible than the aforementioned video in this clip.
While receiving comments that inquire if she actually has enough food to create a meal, Eve responded by cooking a dish with fresh produce and a hidden pack of chicken. "Everyone thinks that I don't have food in my fridge," she said while revealing the item. "I just hide it so it looks pretty."
If you've been convinced to decorate the inside of your fridge, she's posted a tutorial on how to achieve the controversial yet completely functional look. During Halloween, her seasonal-themed fridge included a skeleton wine bottle holder, a variety of mini gourds, and a bundle of ornamental eggplant, commonly referred to as pumpkins on a stick. But if you're unsure what to add in your fridge, Eve shared that she usually just "takes things around her house."
It's not clear whether this is a fun project for Eve or an effective way to gain engagement with her TikTok page, but she's definitely onto something. Easter and the spring season are around the corner, so maybe you can take Eve's advice and add an egg-filled Easter basket to your fridge's shelf.