This Viral TikTok Hack for Easy Paint-Matching is Pro-Approved
We
independently
select these products—if you buy from one of our links, we may earn a commission. All prices were accurate at the time of publishing.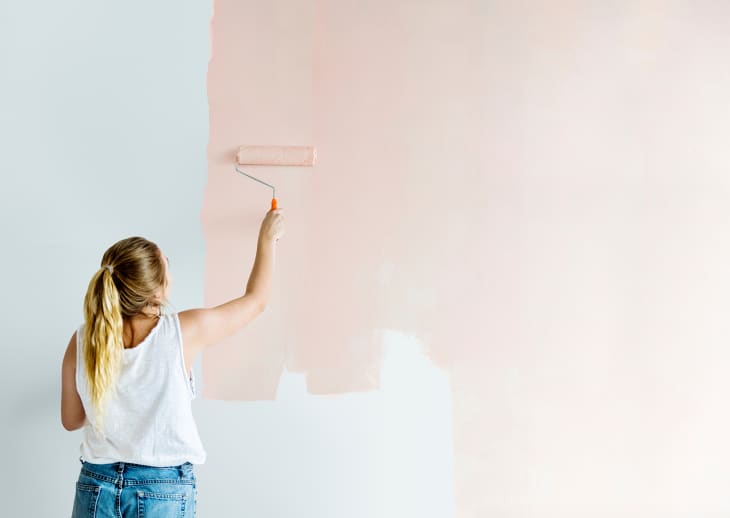 Trying to find the right color to paint a wall is hard enough, so it's no wonder that when it comes to matching that shade for future projects, DIYers will go to great lengths to streamline the process. Maybe they keep a sample stored away just in case, or have a spreadsheet on file listing the colors' exact names. Or perhaps they've picked up this idea posted on TikTok by DIYer Cara Newhart and cleverly cut a square out from behind an outlet cover.
"Using the existing wall is a great way to match paint if you don't have the original paint on hand," says Mallory Micetich, Home Care Expert at Angi. 
In the video, Newhart can be seen removing an outlet cover and cutting off a piece of wall behind it. She then places the cover back on the wall, hiding the missing piece, and then displays the small sample as a success. Although it may seem like a solution that's too good to be true, Micetich agrees with the quick tutorial: It works great. 
"I recommend bringing a piece that's at least one square inch into your local hardware store, where they can use a color-matching scanner called a spectrophotometer to find the paint," she says. "One thing to note is that you don't have to cut out a full piece of drywall, you just need to cut in enough so you can peel the paint off and bring that in. It will make the repainting process simpler than if you had to repair the drywall along with it."
Here's what else Micetich wants you to know about this skill, so that you never have to work too hard on this aspect of painting like a pro. 
Micetich notes that while technology will likely be able to match the color, it won't be able to shed light on much else. "You'll also need to know whether your wall has any sort of finish on it: flat, eggshell, semi-gloss or gloss," she says. "This will impact the final mix you'll get from the store. The color can be spot on, but if the finish doesn't match, it will still look out of place."
You don't have to cut from behind an outlet.
While getting a sample from behind an outlet cover works — and feels like you're DIYing like an undercover agent — doing so isn't required. "I spoke with a few pros in the Angi network, and they agreed that the best way to match paint is to carefully get a quarter-size paint chip from an area of the room that's less visible, like behind furniture or around the area you already need to repair," she continues. 
If it's been a while since you last painted, this may not work as a touch-up.
In the years since you last got out rollers and drop cloths, the paint on your walls has likely gotten lighter or darker due to the environment. And the paint that's less visible may be a different shade than what's front and center. "Depending on how big the area is that you're repainting, you may want to consider painting the full wall to ensure a cohesive look," Micetich says. "Like the DIYer mentioned, sunlight changes colors over time, so if it's been a while, even the same paint may look a little different when you add a fresh coat."
Give your wall a little time before judging the results.
If you've used this technique and repainted your wall, but it doesn't look like it worked out, hold tight. "Don't panic if the paint doesn't immediately look like a perfect match," she says. "Each coat needs time to dry, so don't evaluate it right away." Wait at least 24 hours to determine whether it all blends in. 
Set your future self up for success.
While the ol' cut-a-piece-from-the-wall technique is reliable, it doesn't hurt to have more than one paint-matching solution up your sleeve. "If you can, hold on to an extra can of paint when you're done," Micetich notes. "If you're buying a new place, ask the seller if they can leave behind extra paint or, at the very least, the name and brand of the paint colors used for each room. Label cans with the rooms they're in, so you can be sure to match to the right walls when the time comes."