This Diffuser Is Like a Work of Art on My Nightstand — And It's Worth Every Penny (Plus, It's on Sale for Prime Day)
We independently select these products—if you buy from one of our links, we may earn a commission. All prices were accurate at the time of publishing.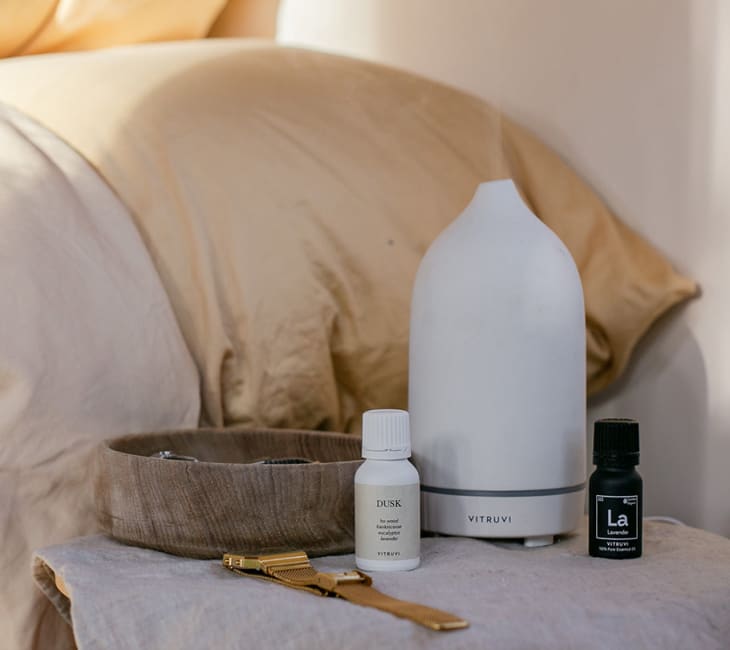 Confession: I have a fixation with fragrances. If something smells good — candles, perfume, room sprays, you name it — I need it on or around me, stat. And given my love of the finer-scented things, I've been wanting to hop on the essential-oil-diffuser bandwagon for quite some time. The only problem? I couldn't really find one that had the aroma and the aesthetics. I mean, considering it's already taking up prime nightstand or coffee table real estate, I might as well get one that has constant stay-on-display potential. About a year ago, though, I found The One: Vitruvi's Stone Diffuser in white.
I'd been online shopping when I first came across this minimalist beauty. I could glean its compact size and sleek design, so much so that I already started envisioning it styled in my own apartment. Pages of positive reviews further corroborated my fascination. Unfortunately, I had just moved, so I decided to budget for bigger pieces (like, ahem, a table to put this on in the first place) and relegate the diffuser to my wishlist.
Fast forward to a few weeks later, when the sibling-founded brand actually gave me a Stone Diffuser to try out — and it's arguably the single greatest thing to happen to my bedroom thus far. Don't you dare call me dramatic, either, because it warrants all the hype. First and foremost, the ceramic vessel looks absolutely incredible on my nightstand, hardly hogging much space. As far as practicality goes, it's surprisingly easy to use and clean (major emphasis). Just take off the top portion, add water up to the nifty fill line, pour in about 20 drops of your favorite essential oils, and voilà. When I'm done using it, I always empty out any leftover water and wipe the interior down with a paper towel — you won't find any impossible-to-reach crevices for moisture or gunk to build up here.
It's worth noting that Vitruvi also carries its own amazing essential oils blends. There's a scent profile to set any kind of aromatherapy mood, whether it's to boost your energy in the morning or soothe your mind after a long day. The lavender oil has been my favorite thus far: I start taking advantage of it (naturally) as I'm getting ready for bed, and it's been a dream to doze off to and wake up with. The fragrance even sticks around my room all morning, but in a nicely subtle, non-overpowering way.
And yes, to that end, the small-but-mighty diffuser can work its magic for either four- or eight-hour time frames, with two settings to choose from on the back. That's hardly the pinnacle of its perks. This Vitruvi piece also features a small built-in light, so you can play with different options (or turn it off completely). Plus, it's quiet, which enhances the overall meditative ambiance. The only downside is that you have to keep it plugged in during the entirety of its use (although Vitruvi's collection does feature a cordless Move Diffuser discounted on Amazon for $125.30).
If you still won't take my overly enthusiastic word for it, know that the Stone Diffuser has been deemed the Best Diffuser for Large Spaces by our own editors, thanks to its ability to spread scents up to 500 feet. Need I say more? Probably not, but I'm going to anyway: This piece comes in ten colors, from my beloved White to cool green Eucalyptus to a sleek gray-toned Charcoal. It's usually available for $119, but, depending on the color, you can get one now on Amazon for as little as $83.30. You really can't go wrong with the double-duty diffuser-turned-decor accent. You basically get to admire it and reap the fragrant benefits every day — a major win-win by my standards.