This Editor-Loved Ice Cube Maker Got a Small-Kitchen-Friendly Upgrade (And It's 20 Percent Off)
We
independently
select these products—if you buy from one of our links, we may earn a commission. All prices were accurate at the time of publishing.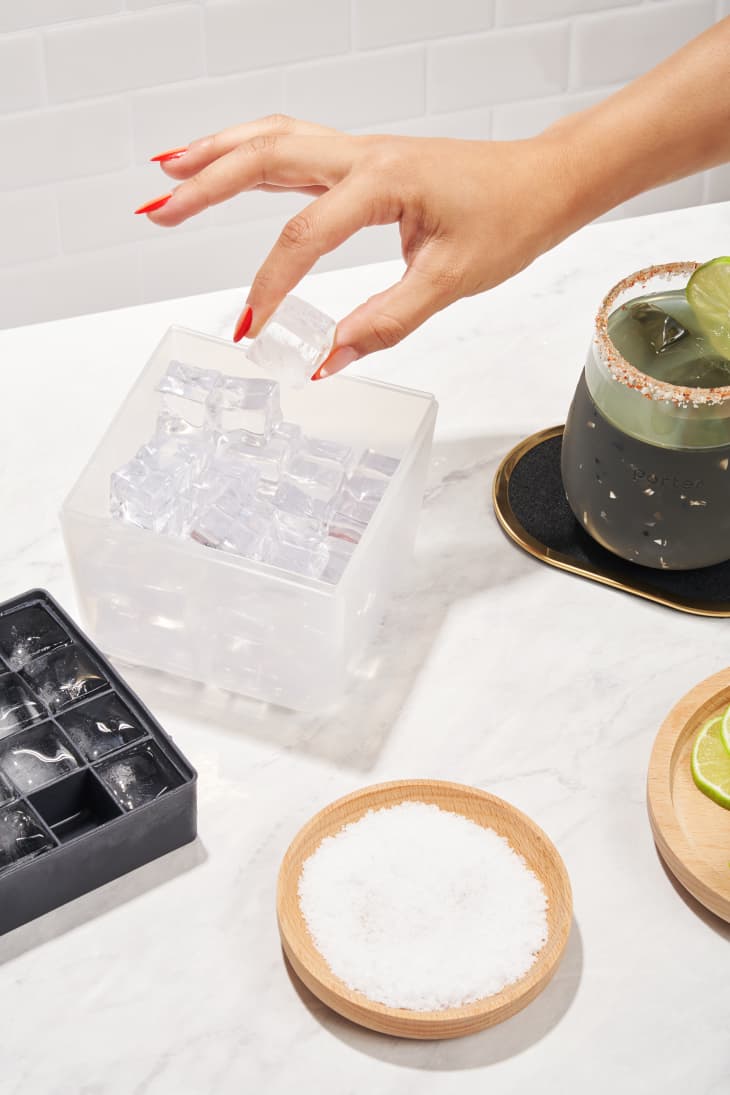 One thing I still miss about living at my parents' house is their fridge. Or more accurately the ice maker in their freezer that creates three different kinds of ice — cube, nugget, and flake — and dispenses them at the touch of a button. When I was growing up, we always had a freezer that could make ice, although not as fancy as my parents' current model, and I didn't realize what a luxury it was until I moved out and had to deal with the Sisyphean task of refilling and emptying ice cube trays.
I'm always on the lookout for ice cube trays that are easier to use and produce more consistent results than your standard cheap plastic varieties. One promising brand that's been on the top of my list for a while is W&P. Kitchn contributor Erin Cavoto is a big fan of their extra-large silicone ice cube molds (which also come in dazzling prismatic designs), although I was more keen on their Ice Box because it includes a storage container for extra cubes. Recently, W&P updated that model to something that's small enough to fit even in my crowded freezer, and to launch it they're giving you 20 percent off. I'll cheers to that!
At only 5 inches tall and wide, the Ice Cube is more compact than its rectangular ancestor and has no problem fitting inside any freezer. Like the Ice Box, this updated model has the same built-in tray and bucket design: After you fill the tray on the top and freeze a batch of ice cubes, you can dump them into the container below. That means you don't have to unmold ice cubes and refill the tray every time you want a couple cubes — a convenience I only wish I had.
I also appreciate that W&P added a lid on top to keep the cubes fresh when they're forming and prevent aromas from anything else in your freezer from wafting inside. And each cube's size, a little more than 1 inch, is a real sweet spot between the larger crescent-shaped cubes my trays produce and the ice nuggets from modern ice dispensers. Whether you're making ice to use throughout the week or want to have a small supply on hand for a few drinks with friends, this freezer essential has you covered.
While you're checking out this newly-released freezer addition, we recommend taking a look at some of our other favorite food storage solutions from W&P. Their ceramic and silicone travel mug is a stylish upgrade from the average coffee tumbler, and their compartmentalized, double-stack lunch box is the thing capable of getting anyone excited to bring their lunch to the office. W&P's kitchen gear has a tendency to sell out, so grab the Ice Cube while it's still on sale and see how convenient it is to have perfectly sized ice cubes at the ready (even without a fancy ice maker).