I Can't Believe How Much Joy These $7 Amazon Decals Bring My Kitchen
We
independently
select these products—if you buy from one of our links, we may earn a commission. All prices were accurate at the time of publishing.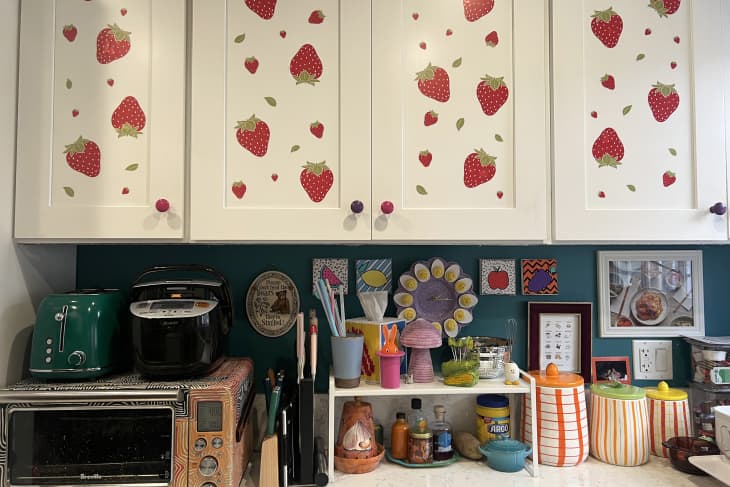 My toxic trait is that I'm all ideas and no follow-through when it comes to DIY projects. I want to do so many creative and fun things, like upcycling candle jars and vintage vessels with my own signature scent and reupholstering my headboard with fun food fabric. But these ideas just live in my Notes app and my imagination. Except for one thing: strawberry kitchen cabinets! 
Over the summer, I spray painted my kitchen cupboard knobs from brushed silver to hot pink and bright purple. They brought me joy every time I opened them, but then the boring white doors really stood out as the least "me" thing about the kitchen — the room I spend the most time in for work and fun. My dad had just helped my grammy update her kitchen from an all-yellow, faded Big Bird cupboard situation to a beautifully understated gray-and-white motif. He painstakingly removed every cabinet door and all the hardware and then sanded, primed, and painted all 16 of them. It took him months, and I knew I could never put in the patience to do a good job like that. Plus, I'm a renter, so there was the fear of having to paint them back if the landlord didn't like my bold choice of color.
I considered using peel-and-stick wallpaper to cover them, but my cabinets have grooves in them near their centers, and that seemed like an absolute nightmare for proper temporary wallpaper adhesion without bubbles or unevenness. I had previously added cute food decals to my spice cabinet that made me smile, but I never thought about using them across all of my cabinets. So I headed to Amazon to search for a design featuring my favorite fruit (to eat and aesthetically) and came up with the following: strawberry decals. I found a four-pack with 92 assorted size stickers for $6.99 on Amazon and ordered them immediately. I turned on some music — a playlist called "Fruit Jams" that I made using songs that have fruit in the title — and just freestyled placing them semi-evenly across all of my upper cabinets, avoiding the grooves. I knew I wouldn't have enough decals for the lower cabinets from this single pack, so I'm considering doing another type of fruit for them or some fun graphic squiggles and shapes from one of my favorite designers, Zander Schacter for Otto Studio.
Now that I have discovered how easy it is to apply wall decals — especially if you aren't trying to make a straight line or match a pattern exactly — I want to use them as a wallpaper alternative in other parts of my home. They're easier than peel-and-stick wallpaper because you're working with a smaller surface area to smooth, and the same kind of smoothing tools exist to help make the process, well, smoother. They're also significantly cheaper than peel-and-stick wallpaper, too. For the holidays, I'm going to get seasonal decals for my doors and (non-working) fireplace, which is gray and in need of some razzle-dazzle. I'm also going to add some border decals to my walls to accentuate my white crown molding and perhaps to create "frames" on the wall to hang some of my extensive collection of fake foods and intricate painted Jell-O molds. (Grocery Girl Fall, if you haven't guessed it, is my lifestyle in all four seasons.) I also may use some decals to give an old IKEA cabinet and drawers a facelift. These are the seven removable wall decals I'm considering for these projects right now, and I think you might like them, too.