How America Fell in Love with Wall-to-Wall Carpets—and Then Grew to Hate Them
We independently select these products—if you buy from one of our links, we may earn a commission. All prices were accurate at the time of publishing.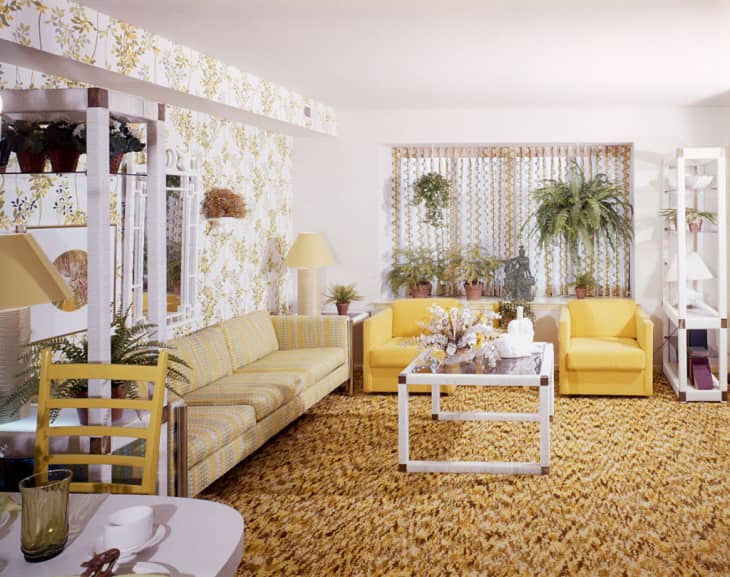 If home improvement shows had a list of 10 commandments, the first—and most revered—would be, "Thou shalt remove every fiber of carpet from thy home." Whether you're perusing online home listings or watching one of HGTV's many reno shows, you'll be hard-pressed to find a single home that contains wall-to-wall carpeting, or at the very least, that actually boasts about it. 
Today, carpet is often seen as outdated, dingy, and even unsanitary, trapping pests, dust, and moisture deep below the surface. For anyone who inherited wall-to-wall carpeting, admit it: You've peeled back the corner of your slightly dingy, hair-matted carpet to see if you could find the ultimate treasure—completely preserved hardwood floors that some foolish homeowner covered up decades ago.  
But once upon a time, carpet was considered a luxury for only the wealthy. That is, until technological advances and cheaper material costs caused carpeting to pop up in nearly every home built after World War II, making carpet a colorful fixture of the American living room. Here's a brief history of America's love affair with fibrous, fluffy carpet, which ended much like real relationships do—fizzling out when you ultimately find there are more choices available on the market. 
Wool in the Northeast, synthetic in the South
Though rugs have been part of the living room landscape for thousands of years, the American carpet industry as we know it originated in the late 18th century in the Northeast, where the rest of the textile industry was headquartered, according to Dr. Randall Patton, a professor of history at Kennesaw State University and author of Shaw Industries, a book about the world's largest producer of carpets.
Originally, these late 18th and early 19th-century carpets were made out of wool on a power loom, and they weren't cheap to produce. At the time, many Americans had hardwood floors in their homes that they covered up with area rugs to keep warm. 
Though the carpet industry experienced a few booms and busts over the decades (including a large bust during the Great Depression), the old-fashioned wool carpet industry didn't get upended until the mid-20th century, after years of textile companies slowly migrating to southern states like Georgia and North Carolina.  
Some strategic things came together for the South to finally overtake the old New England wool carpet producers: They had new technology (essentially glorified sewing machines) to assist them in mass producing carpet, initially made out of tufted bedspreads—and they also discovered a new raw material that was a game changer. After trying out everything from cotton (it wore down too easily) to Nylon (not durable enough), researchers at DuPont—still one of the leading carpet manufacturers today—discovered how to make bulk continuous filament nylon, or BCF, in the 1950s, according to Patton. 
"That was the ticket in the manufacturing process because they found a way to add bulk to the strands of fiber to make them thicker and bulkier and they would stand up better. They would not crush as badly as you walk from heavy traffic," Patton says. 
From then on, carpet was cheaper and easier to make in Dalton, Georgia, than in the old wool power looms in Pennsylvania and New York—meaning the entire home industry was about to be re-born. 
The housing boom brought carpet to the masses
It's not as though carpet had not existed before the 1950s. 
"It was around, people knew what it was, but it was effectively an upper middle class and upper class product," Patton says. "It was not the kind of thing the average, working class homeowner would think about putting down on their floors." But it became a staple of the average American household thanks to the housing boom of the 1950s. 
Between the GI bill and FHA loans, home builders were working around the clock to feed America's insatiable appetite for new homes for veterans of WWII. Because these builders had to put up homes so quickly—some companies even built 30 new homes per day—they needed cheap materials to lay down so they could get the for-sale signs up. 
"This new carpet, it turned out, was not only cheaper than the old wool carpet, it was cheaper than other kinds of flooring and floor covering," Patton says. 
Soon enough, carpeting was everywhere in America—millions of yards of technicolored, patterned carpeting—and was marketed to the public as a cozy, comfortable alternative to hardwood flooring. Homeowners ate it up, embracing their carpets as plush, luxurious fixtures. But like with anything else you have too much of, consumers slowly started to get sick of carpeting in the late 1970s, when the much-abhorred shag carpeting trend was tapering off.
Carpet in the bathroom: The love affair ends 
"It's not a deal breaker, but 90 percent of my clients don't want carpet in the homes they buy," says Beatrice de Jong, a real estate agent with Opendoor. 
She's not alone. Connaé Pisani, founder of the National Real Estate Management Group in Detroit, says that in addition to its unpopularity, carpet often doesn't make sense economically in investment properties. 
"Honestly, I really believe that from a sanitary perspective that doing away with carpet makes more sense. The initial buy [of carpet] is a lot less expensive but the turnaround time and life cycle of carpet is small," she says. 
Carpeting jumped the shark when it started showing up in bathrooms and kitchens. Its eventual decline, though, started once other flooring materials like hardwoods, vinyls, and tile started to appear on the market beginning in the 1980s, says Patton. Carpeting can be tough to keep clean on a regular basis, and homeowners began to prefer the ease of busting out a broom and dustpan rather than lugging out a vacuum cleaner or steam cleaner for stains. 
"I think wearability and cleaning had everything to do with moving away from wall to wall in living rooms and dining rooms and hallways—areas that get a lot of foot traffic tend to show it," says Stacy Waggoner, founder of Studio Four NYC, a luxury textile design studio. 
Homeowners were also starting to become more mobile in the late 1970s and 1980s, which meant they were designing their spaces around the real estate market rather than their own personal tastes—saying goodbye to their deep maroon carpets and trading them in for a neutral vinyl or wood floor.  Beige and white carpets enjoyed a brief renaissance in McMansions of the early 2000s, but it was quickly extinguished.
What lies ahead for carpeting in residential architecture? Although it's getting rarer to see carpeting throughout main living spaces, it hasn't completely gone away in bedrooms (who actually likes stepping on a cold, wood floor in the middle of January?). But does this mean wall-to-wall is gone for good? 
Not necessarily, says Waggoner, who thinks there might be a way to woo Millennials and Gen Zers who are just starting to delve into homeownership for the first time. 
"[Companies must] use better looking carpet. Nothing looks more dated than a wall-to-wall carpet that looks like an old teddy bear. Even if it's brand new," she says. "There are a lot of broadloom options that have style these days—pattern, color, texture."
She envisions a future where wall-to-wall is used primarily in the bedrooms, den, playrooms, and not so much in formal spaces. 
With a generation who could re-embrace retro pink bathrooms, is it really so far-fetched to think that carpet could make a comeback too?